Discover more from Dem Primary Tracker 2020
The Official 2020 Democratic Primary candidate tracker.
Over 11,000 subscribers
Impeaching Trump: Can it Happen?
WHAT IS IMPEACHMENT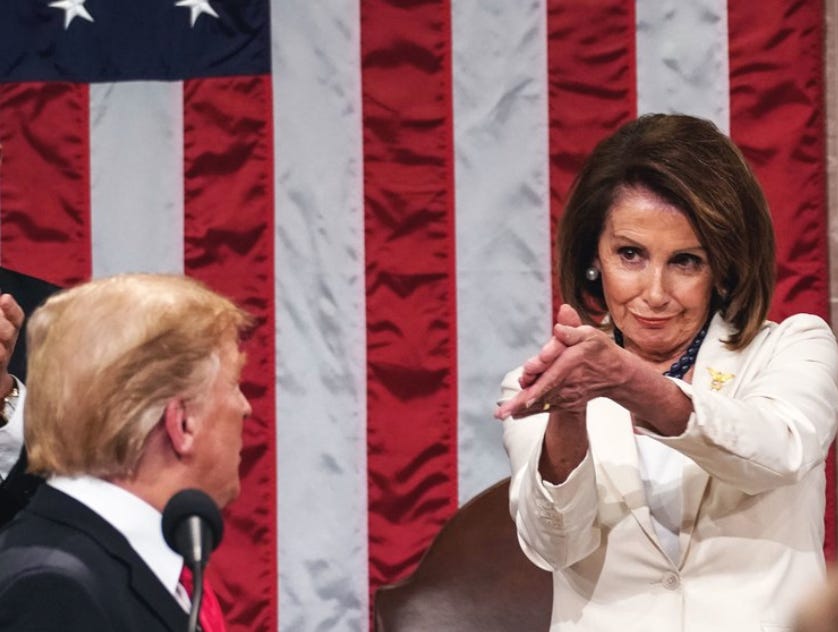 As support rises among House Democrats for an impeachment inquiry into President Donald Trump, the questions of what exactly an impeachment inquiry is, and what support for it even means, have become increasingly muddled.
The Constitution gives the House of Representatives the power to impeach the president of the United States for high crimes and misdemeanors.
The question that divides Democrats, though, is not whether the Judiciary Committee should investigate Trump, but whether House Democrats should put Trump's impeachment at the top of their political agenda and plunge ahead into that fight. The candidates, though firm in their opposition to Trump, are more focused on the election - though some have extremely strong stances toward Impeachment as well.
THE CANDIDATES ON IMPEACHMENT
Joe Biden calls impeachment a gigantic distraction, agreeing with Pelosi that an impeachment process would be divisive, "but that it may be unavoidable if this administration continues on its path."
Elizabeth Warren was the first presidential candidate to push for impeachment following the release of the Mueller report. \She has been outspoken about opening an impeachment inquiry, stating that lawmakers should go on the record with their positions on the matter.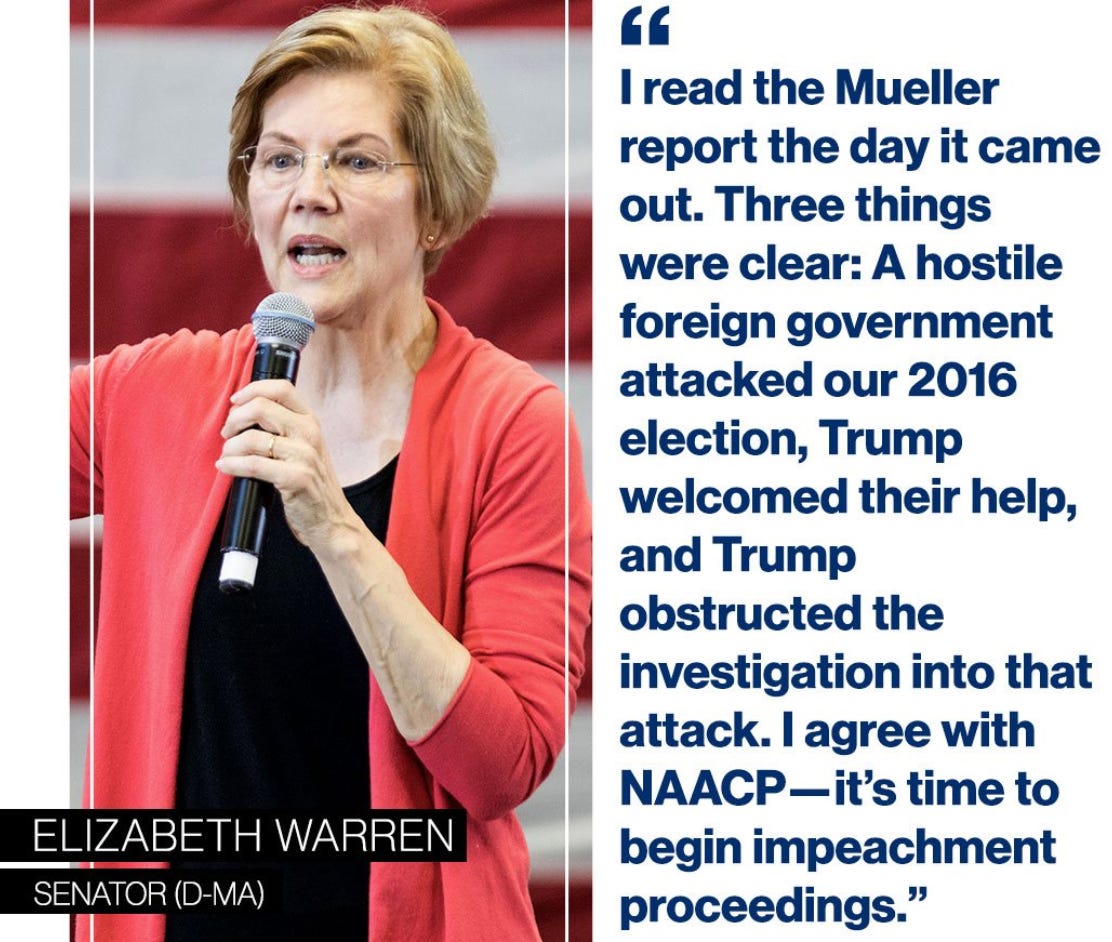 Bernie Sanders was previously conflicted on whether to impeach the president, but ultimately supports the House in efforts to begin an impeachment inquiry. Speaking at an NAACP conference, Sanders said, "the president did everything that he could to obstruct the Mueller investigation."
Kamala Harris has supported House efforts to begin impeachment proceedings. "What Robert Mueller basically did was return an impeachment referral," she tweeted earlier this year. "Now it is up to Congress to hold this president accountable. We need to start impeachment proceedings."
Pete Buttigieg warned that an impeachment proceeding would be delayed in the Republican-led Senate, agreeing that the best way forward is to "defeat [Trump] in November of 2020." Buttigieg's campaign did not respond to further requests for comment.
Beto O'Rourke has openly expressed his support for opening an impeachment inquiry since 2017. "For more than a year, I have said I would vote to begin impeachment proceedings against Donald Trump," he said in a statement. He expanded his thoughts on a Late Show appearance.
Amy Klobuchar recently stated her support for proceedings beginning immediately.
Cory Booker announced his support for impeachment proceedings on May 29 following a press conference from Mueller, the special counsel's first public comments since being appointed. "Robert Mueller's statement makes it clear: Congress has a legal and moral obligation to begin impeachment proceedings immediately," Booker tweeted.
Julián Castro said in May that Congress should begin an impeachment inquiry. "No one is above the law," he tweeted.
Kirsten Gillibrand said the House should begin impeachment proceedings.
Andrew Yang said in an April 2019 tweet he would focus on beating Trump "at the ballot box." Yang's campaign did not respond to requests for additional comment.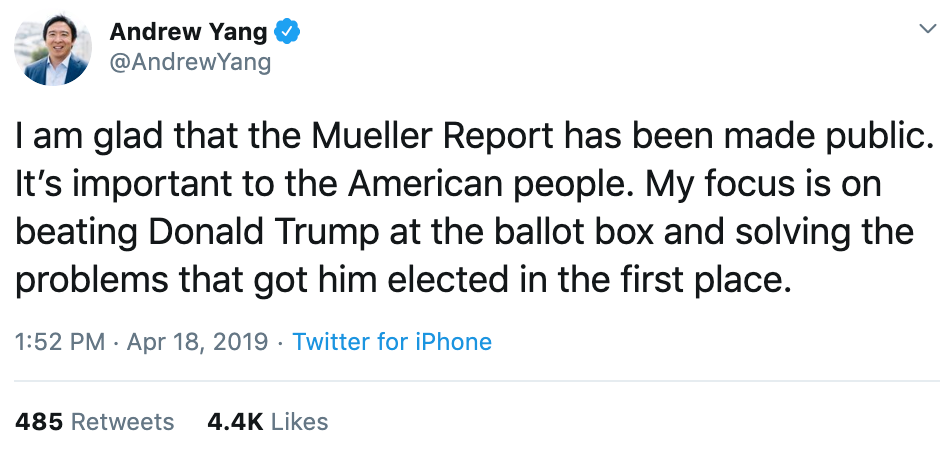 Steve Bullock said he would not support impeachment "at this point."
Michael Bennet said that he believes Donald Trump committed impeachable offenses. however and that Americans can remove Trump from office by beating him in 2020.
Amy Klobuchar recently stated her support for proceedings beginning immediately.
John Delaney urged people to trust Nancy Pelosi on whether or not to move forward with impeachment.
Tulsi Gabbard says Americans need to move on from the Mueller report.
John Hickenlooper supports opening an impeachment inquiry as a "vehicle to help."
Jay Inslee calls impeachment inevitable.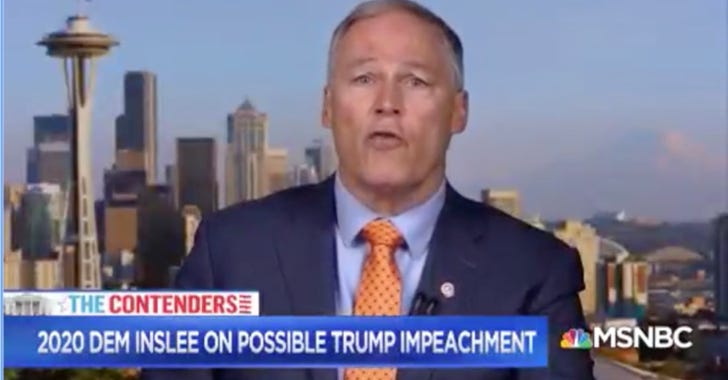 Marianne Williamson says she will harness love to beat Trump in 2020, but has not stated her position on impeachment.
Seth Moulton says it's time for impeachment.
Wayne Messam feels there is compelling evidence to open an impeachment inquiry.
Tim Ryan recently called for impeachment proceedings.
Joe Sestak said that Congress has a constitutional duty to impeach and hold a trial if there is clear, compelling evidence of crimes by the President.
Bill de Blasio said he supports holding impeachment proceedings but ultimately Trump should be impeached at the ballot box.
WHERE THE HOUSE STANDS
A simple majority is needed for the House of Representatives pass a resolution for impeachment. As of this week, 119 representatives are for an impeachment inquiry (118 Democrats, 0 Republicans, 1 Independent), while 316 are against, or have no public position (118 Democrats, 198 Republicans, 0 Independents).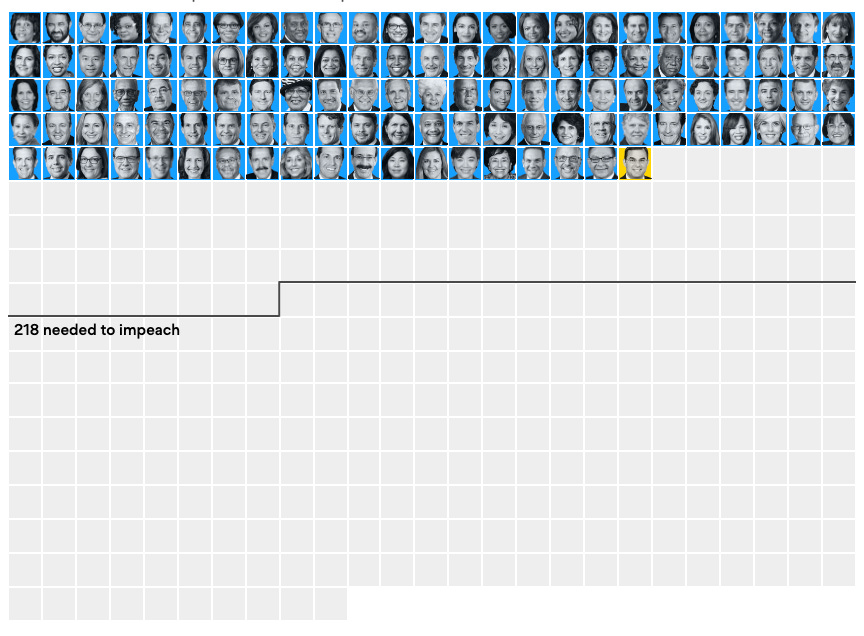 The number of House Democrats who have publicly expressed support for an impeachment inquiry has quietly crept up to 116 — an average of one a day for the month of July that brings the caucus two short of a majority, just in time for August recess.
Why it matters: The slow-drip of lawmakers joining the impeachment fray, boosted in waves by the Mueller hearings and President Trump's racist outbursts, disguises the reality that momentum has tilted squarely in favor of a formal inquiry.
WHAT ABOUT PELOSI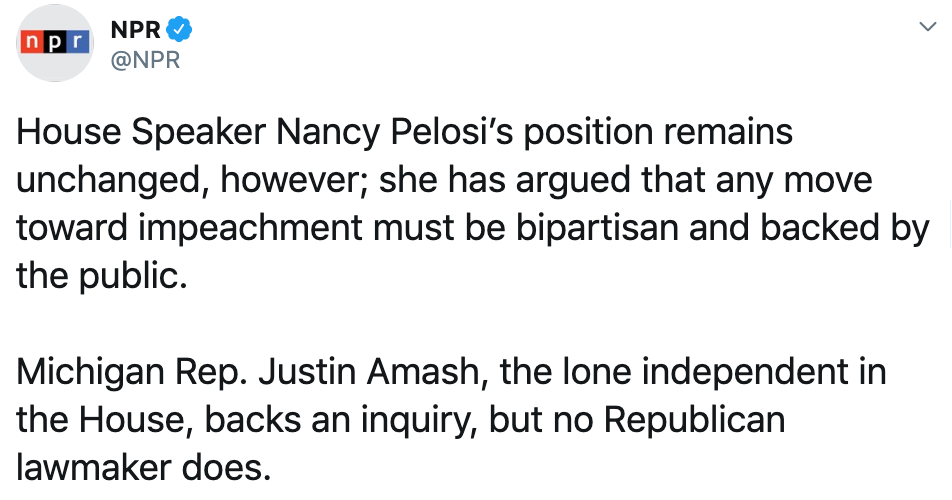 ARCHIVES
August 1 (Debates, Round 2) July 25 (The Social Media Issue) July 18 (The Fundraising Issue) July 11 July 4 (The Ancestry Issue) June 27 June 20 (The Debate Issue) June 13 June 6 May 30 May 23 May 16 May 9 May 2 April 25 April 18 April 11 April 7 March 31 March 24 March 17 March 10
DAYS UNTIL 2020 PRESIDENTIAL ELECTION: 

459
REGISTER TO VOTE HERE: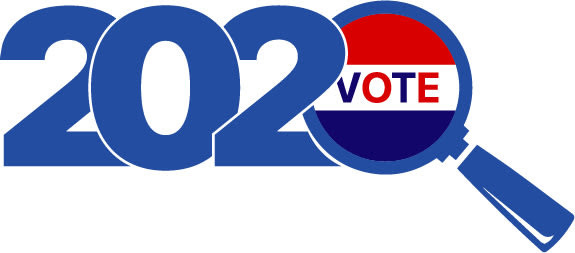 We genuinely appreciate you reading Dem Primary Tracker 2020. You can also 'like' our page on Facebook and follow us on Twitter & Instagram.