Discover more from Dem Primary Tracker 2020
The Official 2020 Democratic Primary candidate tracker.
Over 11,000 subscribers
Reality Check
Check it out! We added a new 'REALITY CHECK' segment under each section. But first, some news. . .
DPT2020 Site Launch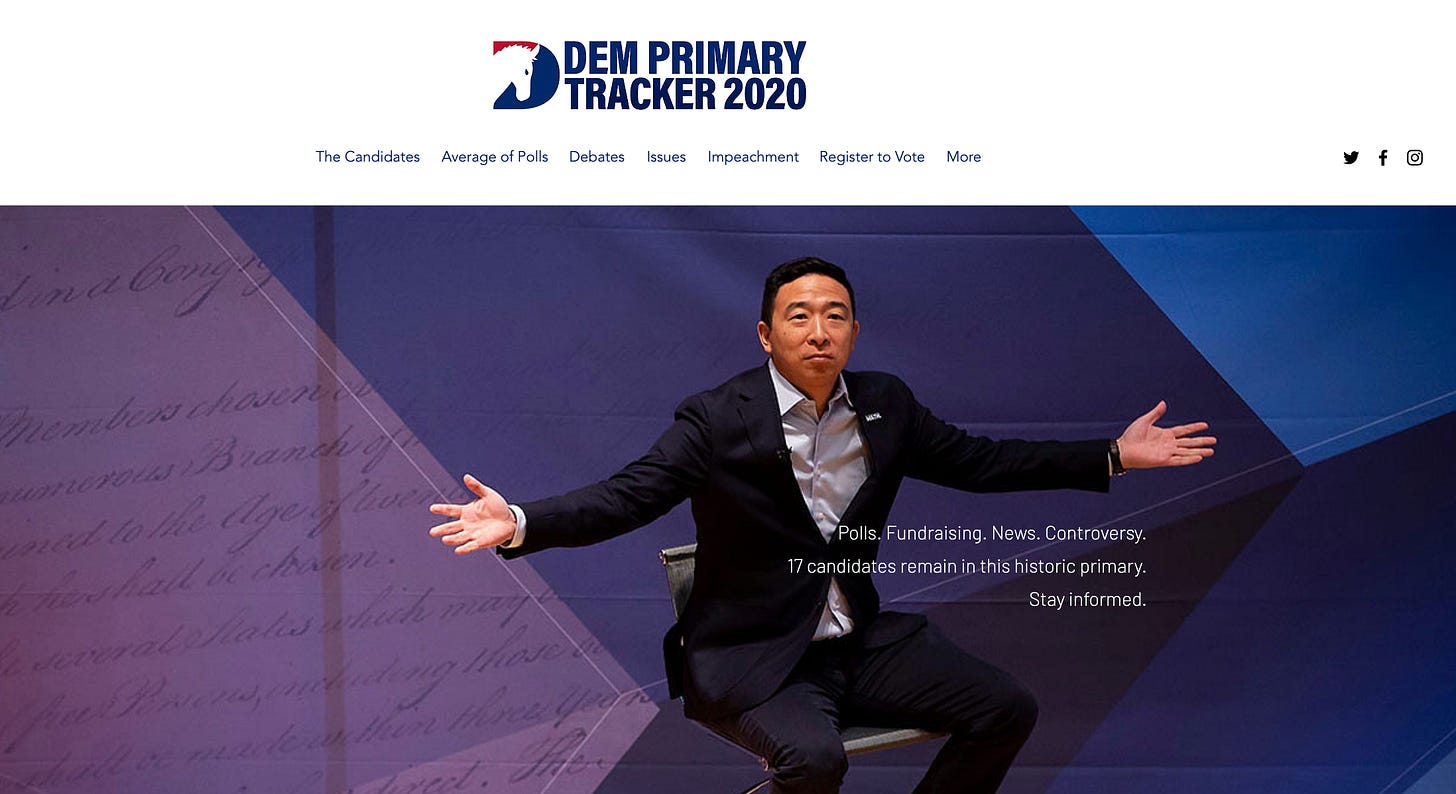 A bit of self-promotion: as we climb over the 20,000 subscriber mark, we have also officially launched our new website. All Archives and previous issues of Dem Primary Tracker 2020 are now available for web viewing at www.dpt2020.com. Please give feedback, comments, thoughts when you can. We're always available and responding to emails or through our social media. We genuinely appreciate you reading Dem Primary Tracker 2020. You can also 'like' our page on Facebook and follow us on Twitter & Instagram.
Yet Another Debate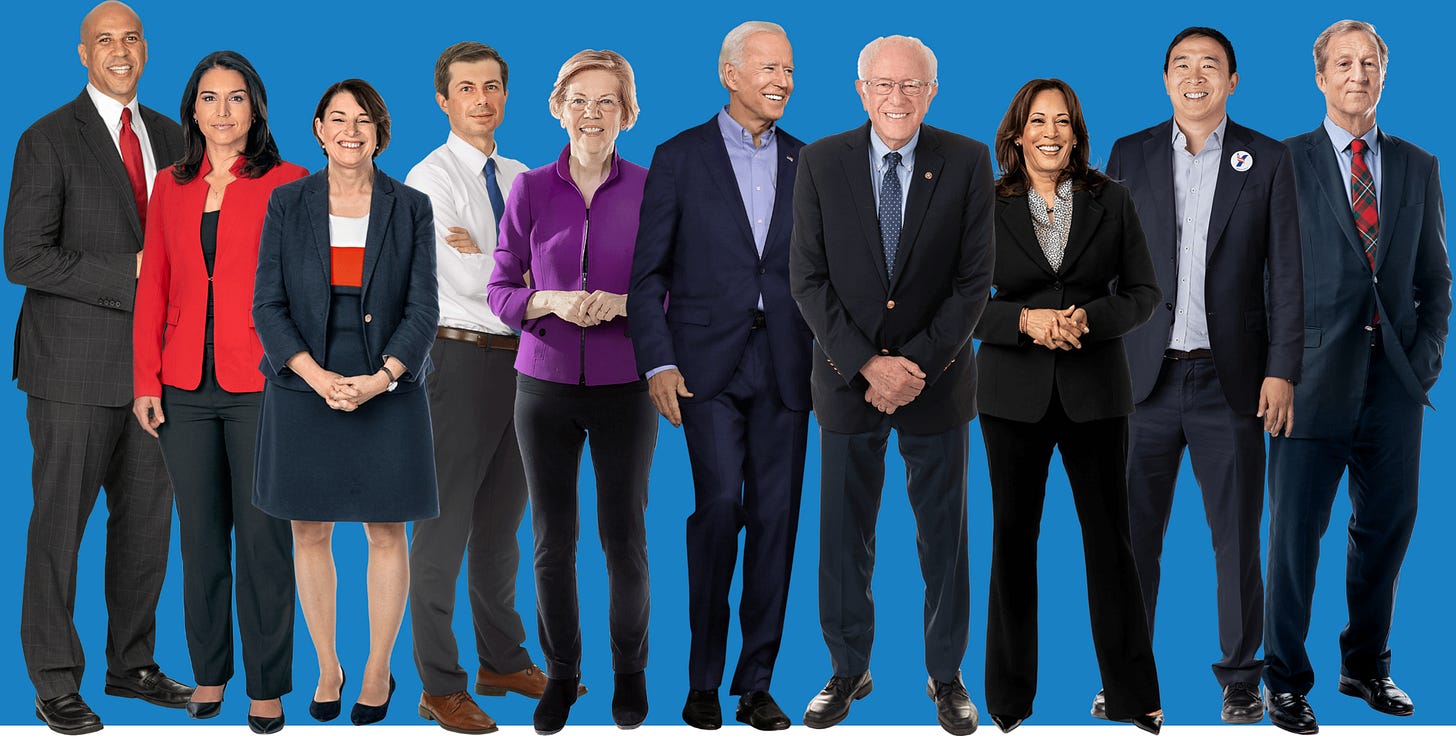 The fifth Democratic Primary debate takes place in Atlanta tonight (Weds, Nov. 20), co-hosted by MSNBC and the Washington Post, airing live from 9-11pm EST. 
Only 10 candidates will appear on stage, down two from the debate last month. Beto O'Rourke dropped out of the race since the last debate, and Julián Castro missed the debate polling requirements for the first time.
Washington Post says: Many Democrats in the race are embracing more left-wing positions, with a debate over the future of health care - Medicare-for-all vs. a public option - one key division in the field. Many candidates have provided responses to detailed questionnaires about their stances on health care, the economy, foreign policy, education and more.
REALITY CHECK: The debates haven't moved the needle at all. Though Harris had a 'game-changing' first debate, and Joe Biden seemed befuddled at various moments in the first three, the reality of the situation is that there are just TOO MANY DEBATES, and with the impeachment proceedings as a backdrop, you really don't need to subject yourself to two hours of this. Unless you are a masochist like DPT. . .
The Two New Entrants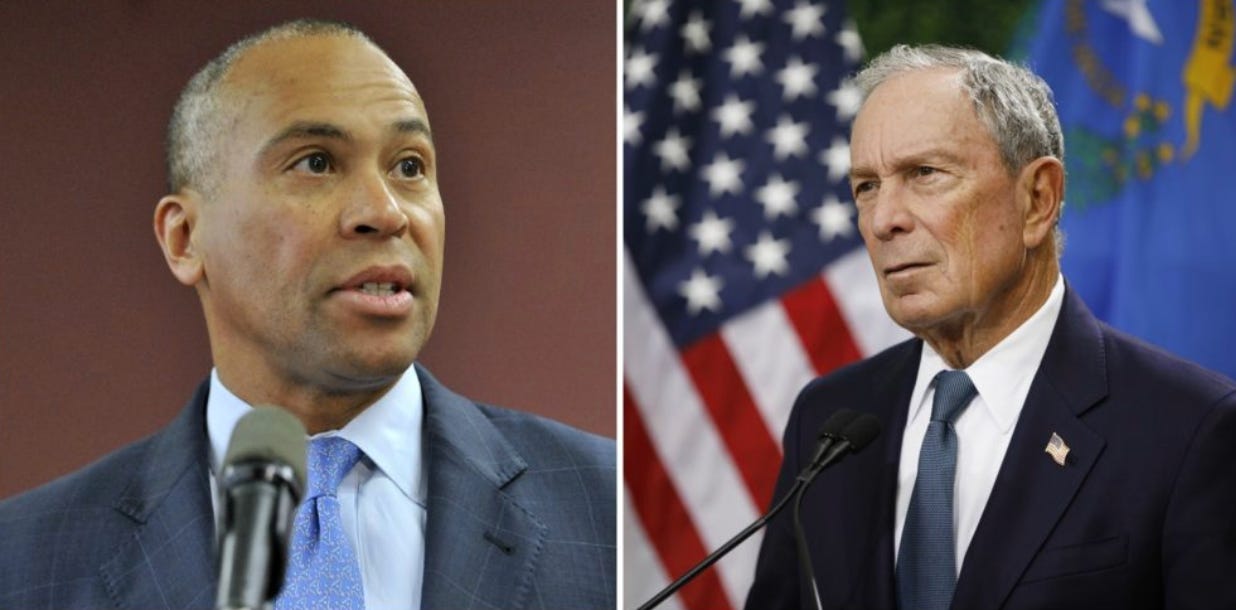 Two other names are now a part of the 2020 conversation: former Governor Deval Patrick of Massachusetts and billionaire Michael R. Bloomberg of New York, who is on the verge of a possible run. The duo each face calls from progressive Democrats that they represent a last gasp from the donor class and moderate Democrats to put down the progressive movement.
Politico says: "The left smells a rat in Bloomberg, Patrick bids" - Months ago, Amazon CEO Jeff Bezos asked Bloomberg to think about running for president, but he declined at the time. Patrick worked at Bain Capital, the private equity firm that served as a boogeyman of liberal Democrats and former President Barack Obama's re-election campaign, until last week. To many on the left, that's prima facie evidence that Bloomberg and Patrick are agents of a moneyed, ruling class determined to protect its interests against a rising progressive populist revolt.
REALITY CHECK: Nobody is asking for two more candidates - at least, not these two. Bloomberg is hitting a less-than-robust 2% in the polls, and Patrick plateaued at the same figure. . .in 2018. They each have interesting platforms, but the reality is that it's just too late. With Patrick's characterization of his own campaign as a 'Hail Mary from two stadiums over' - that should tell you all you need to know about his chances. And Bloomberg seems like a re-run of the Tom Steyer show. The fact that he's not even running in some early states sure sounds like a concession.
Impeachment Hearings
Axios says: European Union Ambassador Gordon Sondland said that he worked with Rudy Giuliani "at the express direction" of President Trump on matters involving Ukraine.
He also confirmed that a quid pro quo preconditioning a White House meeting in exchange for an investigation into the Biden family's business dealings in Ukraine took place and "reflected President Trump's desires and requirements."

He said that he believed that the resumption of military aid to the country came to be conditioned on a Biden-linked investigation as well.

On Tuesday, Lt. Col. Alexander Vindman, the National Security Council's top Ukraine expert, and Jennifer Williams, an aide to Vice President Pence The hearing was the first time the public heard directly from witnesses who listened to the July 25 call between President Trump and Ukrainian President Volodymyr Zelensky that lies at the heart of the impeachment inquiry.
Reflecting their closed-door testimonies, Vindman and Williams both used their opening statements to say that they found the July call to be improper and unusual, respectively.

Both Vindman and Williams testified that they are not aware of evidence suggesting misconduct by Joe Biden in Ukraine.
REALITY CHECK: Despite some serious revelations - today, Gordon Sondland directly referred to a quid pro quo - the abundance of facts and witness are still too muddled to formally sway public opinion. Polls are confirming this inference. The fact is, the hearings are being used to embolden arguments on both sides. Much like the whole of Trump's presidency, the hearings so far can be characterized as 'the President is awful, he did a lot of things wrong, probably even illegal, but nothing to the concrete, iron-clad level of GET HIM OUT NOW.' This is a terrible place to be, but until there's a literal literal smoking gun, it's all going to come down to the election on November 3, 2020.
Obama Weighs In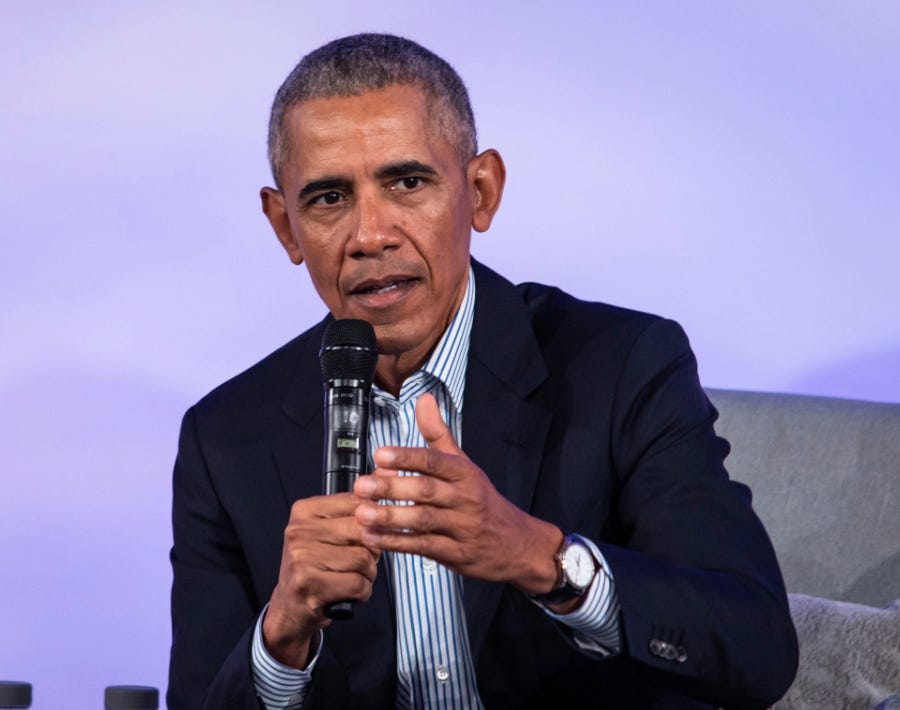 CBS News Says: Former President Barack Obama offered an unusual warning to the Democratic primary field. Speaking before a room of wealthy liberal donors, he cautioned the candidates not to move too far to the left in their policy proposals. "Even as we push the envelope and we are bold in our vision we also have to be rooted in reality," Mr. Obama said. "The average American doesn't think we have to completely tear down the system and remake it." However, Obama also praised Democrats who offer bold ideas, noting that social programs in the United States have started "modestly" and then were built upon.
REALITY CHECK: He's right, of course. As it stands, the people really engaging with the primaries are the die-hards; the Berners and YangGang, those rallying around Warren and enamored with Alexandria Ocasio-Cortez. The majority of voters on 11/3/20, however, will reflect the entirety of the Democratic party: older, less educated, more working class, and yes, moderate, than the current narrative implies.