Discover more from Dem Primary Tracker 2020
The Official 2020 Democratic Primary candidate tracker.
Over 11,000 subscribers
Jay Inslee Drops Out; Tom Steyer Spends Big
JAY INSLEE DROPS OUT
Supporters of Jay Inslee received this email Wednesday evening: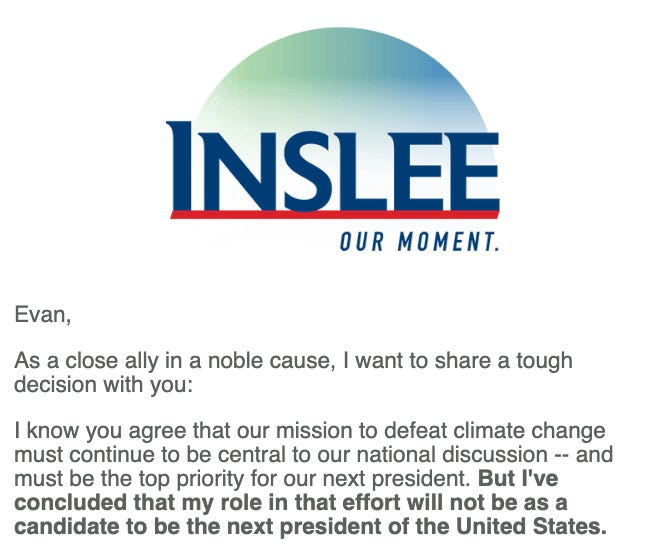 Inslee, who made fighting climate change the central theme of his presidential campaign, announced that he is ending his bid for the 2020 Democratic nomination. It is reported that Inslee will be seeking a third term as governor of Washington. Inslee was a champion for the clean energy industry in Congress and wrote a book on the topic. Inslee had an impressively detailed plan to eliminate fossil fuels from the electricity supply by 2045.
Inslee participated in the first two presidential debates this summer, but struggled to gain traction in the crowded Democratic field and was falling short of the requirements needed to appear in the third DNC debate in Houston and a CNN town hall focused on climate change, Inslee's key issue.
Further winnowing a field of 25 candidates, Inslee becomes the third candidate to drop out, following Eric Swalwell, John Hickenlooper, and Mike Gravel.
WHO IS THE CLIMATE CANDIDATE NOW?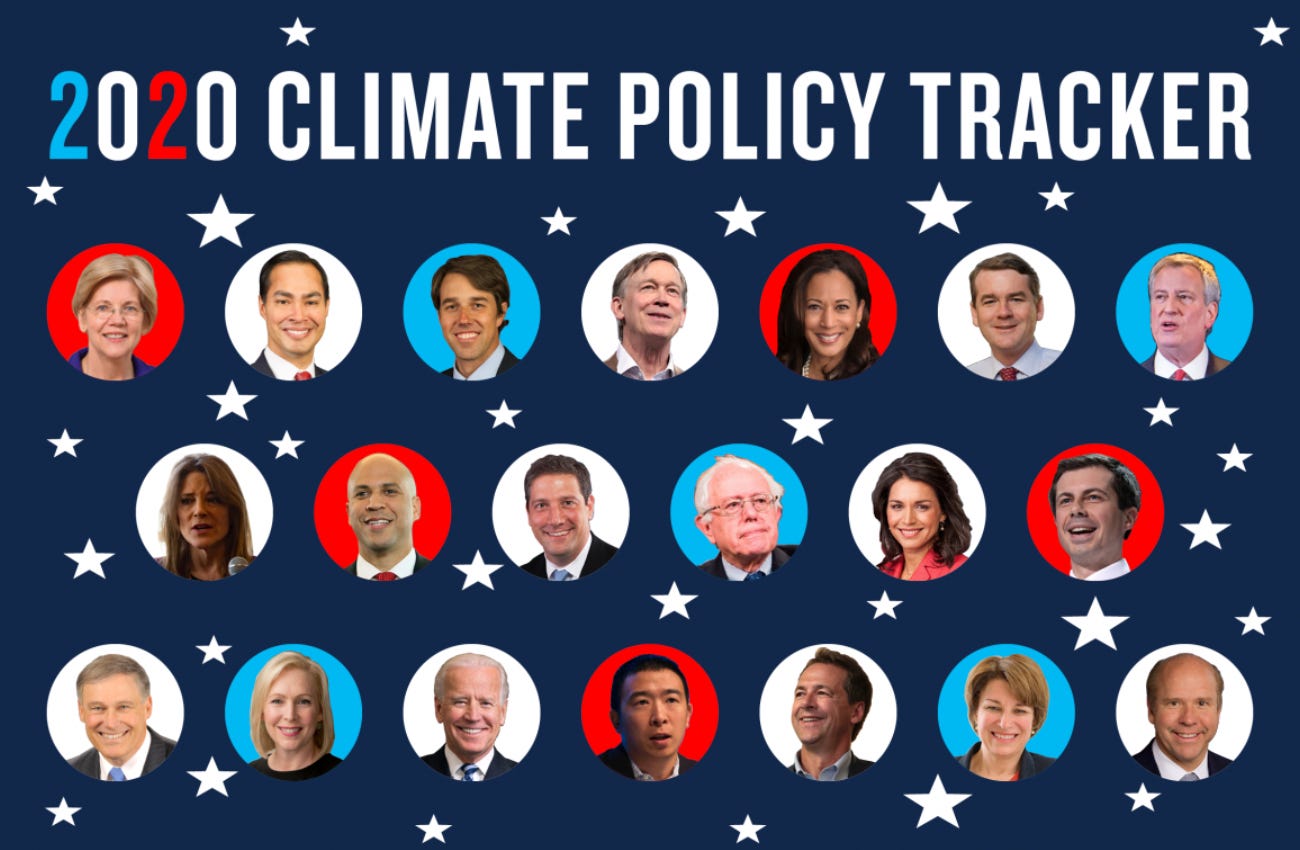 Beto O'Rourke was the first 2020 Democrat with a comprehensive climate change plan, released on May 1. The proposal starts by setting a legally binding target of net-zero greenhouse gas emissions across the US economy by 2050. It gets there by using executive powers to do things like re-enter the Paris climate agreement, limit methane leaks from oil and gas drilling, and set new energy efficiency standards.
Tom Steyer founded the nonprofit NextGen Climate the same year to build a political movement around climate action. Steyer's campaign published an extensive "Justice-Centered" climate plan that includes a commitment to declare climate change a national emergency and support for Green New Deal legislation. The plan aims for net-zero greenhouse gas emissions by 2045 across all sectors.
Michael Bennet laid out not just an agenda but an enforceable timeline for climate action. Building on the net-zero by 2050 goal, Bennet wants to have a global climate summit in his first 100 days to set even more ambitious goals. 
Elizabeth Warren is framing climate change as an issue of economics, public resources, and national security instead of just as an environmental issue.
Kamala Harris launched an investigation Exxon Mobil to see whether the company lied to investors and to the public about what it knew about climate change. Harris was also one of the co-sponsors of the Green New Deal resolution. Most recently, she teamed up with Rep. Alexandria Ocasio-Cortez (D-NY) to introduce a bill that would rank climate change regulations based on how well they address the needs of low-income communities.
Joe Biden has the distinction of introducing the first climate change bill in the Senate, way back in 1987. Last month, Biden's campaign teased a climate strategy that would be a middle ground approach to climate policy.
Bernie Sanders has a long history of talking about climate change. You can find videos of him talking about it going back 30 years. In the Senate, he's introduced carbon-pricing legislation and pushed for a carbon tax to be part of the Democratic Party platform. On the campaign trail, Sanders has been strongly supportive of the Green New Deal.
Cory Booker was an early backer of the Green New Deal. He has also been a vocal proponent of nuclear energy, currently the largest source of zero-emissions electricity in the US.
Pete Buttigieg hasn't yet released a climate-specific proposal, but his platform cites support for implementing a Green New Deal and he wants to create a Climate Corps as part of his national service corps program. And in a speech on June 11, he said he would rejoin the Paris climate accord and increase investment in renewable technologies by at least $25 billion.
Kirsten Gillibrand echoes the same sentiments as many other candidates, but what stands out is her willingness to name an adversary - fossil fuel companies -and hold them accountable.
STEYER RISES IN EARLY PRIMARY STATES
Tom Steyer's recent ad blitz has earned the candidate poll traction, at least in early primary states (includes ONLY voters who live in Iowa, New Hampshire, South Carolina, or Nevada). The latest results are based on 17,115 survey interviews conducted between August 12-18, 2019.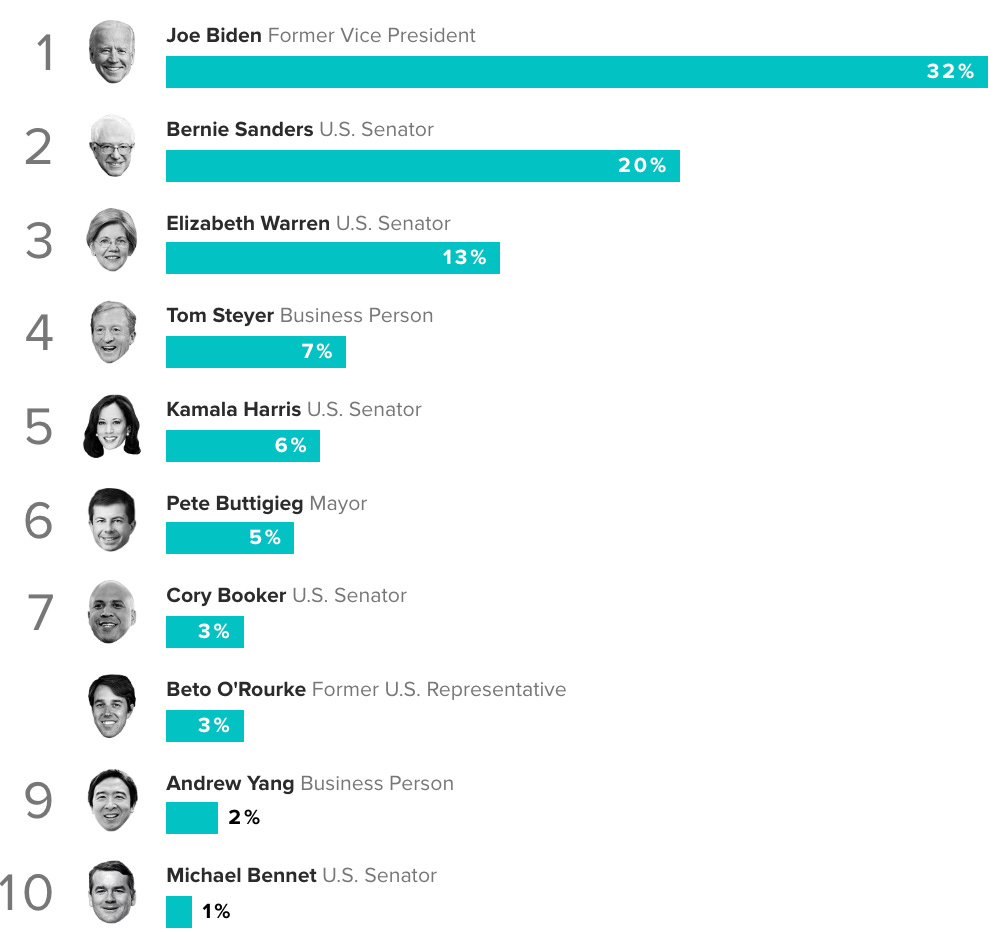 STEYER THE BUYER
Billionaire hedge fund manager and environmental crusader Tom Steyer's television and ads target voters across the country and ask for contributions of just $1. In addition to a barrage of televised ads in early primary states, his campaign spent about $3.5 million on digital ads in its first 30 days: $2.6 million on Facebook, over $600,000 on Google - and more than $200,000 on Twitter. Steyer's digital campaign presence builds off his activism through political groups he previously funded out of his own pocket, such as NextGen and Need to Impeach, an environmental/voter registration organization and a Super PAC to impeach President Donald Trump, respectively. Steyer is attempting to duplicate the Brad Parscale-led campaign of 2016, when the outsider billionaire Trump focused heavily on digital ads, undermining the traditional media buying strategy and winning the election.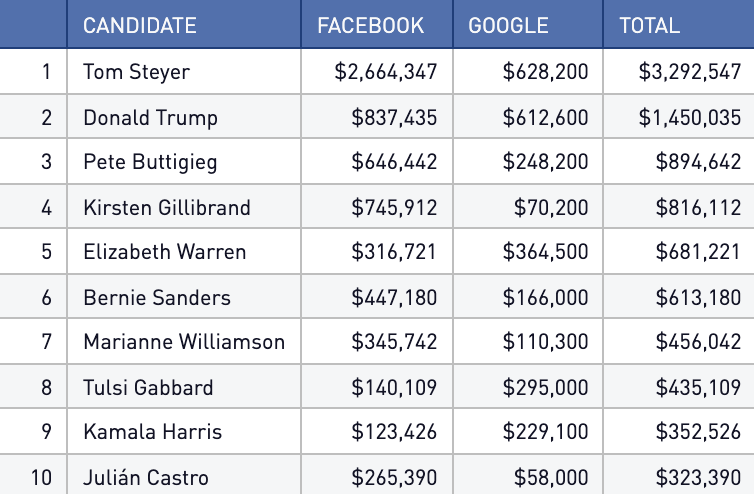 And here's a note that only ad wonks will appreciate, note that only ad wonks will appreciate: Tom Steyer's team is buying Jay Inslee's digital media, including keywords, essentially usurping the would-have-been candidate's (digital) ad buys.
TWEETS OF THE WEEK
We've collated the tweets with the highest engagement from each candidate over the past week. Please click on each tweet to see it in its proper context.
JOE BIDEN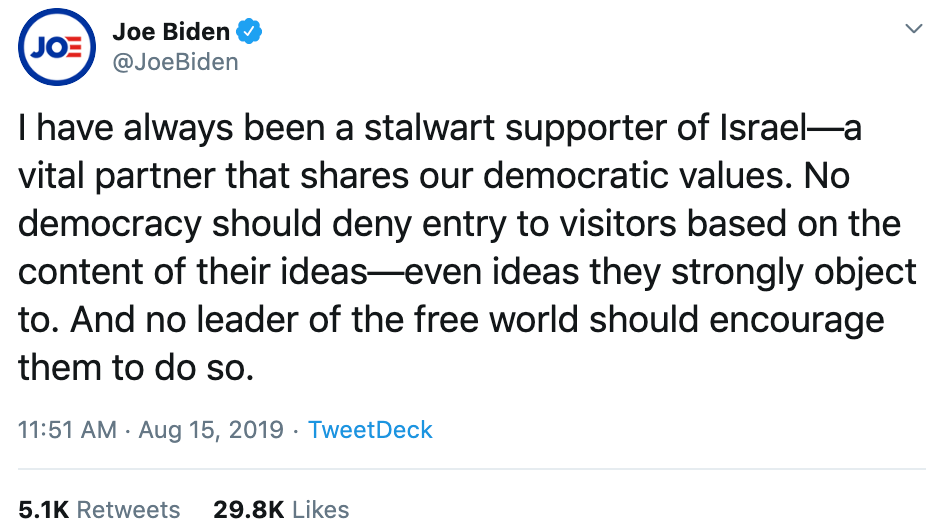 ELIZABETH WARREN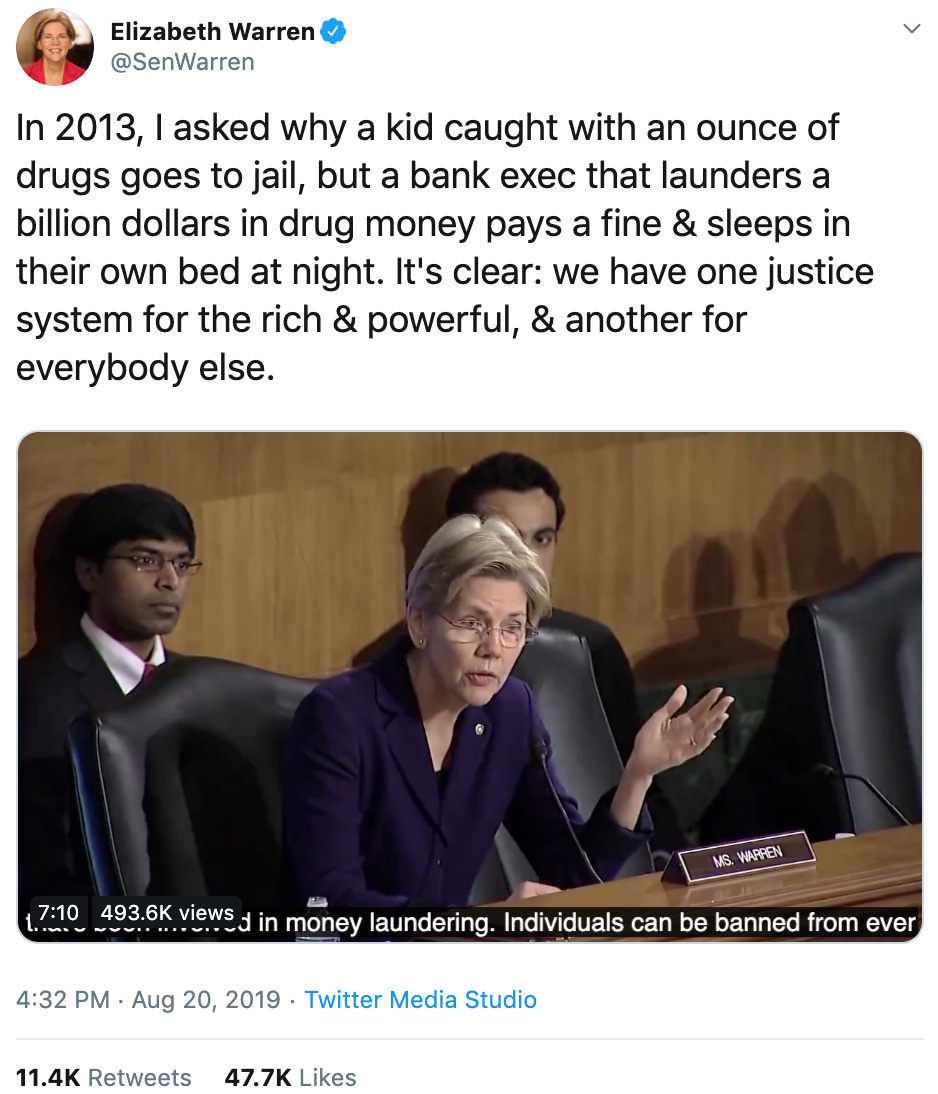 BERNIE SANDERS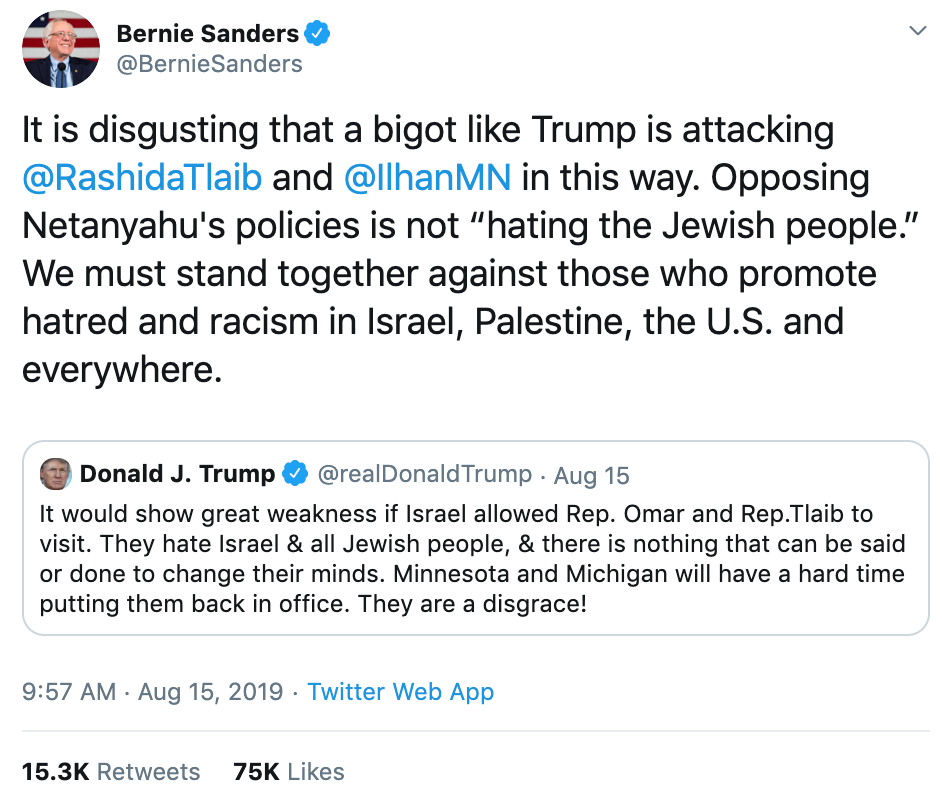 KAMALA HARRIS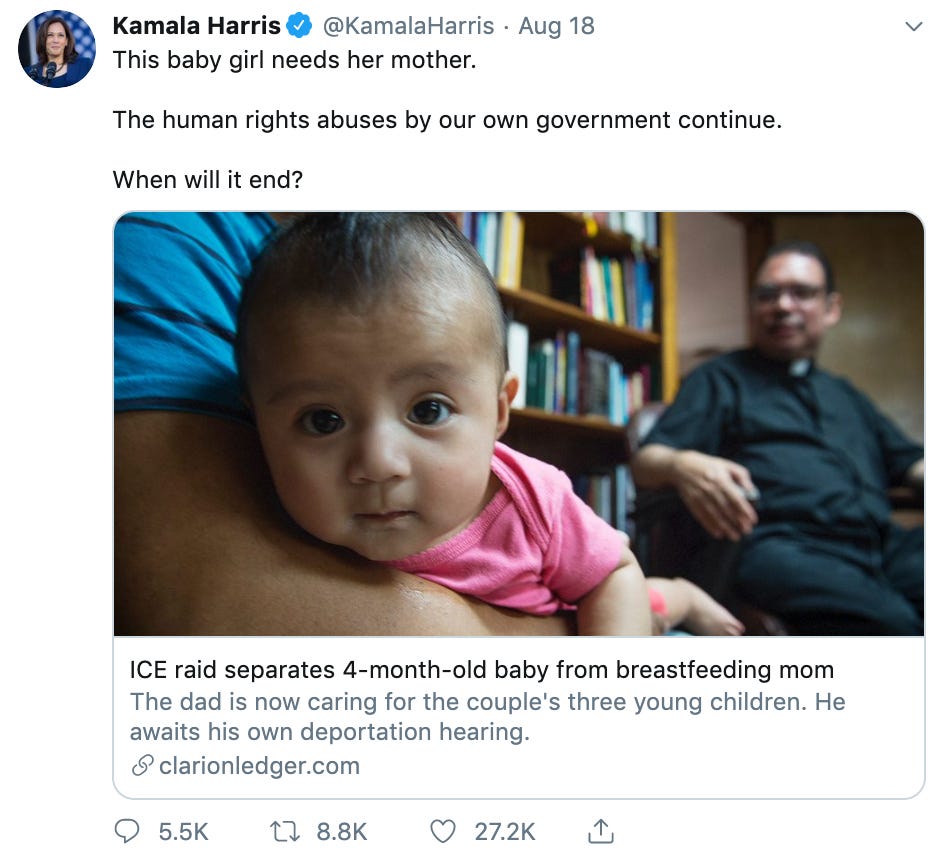 PETE BUTTIGIEG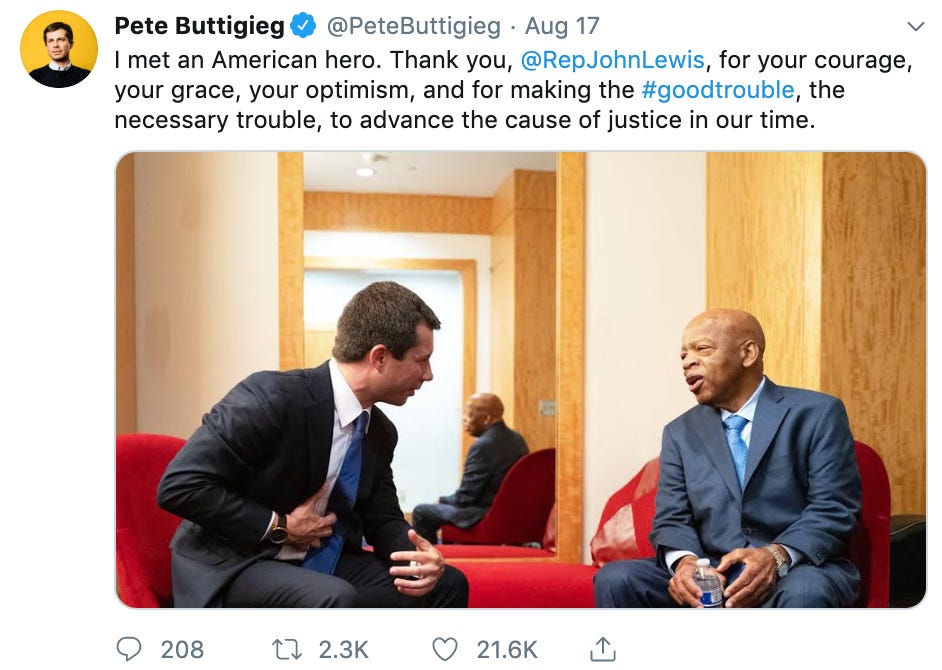 CORY BOOKER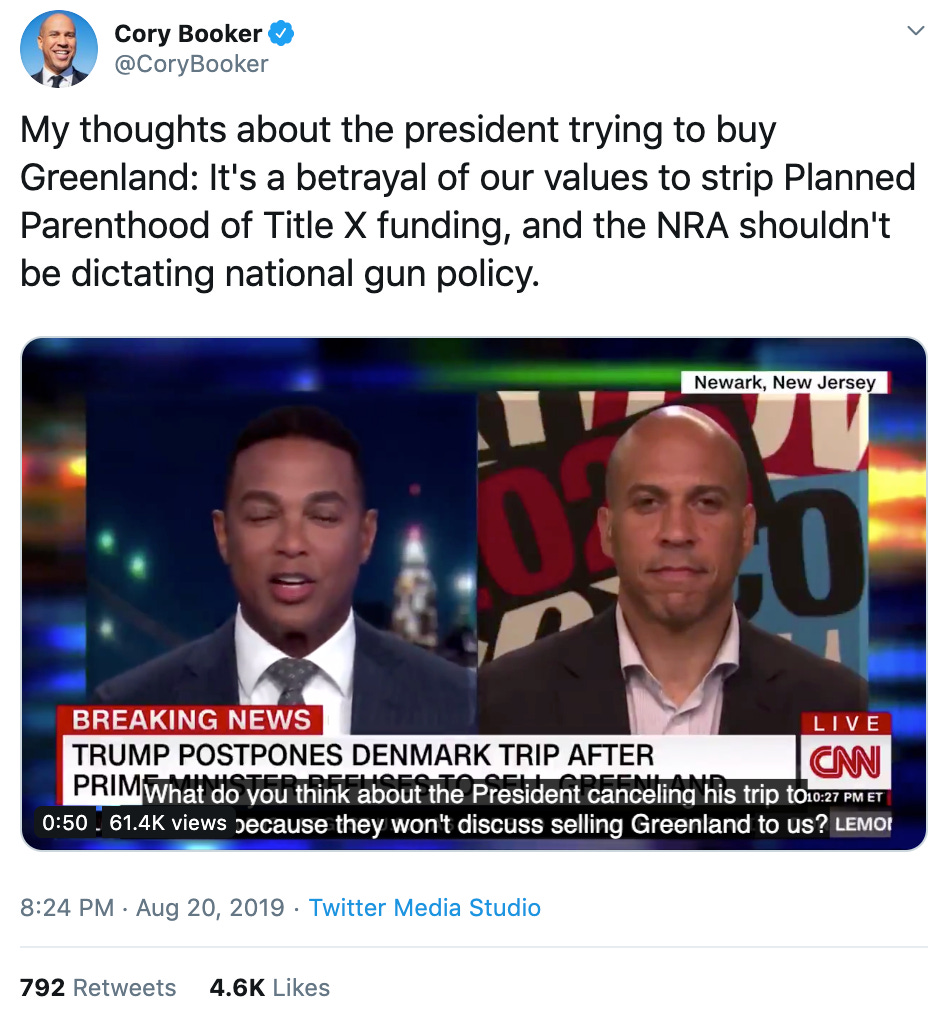 JULIÁN CASTRO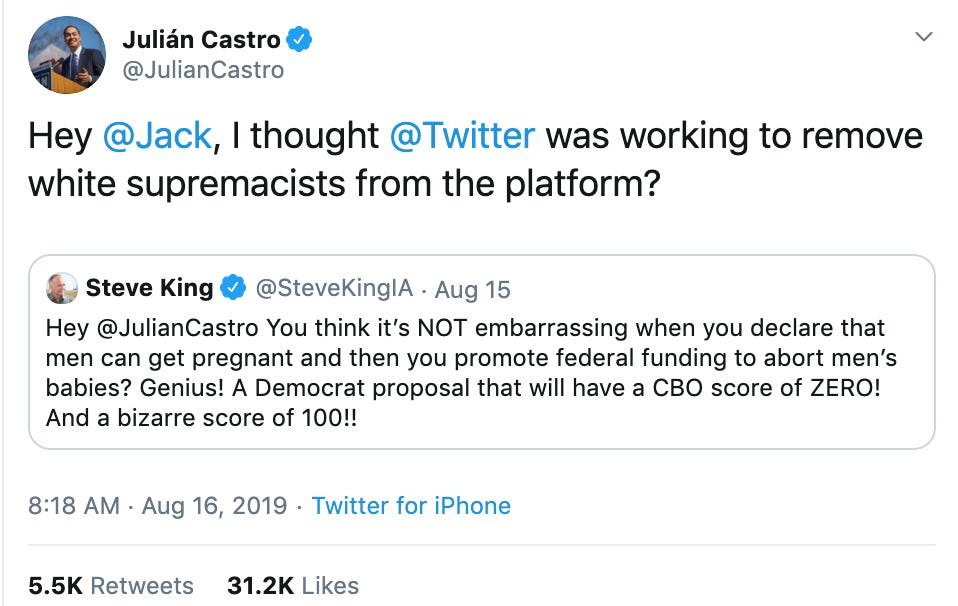 BETO O'ROURKE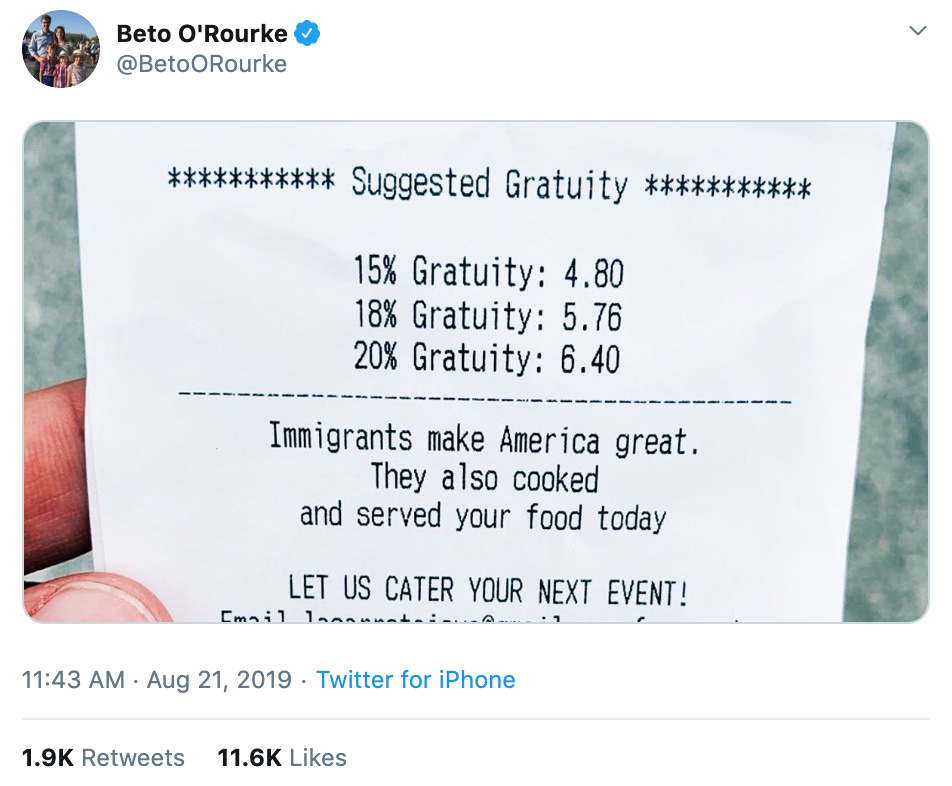 ANDREW YANG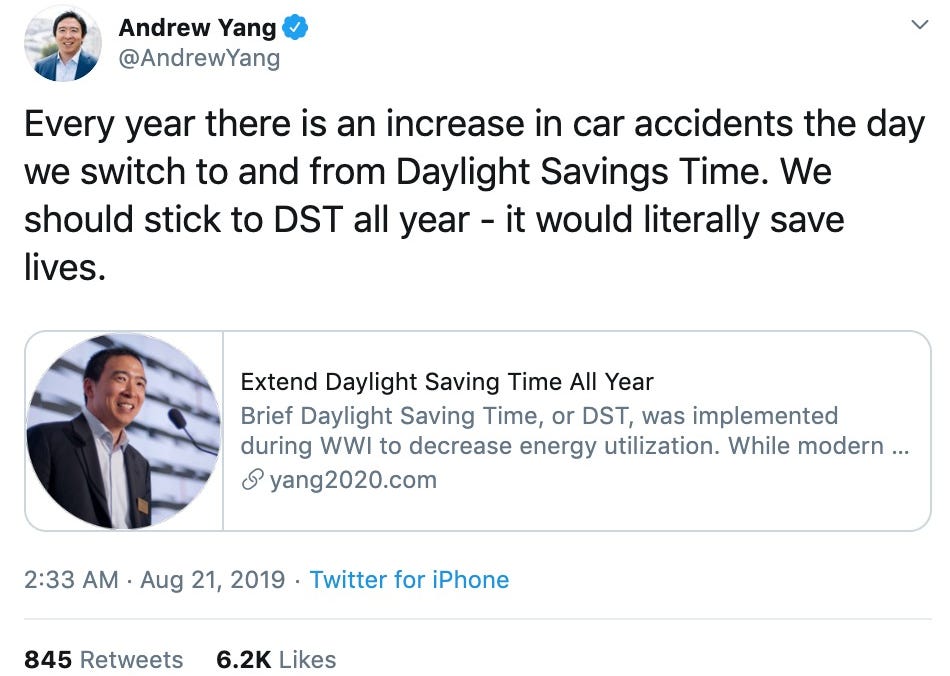 STEVE BULLOCK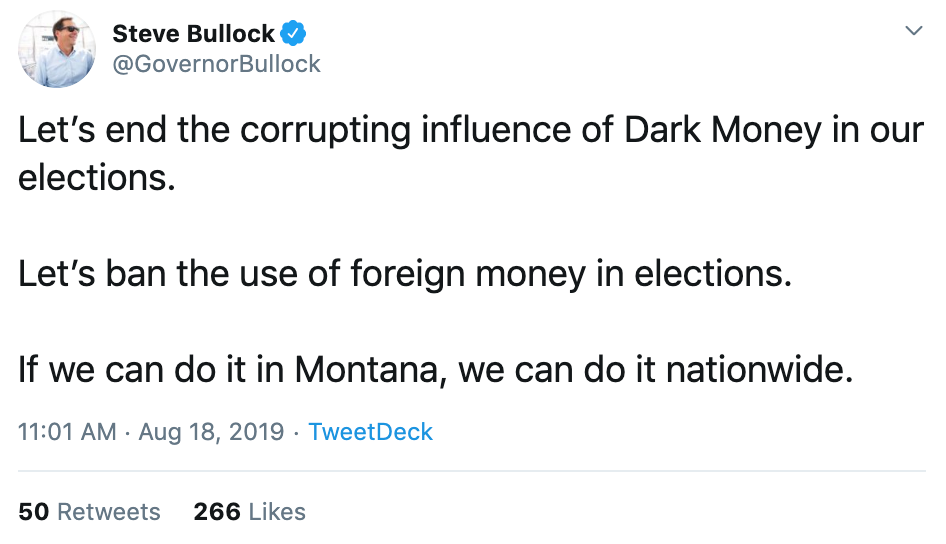 AMY KLOBUCHAR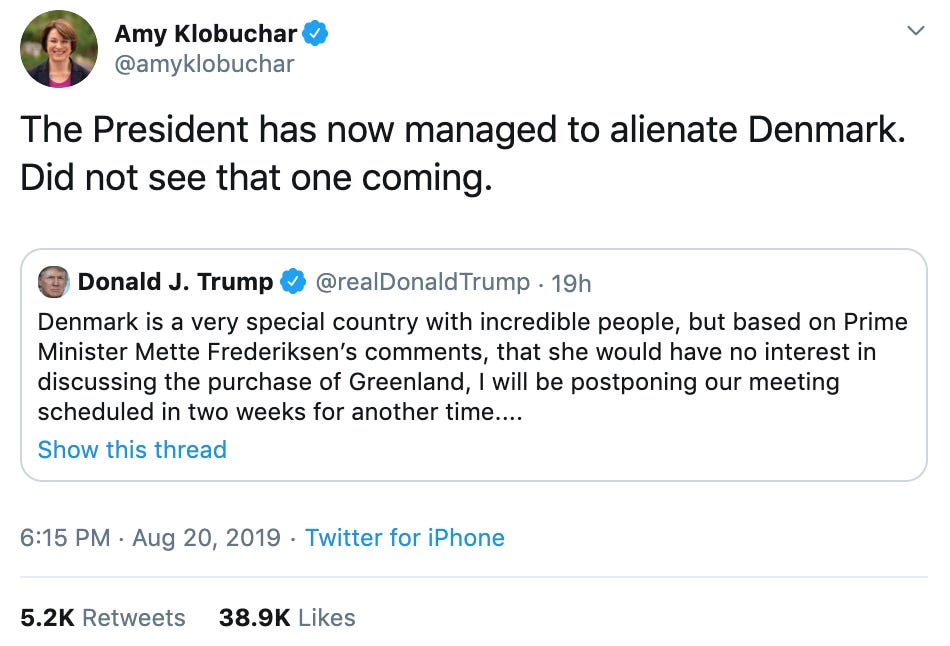 JOHN DELANEY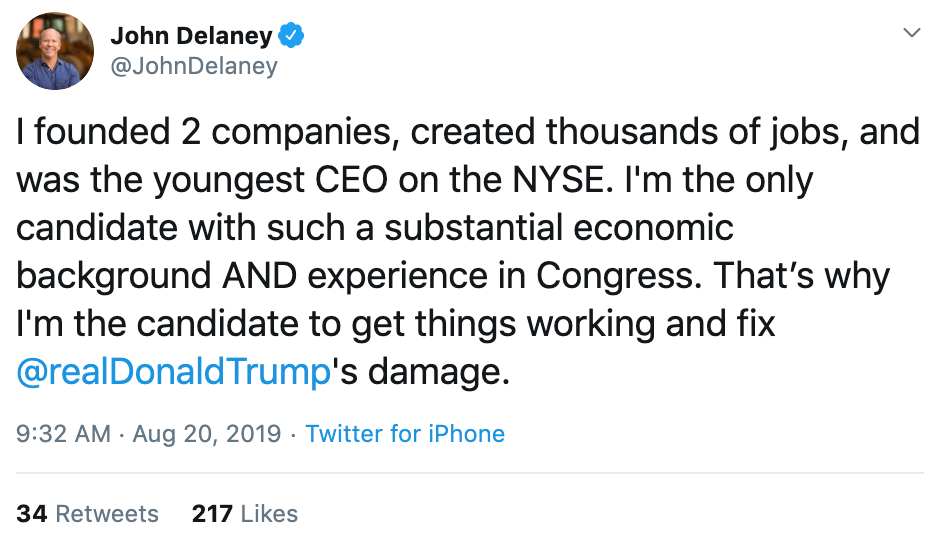 KIRSTEN GILLIBRAND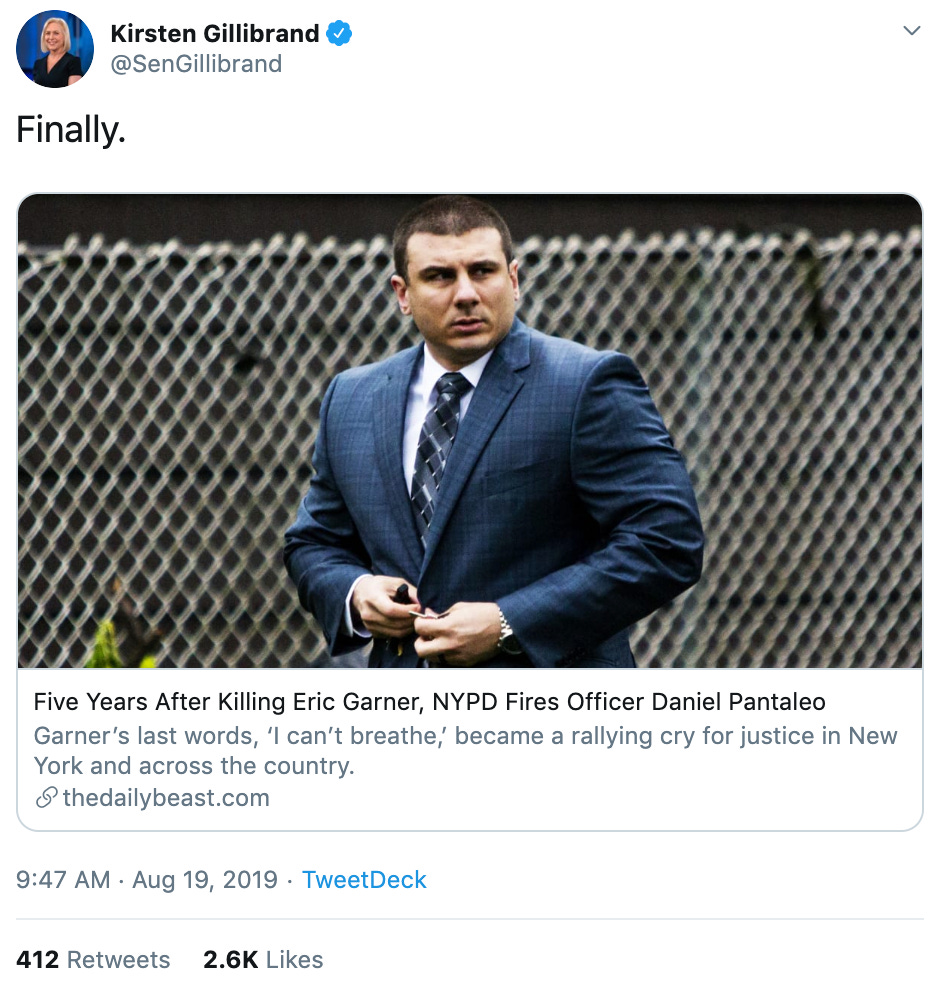 TULSI GABBARD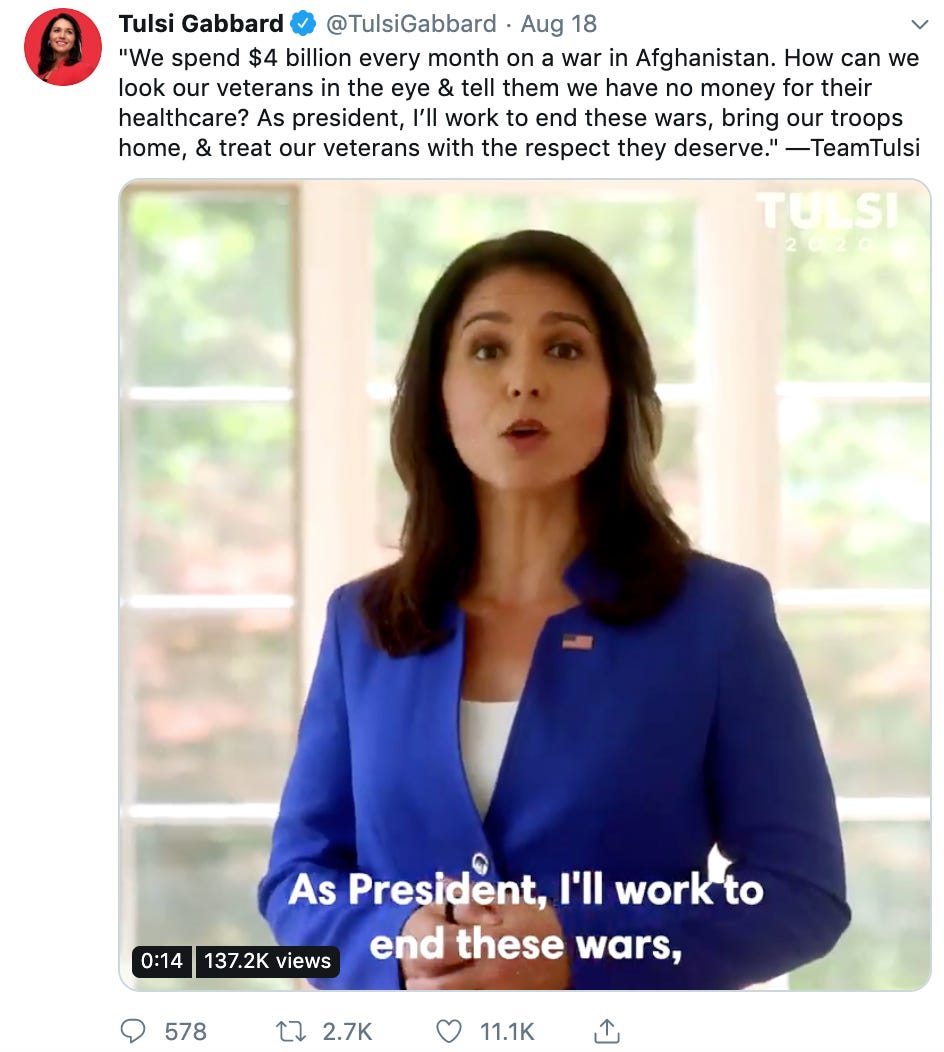 TIM RYAN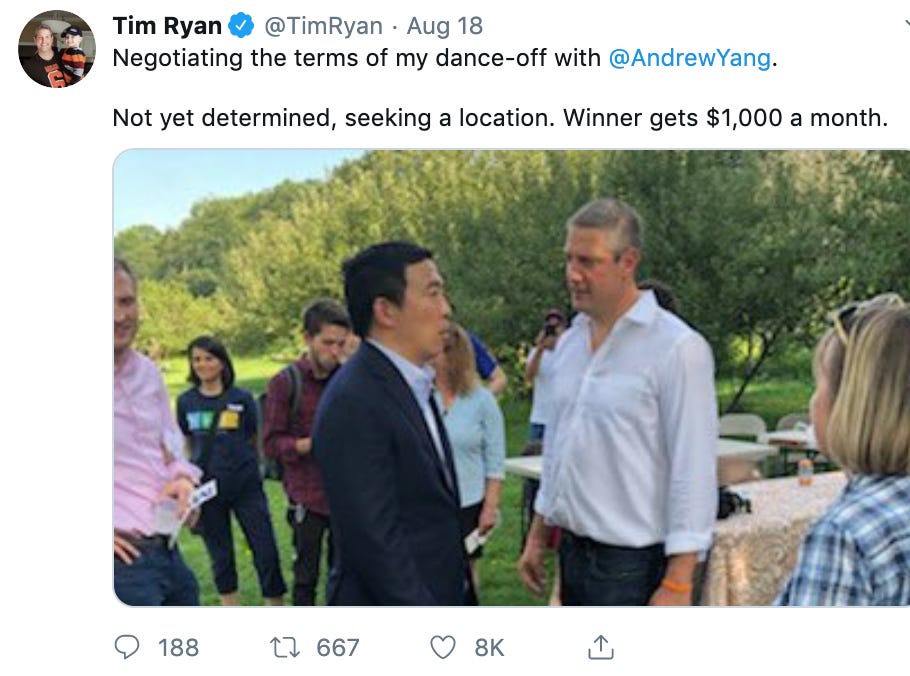 TOM STEYER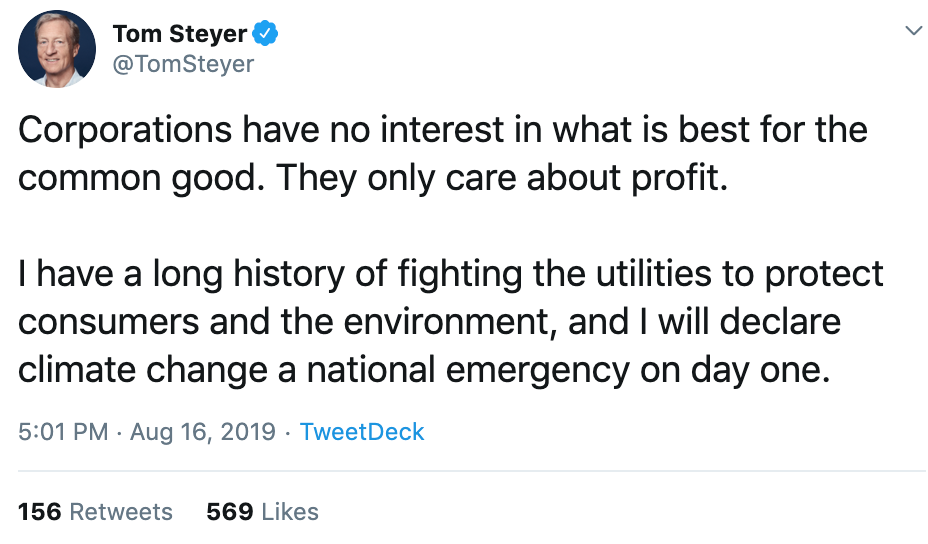 MARIANNE WILLIAMSON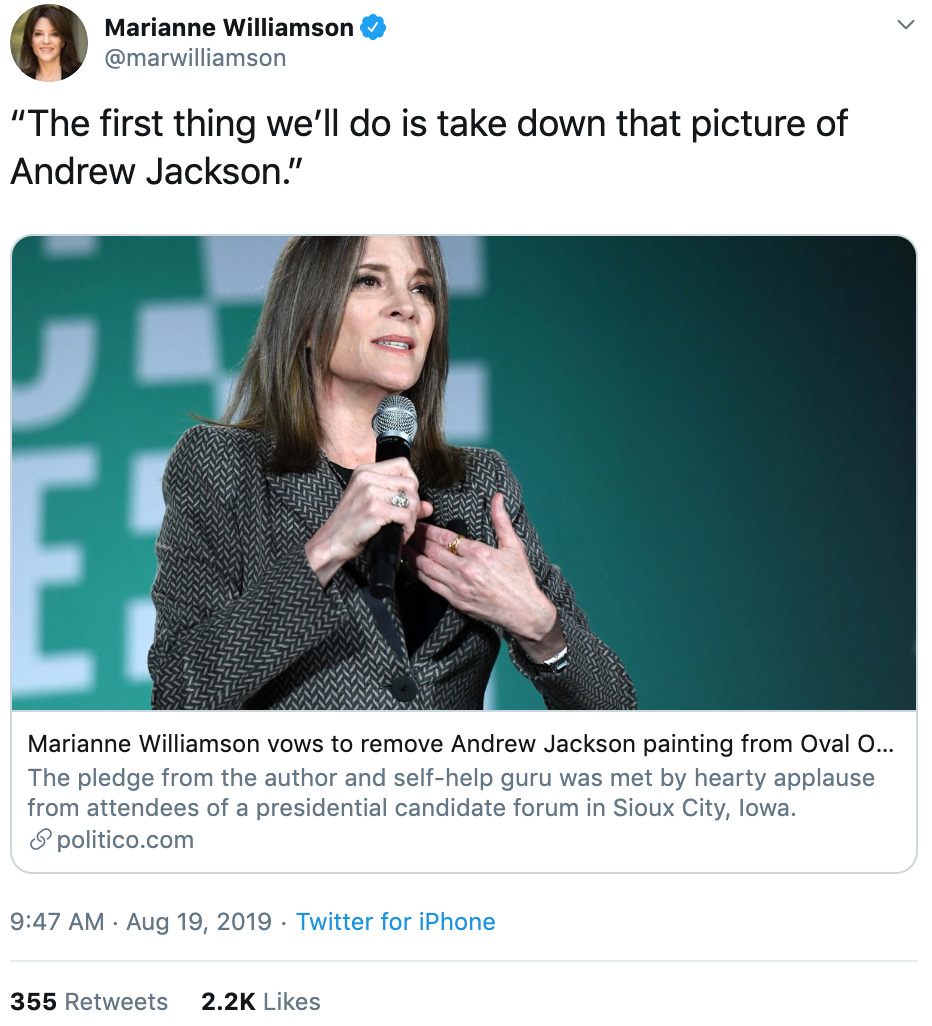 MICHAEL BENNET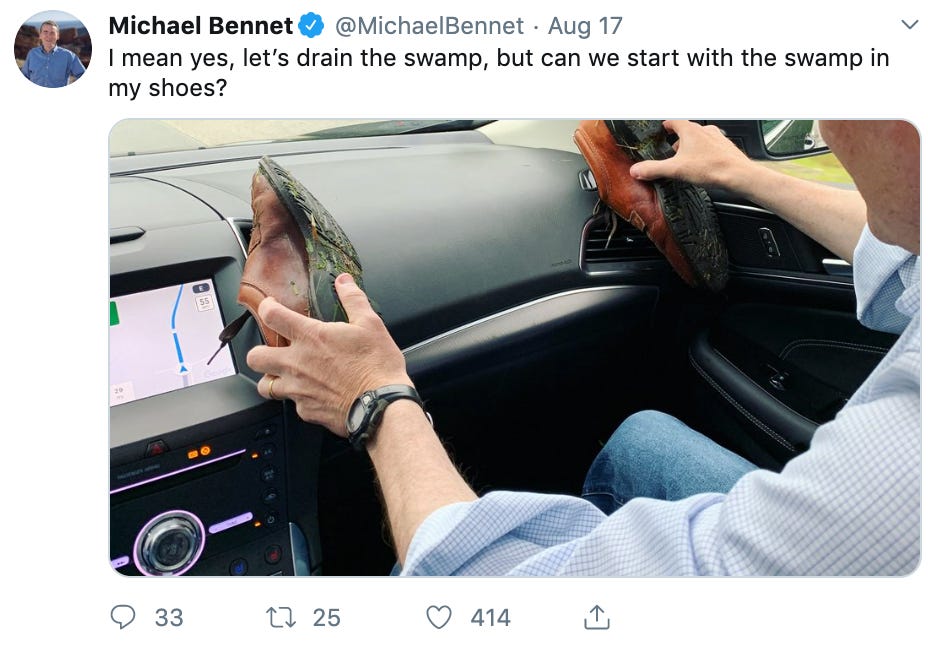 BILL de BLASIO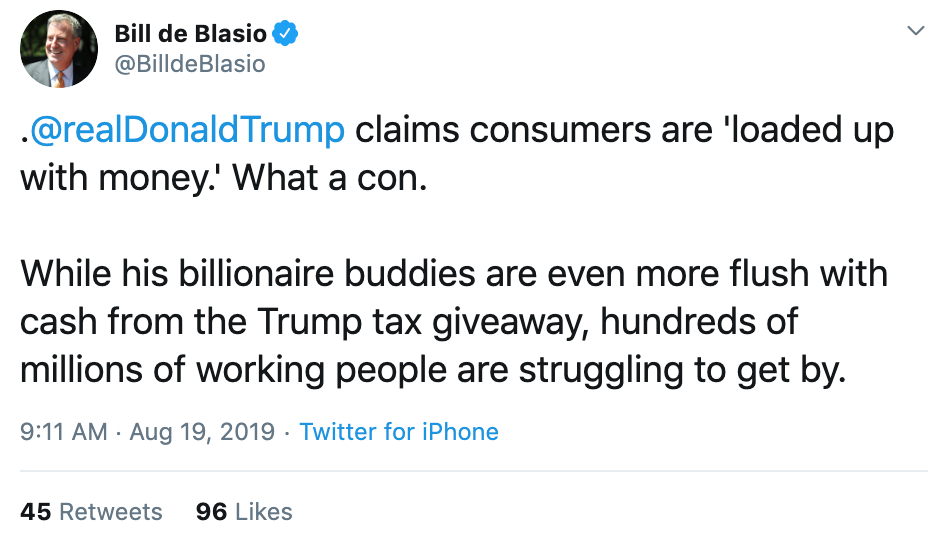 SETH MOULTON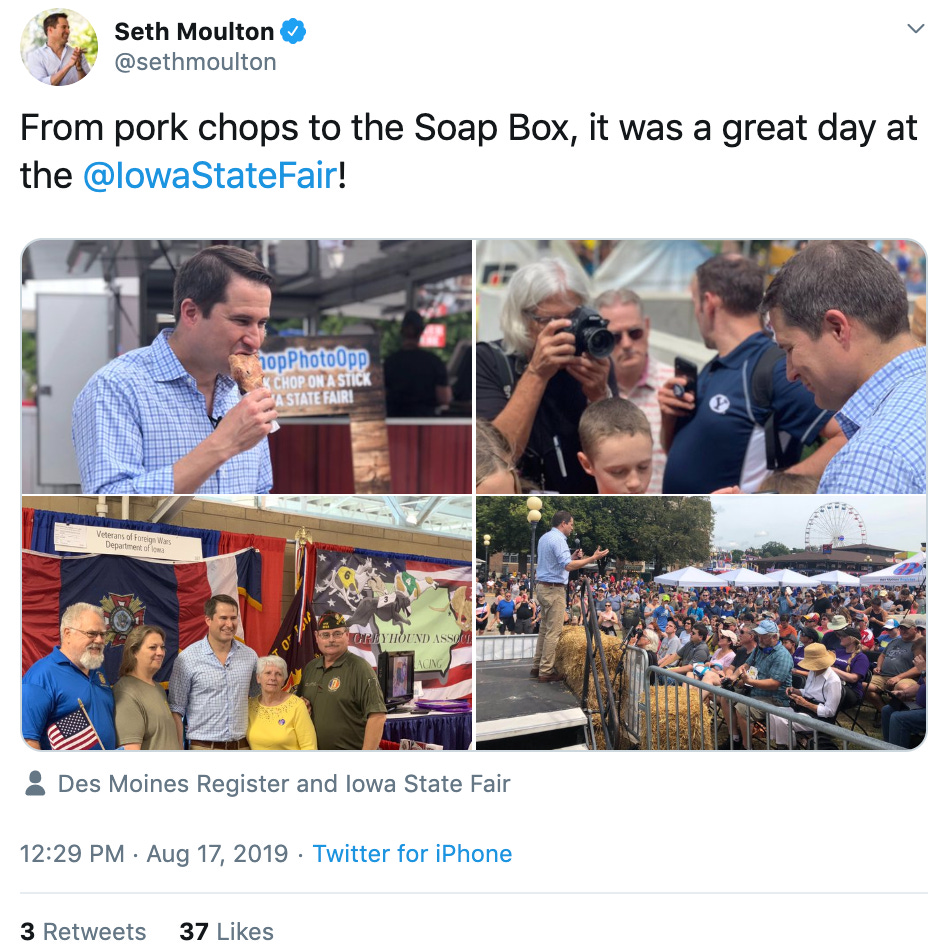 WAYNE MESSAM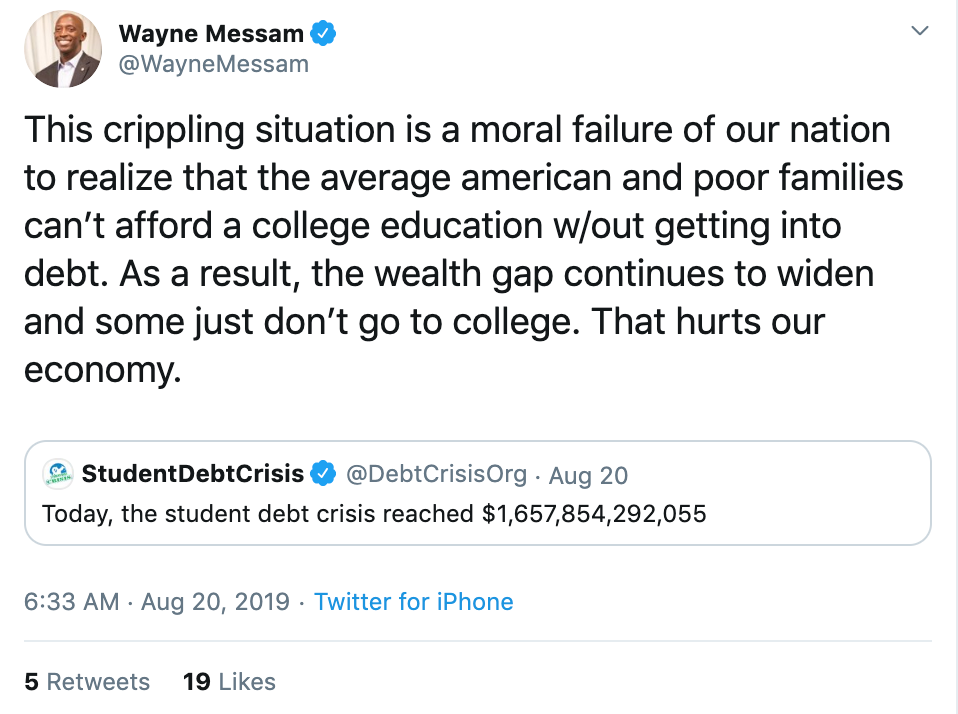 JOE SESTAK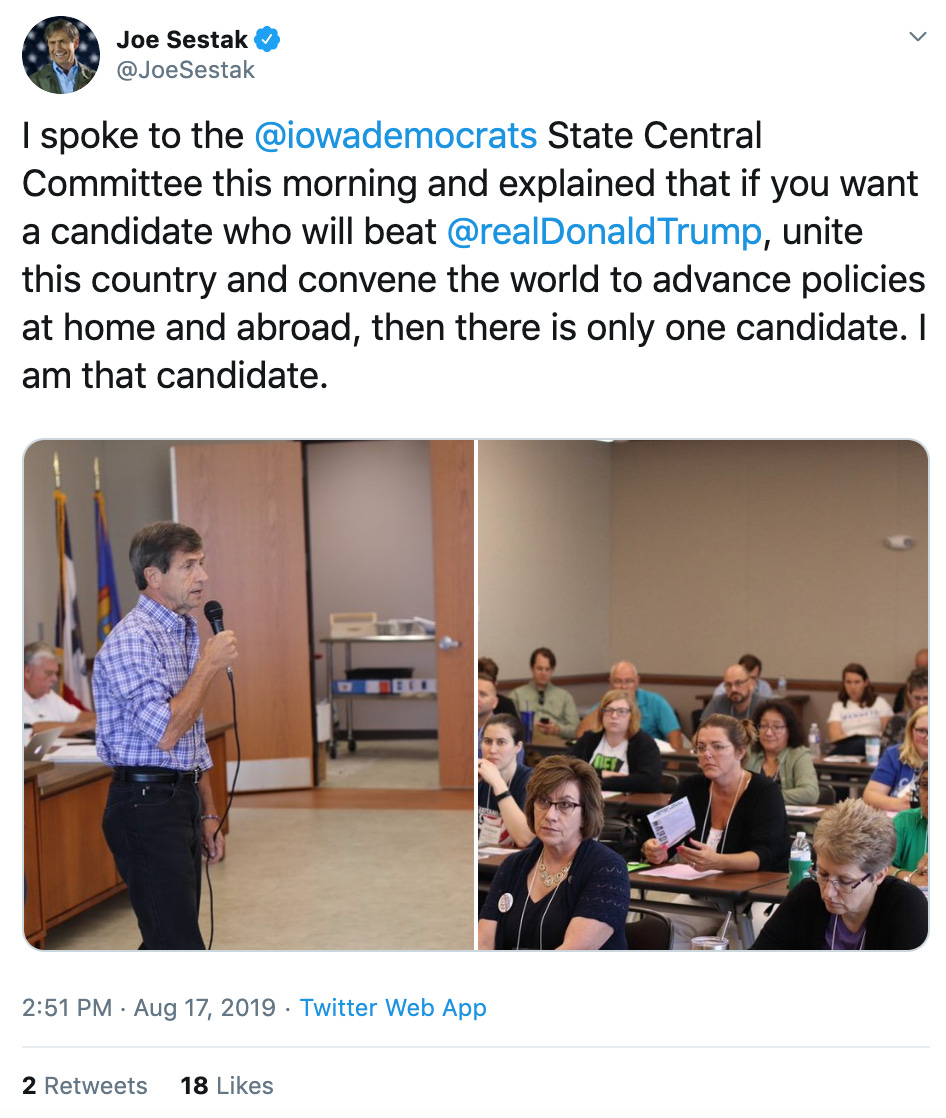 ARCHIVES
August 15 (Gun Control Issue) August 8 (The Impeachment Issue) August 1 (Debates, Round 2)  July 25 (The Social Media Issue) July 18 (The Fundraising Issue) July 11  July 4 (The Ancestry Issue) June 27 June 20 (The Debate Issue) June 13 June 6 May 30 May 23 May 16 May 9  May 2  April 25  April 18  April 11  April 7 March 31  March 24  March 17 March 10
DAYS UNTIL 2020 PRESIDENTIAL ELECTION: 

438
REGISTER TO VOTE HERE: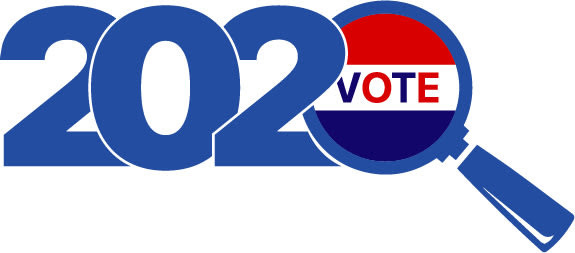 We genuinely appreciate you reading Dem Primary Tracker 2020. You can also 'like' our page on Facebook and follow us on Twitter & Instagram.