Discover more from Dem Primary Tracker 2020
The Official 2020 Democratic Primary candidate tracker.
Over 11,000 subscribers
***The Debate Issue***
DEM PRIMARY DEBATES, DATES, INFO
The first Democratic Debate will be the initial opportunity for candidates to differentiate themselves, their ideas & policies in a face-to-face format. To qualify, candidates had to receive more than 65,000 individual donations (including from 200 unique donors per state in at least 20 states) or at least 1 percent in three polls approved by the Democratic National Committee. The event will take place in Miami from 9-11 EST on June 26 and 27 and will air on NBC, MSNBC, and Telemundo. The moderators will be Lester Holt, Savannah Guthrie, Chuck Todd, Rachel Maddow, and José Díaz-Balart. Here are the complete lineups.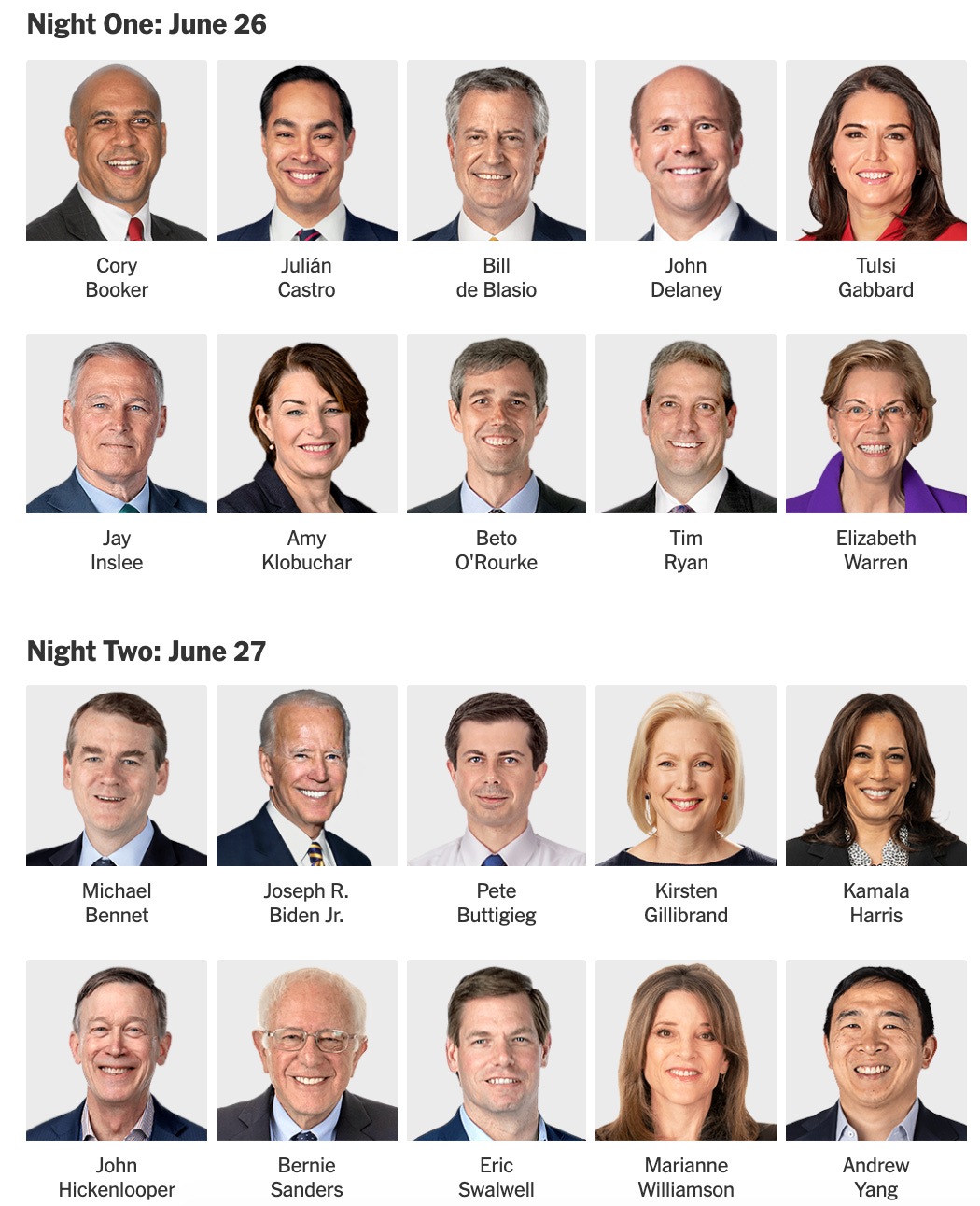 The second night is being billed as the main event with Joe Biden, Kamala Harris, Bernie Sanders, and Pete Buttigieg on one stage. Biden and Sanders will be sharing the dais for the first time, which may lead to fireworks - and potential risk for each candidate. On the first night, Elizabeth Warren will be the highest-polling candidate, facing off against Beto O'Rourke, Amy Klobuchar, Cory Booker, and Julián Castro. The stakes are especially high for the candidates who entered the race with perceived upside but have not yet resonated with voters.
The debate lineup is a boon to underdog candidates such as Andrew Yang and Marianne Williamson, who will be able to increase their national profile by sharing exposure with the top-polling candidates. And to the extent that the primary is a contest to determine which candidate is best prepared to confront the Republican president in a general election, President Trump is widely expected to tweet about the debates as they unfold.
DEMOCRATIC DEBATE STANDING CHART
NBC News, the media organization hosting the first Democratic debates later this month, announced exactly where on stage each candidate will be standing. The chart for each night is below.

FIRST NIGHT: Bill de Blasio, Tim Ryan, Julián Castro, Cory Booker, Elizabeth Warren, Beto O'Rourke; Amy Klobuchar, Tulsi Gabbard, Jay Inslee, John Delaney.

SECOND NIGHT: Marianne Williamson, John Hickenlooper, Andrew Yang, Pete Buttigieg, Joe Biden, Bernie Sanders, Kamala Harris, Kirsten Gillibrand, Michael Bennet, Eric Swalwell.
2020 CANDIDATES: WEEK IN REVIEW
JOE BIDEN: Several Democratic presidential candidates sharply criticized Biden on for invoking two Southern segregationist senators by name. In a field of 23 Democratic candidates for president, Biden is campaigning as if he is running alone. However, Biden's people are worried about Elizabeth Warren's rise, and feel they caught a break in not having to face her in the first debate. Biden wants to convince voters his resume on foreign policy is an asset, but they may think otherwise - he's been wrong on Iraq three times. For most of Biden's Democratic rivals, they've treated one part of his record as taboo to criticize: his years in the Obama White House.
BERNIE SANDERS: A nationwide Fox News shows Sanders beating Trump by nine points in a head-to-head election. Former Sanders campaign volunteer Alexandria Ocasio-Cortez has yet to endorse a candidate and could heavily sway voters in this primary. Sanders said it would be an unmitigated disaster if attacks on oil tankers in the Persian Gulf this week were used as a reason for war against Iran.
PETE BUTTIGIEG: Buttigieg spoke on a wide range of topics with Axios on HBO, including his depression after returning from Afghanistan, the fact that America may have already had a gay President, and leaving the U.S. embassy in Jerusalem. He also says Trump may be intentionally worsening the border crisis to engender support. Buttigieg ​changed his campaign schedule to return to South Bend after a man was killed in a police-involved shooting.
ELIZABETH WARREN: Warren shrugged off polls showing her gaining support nationally, and in key primary states. She is electrifying liberals with her very specific and very liberal ideas - which may undermine Joe Biden's frontrunner status. President Trump has told people he thought he killed her campaign with his "Pocahontas" smear and that he's surprised by her resurgence. But is it enough to win back Trump country? Warren also continued her fervent defense of DACA.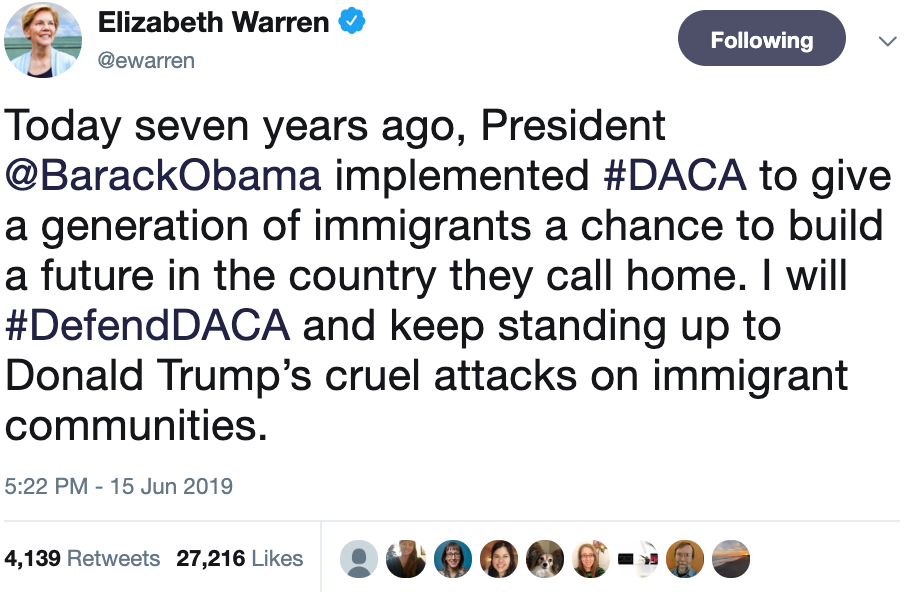 KAMALA HARRIS: Harris would lean on presidential power, not Congress, for big plans. Harris says that if she's elected president, her administration's Department of Justice would likely pursue criminal obstruction of justice charges against Trump. The candidate defended her record as a prosecutor during a jam-packed weekend in Nevada.
AMY KLOBUCHAR: Klobuchar joined Democrats calling for impeachment proceedings. A new poll in her home state of Minnesota voters puts Klobuchar in fourth place. Klobuchar plans on rolling out an exhaustive list of executive actions that she would sign if she captures the White House. She says that Donald Trump is not a good man. Klobuchar continued her fervent defense of climate policy.

CORY BOOKER: You shouldn't count Booker out of the 2020 presidential race - his team is playing the long game. He is refining his message of love and unity, now vowing to unite Americans to heal divisions. Booker also hinted at wedding bells with his girlfriend Rosario Dawson.
KIRSTEN GILLIBRAND: Things are not going well for Gillibrand, who is struggling with fundraising. She says she wouldn't stand in way if her DOJ wanted to investigate Trump. Gillibrand decried secretary treasury Mnunchin's deferral of putting Harriet Tubman on the $20 bill.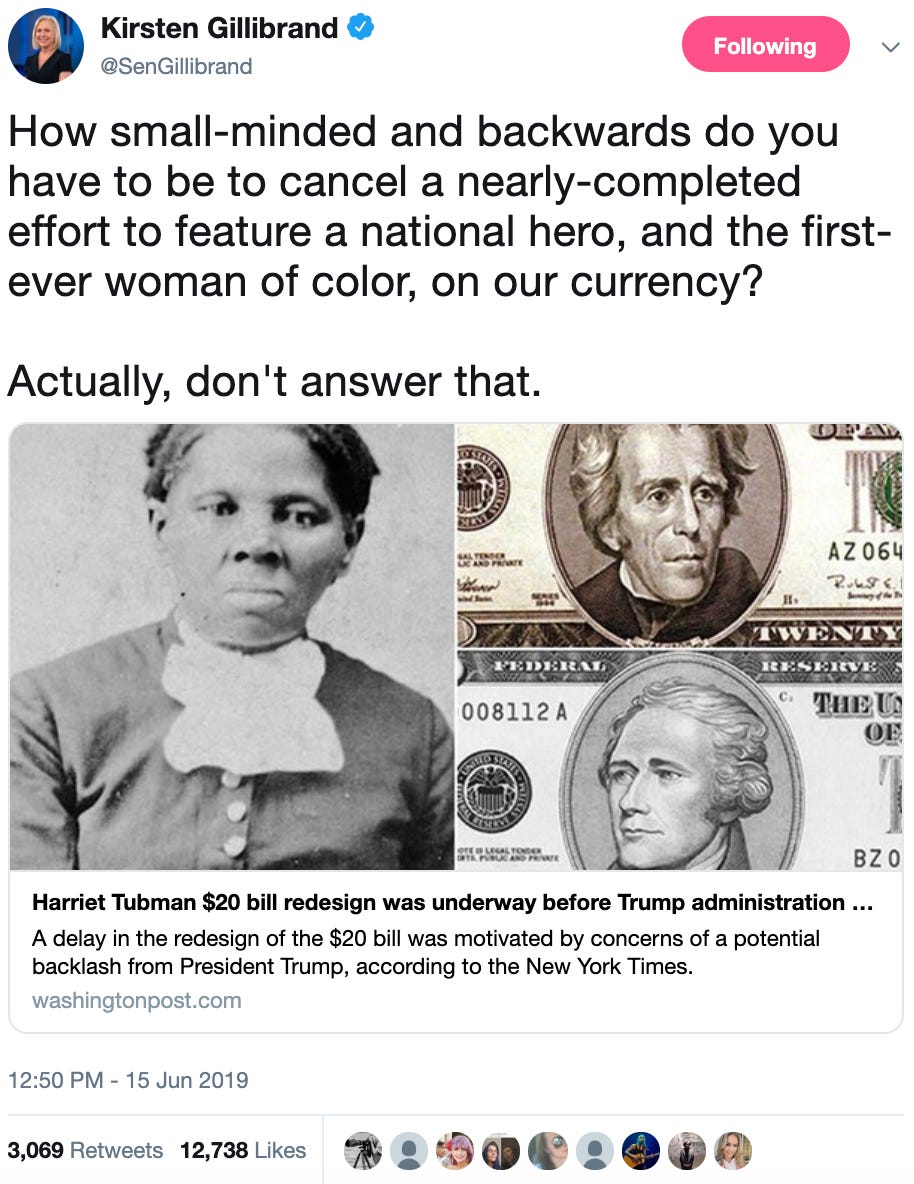 ANDREW YANG: Yang is promising to revitalize America - his nonprofit tried, too, but couldn't. So how exactly did a moderately successful businessman and complete unknown make a place for himself in the Democratic field? He thinks that standing next to Biden on debate stage would help boost name recognition.
BETO O'ROURKE: O'Rourke says white Americans need to get behind reparations before he can quantify them. He unveiled small business plan to address racial wealth disparities. O'Rourke isn't spending much on Facebook ads, which may be a sign of a fundraising struggle. He says illegal border crossings should not be decriminalized.
JULIÁN CASTRO: Castro says there is a lot of cleaning up to do when Trump is out of office. He called for a surge in federal spending to end homelessness. Castro released a portion of his latest People First policy proposal focused on affordable housing. Castro pointed to the crisis of black transgender and voiced his support.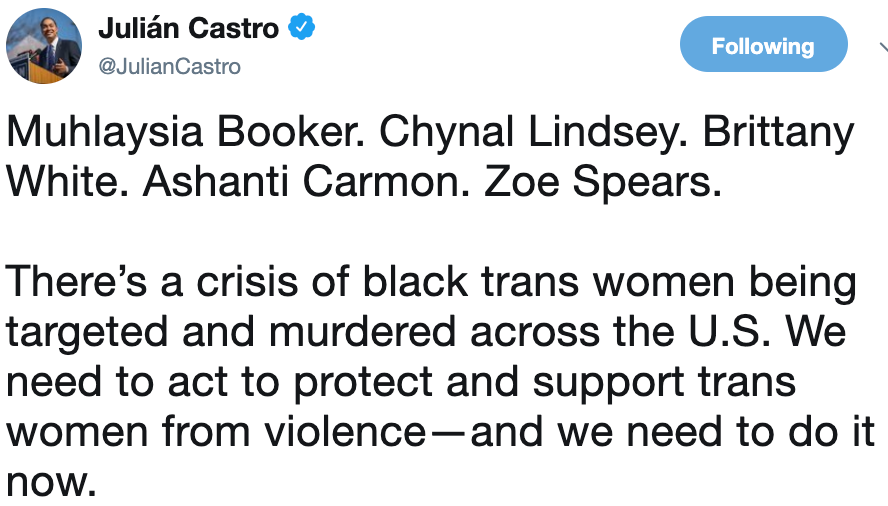 JAY INSLEE:  Inslee's plan is simple - become president and save the planet. He is also under fire by spending so much time out of the state he is governing.
MARIANNE WILLIAMSON: Williamson says that calling her a spiritual guru is dismissive and makes her seem like a less intelligent thinker. She thinks there is a humanitarian emergency involving children in the United States.
ERIC SWALWELL: Swalwell rolled out his complete gun control plan, stating that if elected, he will ban and buy back military-style semiautomatic assault weapons. He says that his White House bid is aimed at mending a broken promise and to represent a generation the country has failed.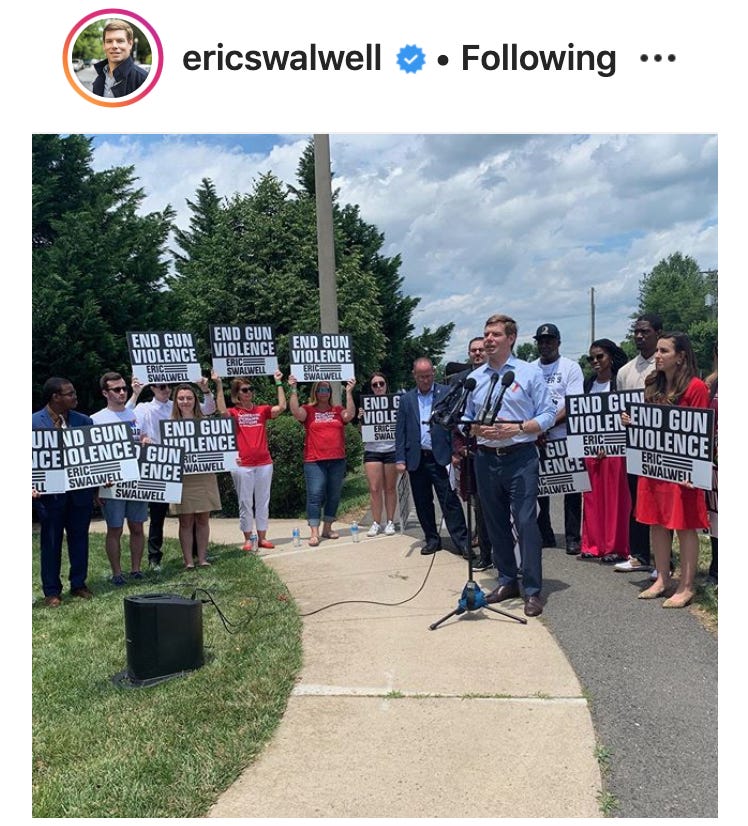 TIM RYAN:  Ryan said that Trump's foreign policy decisions precipitated the current standoff with Iran. He also claims that Biden diagnosed the problem, but Ryan has the solution.
TULSI GABBARD: Gabbard holds surprising views for a Democrat from Hawaii, including opposition to impeachment and her dislike for identity politics. She also took the media to task for what she called biased and misleading coverage of her campaign.
JOHN HICKENLOOPER: The Governor is still in the shadows of Democrats' 2020 presidential campaign. He tried to raise his profile by trading barbs with Bernie Sanders on Twitter.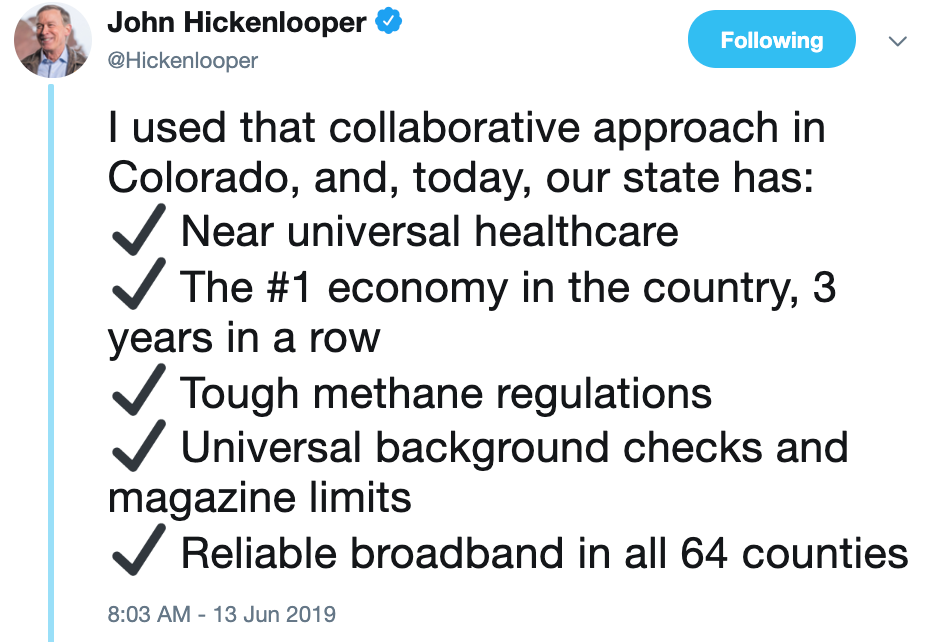 SETH MOULTON: Moulton blamed the 'political establishment' after missing DNC cut for debate. He will be heading to Miami anyway, saying his time is best spent communicating with voters and talking about the issues.
STEVE BULLOCK: Bullock pressed forward with a vision of winning where his party has lost, despite being left off the debate stage. He flipped on his support for coal, citing plant closures and the fact that it's no longer even profitable. Bullock discussed his student loan debt and hinted at a plan to address the crisis.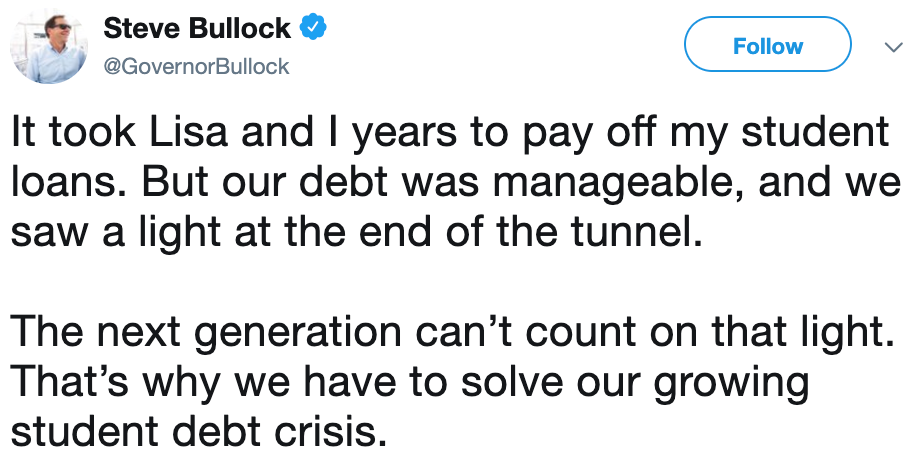 MICHAEL BENNET:  Bennet was targeted by Americans for Prosperity with a mailer that takes aim at tax handouts for special interests and corporate welfare.
JOHN DELANEY: Delaney thinks Democrats and Republicans can get along. He says that his health care plan is both superior and smarter than Medicare for All.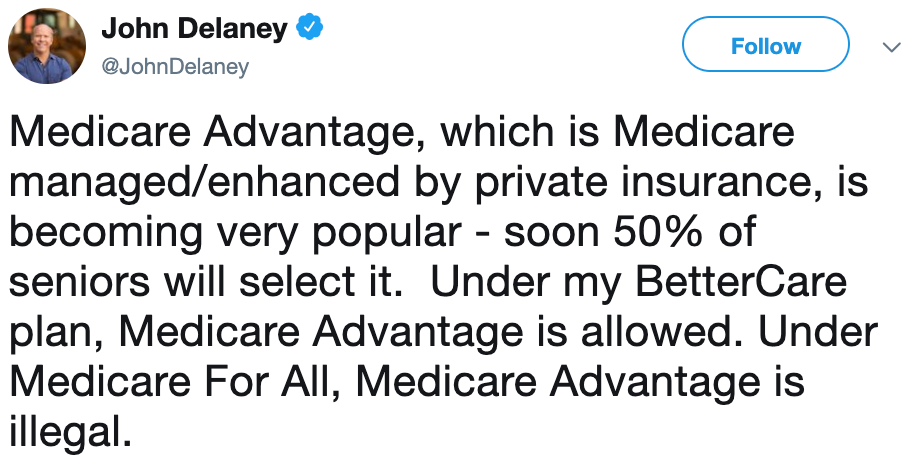 MIKE GRAVEL: Gravel says he will continue his presidential campaign after not making the debate stage. Gravel says that the U.S. must treat Guam better. 
WAYNE MESSAM: Messam says that he's still encouraged and has an opportunity to qualify for the July debates, despite missing out on the first opportunity.
BILL DE BLASIO: Per his hometown New York Times, de Blasio shouldn't run for president, but he's been a good mayor. de Blasio supports driver's licenses for illegal immigrants.
2020 DEMOCRATS FALLING BEHIND WITH BLACK VOTERS
A new poll from the Black Economic Alliance of 1,003 black Americans found that between 27% and 33% of those surveyed "have reservations" about or are "very uncomfortable" with Cory Booker, Elizabeth Warren, Beto O'Rourke, and Pete Buttigieg as presidential candidates. It's still early in the 2020 cycle, but this survey suggests most leading Democratic candidates - even minority candidates like Booker and Kamala Harris - will have to work harder to get support from black voters.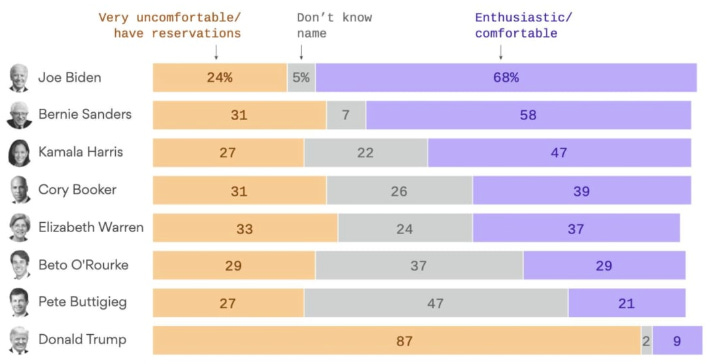 DEM STRATEGISTS WORRIED ABOUT DIGITAL SPE
ND
Trump is using the advantage of incumbency, a huge pile of campaign cash and a clear path to his party's nomination to build a digital operation unmatched by anything Democrats have. By the time Democrats pick a nominee, some of the party's top digital strategists warn, Trump will have built a self-feeding machine that grows smarter by the day. No one knows for sure how much difference the flood of money and advertising on Facebook might make, but a central fact of the 2016 election likely will remain true for 2020: Trump's victory margin in key states was so slim that just a handful of voters staying home or showing up could make the difference.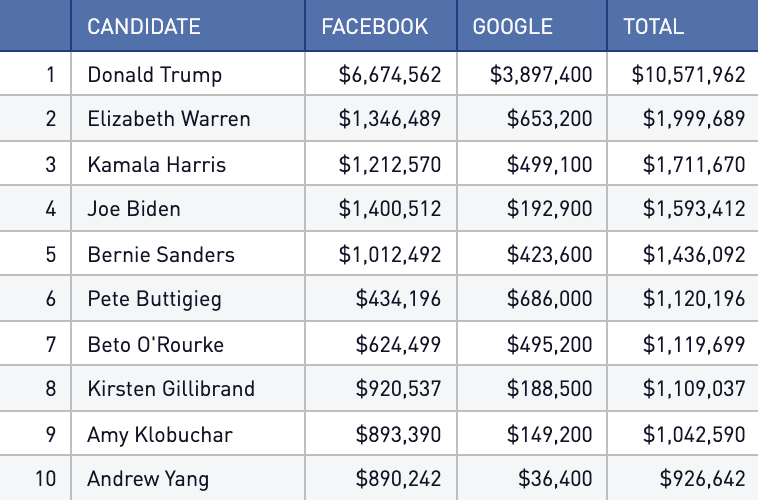 ARCHIVES
June 13 June 6 May 30 May 23 May 16 May 9 May 2 April 25 April 18 April 11 April 7 March 31 March 24 March 17 March 10
DAYS UNTIL 2020 PRESIDENTIAL ELECTION: 

502
REGISTER TO VOTE HERE: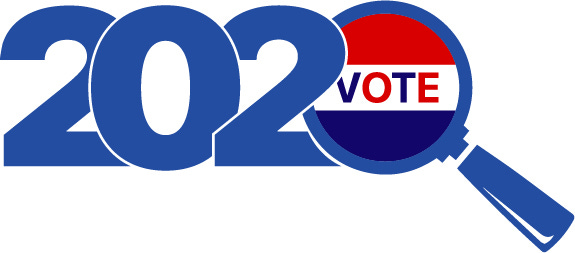 We genuinely appreciate you reading Dem Primary Tracker 2020. You can also 'like' our page on Facebook and follow us on Twitter & Instagram.