Discover more from Dem Primary Tracker 2020
The Official 2020 Democratic Primary candidate tracker.
Over 11,000 subscribers
Back to School: Gen Z and Millennials Will be the Voice of 2020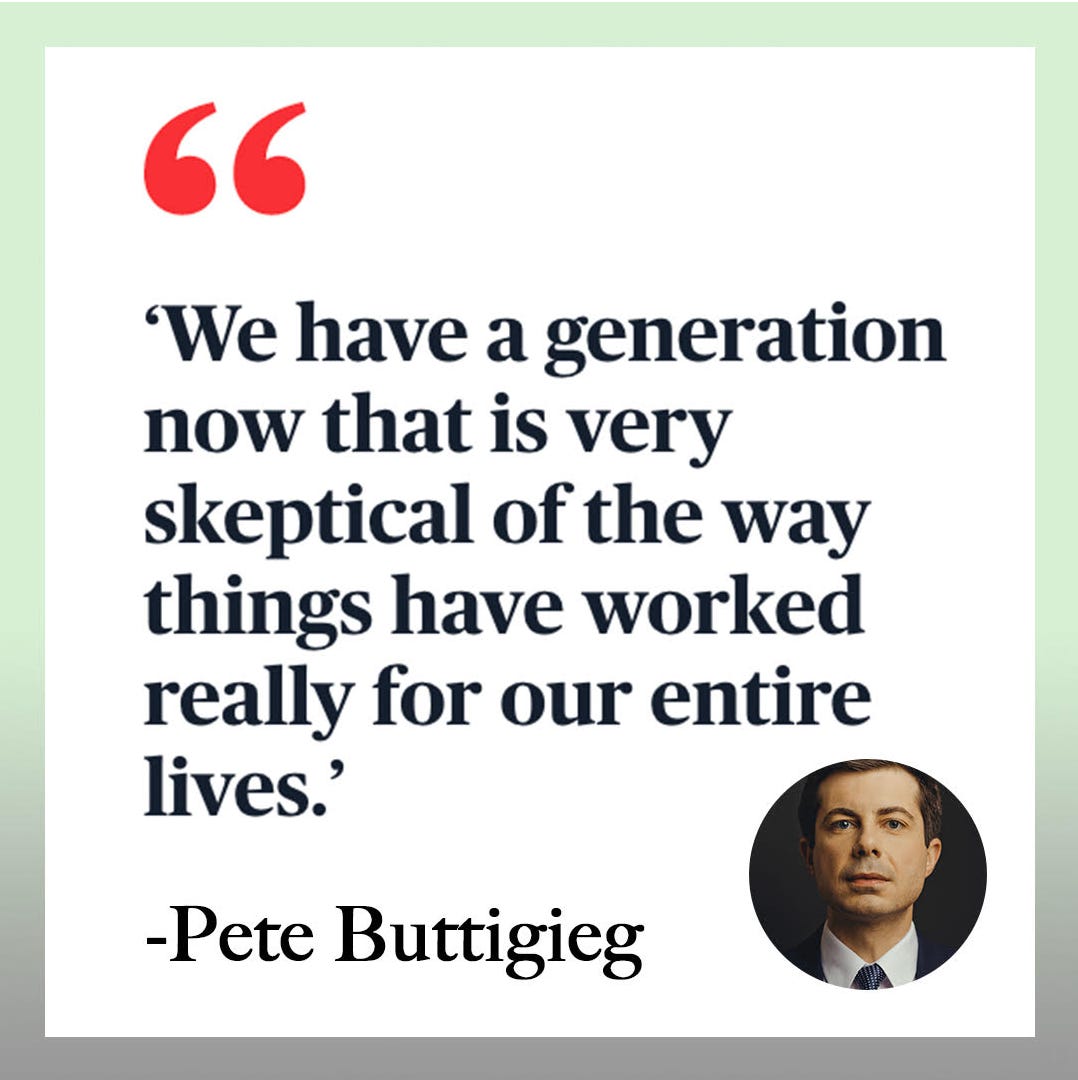 MAKEUP OF THE 2020 ELECTORATE
Pete Buttigieg is a millennial. So is Tulsi Gabbard. With five other candidates under the age of 50 - Cory Booker, Julián Castro, Beto O'Rourke, Tim Ryan, and Andrew Yang - this Democratic Primary is filled with youth.
The youth vote is poised to play a very significant role in the 2020 election. A survey of Gen Z college students found that 80% of students expect to cast a ballot in 2020. This is in contrast with a college-student voter turnout of just 48.3% in 2016.
The leading edge of Generation Z (people ages 18 to 23 in 2020) is projected to comprise one-in-ten eligible voters, up from just 4% in 2016. These post-Millennials are on track to be more racially and ethnically diverse than their predecessors: in 2020, Gen Z eligible voters are expected to be 55% white and 45% nonwhite, including 21% Hispanic, 14% black, and 4% Asian or Pacific Islander. By comparison, the Boomer and older electorate is projected to be about three-quarters white (74%).
GEN Z & MILLENNIALS: TOP CONCERNS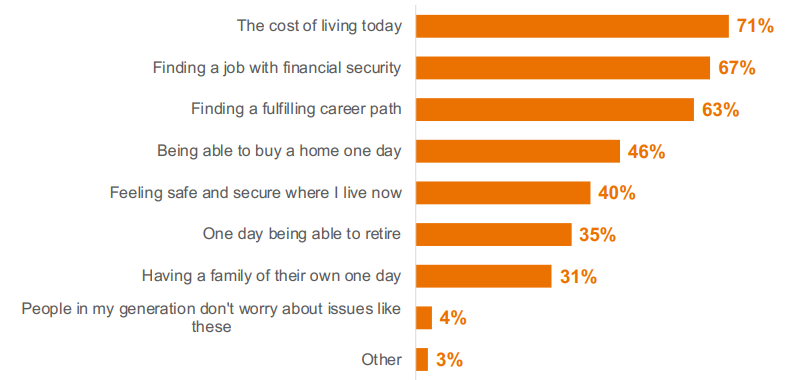 The 2020 electorate is shaping up to be more progressive than 2016 on a range of social and economic policy related issues, including on health care, poverty, and trade policy. Protecting the environment is now central to both domestic and foreign policy agendas of young Americans. In the Spring 2015 poll, 32 percent agreed with the statement "government should do more to curb climate change, even at the expense of economic growth." Now, agreement has increased to 46 percent.
Students are becoming dissatisfied with the two-party political system, with 1 in 3 students not identifying with either major party. The values that Americans say define the national character are changing, as younger generations rate patriotism, religion and having children as less important to them than did young people two decades ago.
Philosophically, many Gen Zers and Millennials believe that government's proper role should be as a force for social good. Among voting-age members of Gen Z, seven in 10 believe that the government should do more to solve problems and that it has a responsibility to guarantee health care to all.
Gun violence is also a significant issue. A solid majority of young Americans (58%) are concerned that gun violence will affect them, or someone close to them.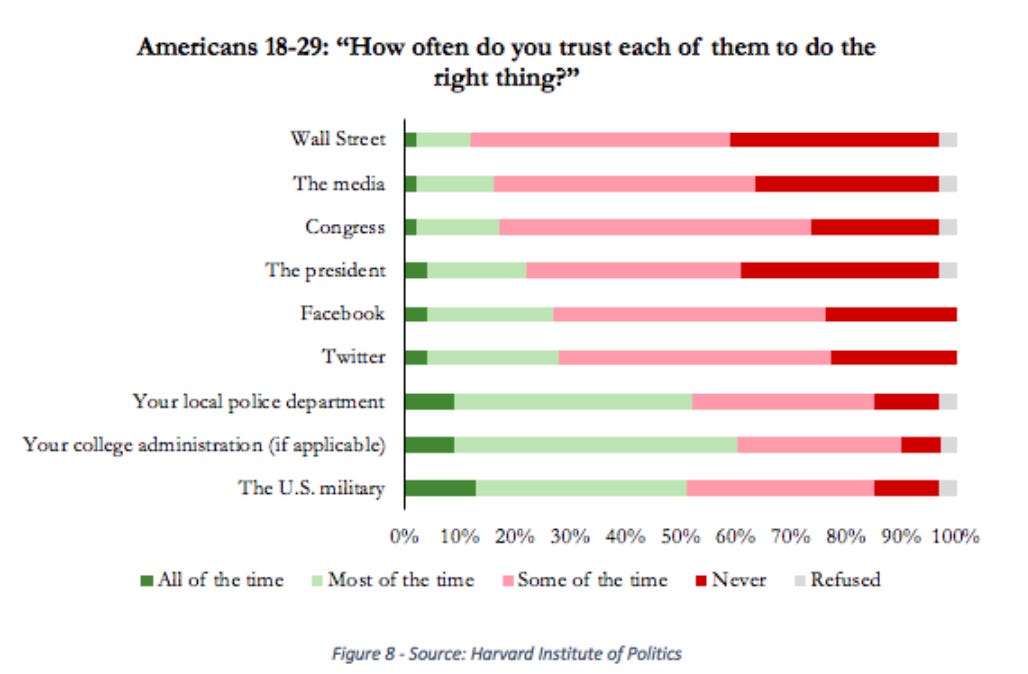 According to a Harvard poll, 66 percent of Gen Z supports single-payer health care. Sixty-three percent supports making public colleges and universities tuition-free as well as creating a federal jobs guarantee. Many Gen Z voters are not yet in the workforce, but 47 percent support a militant and powerful labor movement. Millennial support for these policies is lower, but only slightly.
Younger voters are also far left of center on most other economic and social policies. They are particularly opposed to the Trump administration's handling of immigration. Americans 35 and older are nearly evenly divided on the issue of President Trump's border wall. Among voters under 35, nearly 80 percent oppose the wall.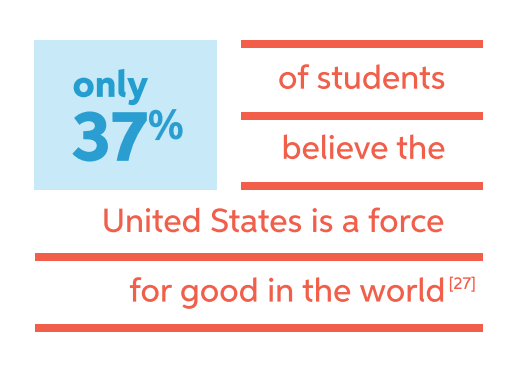 NUMBER ONE COLLEGE ISSUE: STUDENT DEBT
More than 45 million Americans collectively owe $1.6 trillion in outstanding student-loan debt. Democratic candidates broadly agree that student-loan debt is a burden for many families and is a drag on the economy. Democrats' positions on how to address existing student-loan debt range from tweaking programs meant to help borrowers to cancelling all of the debt.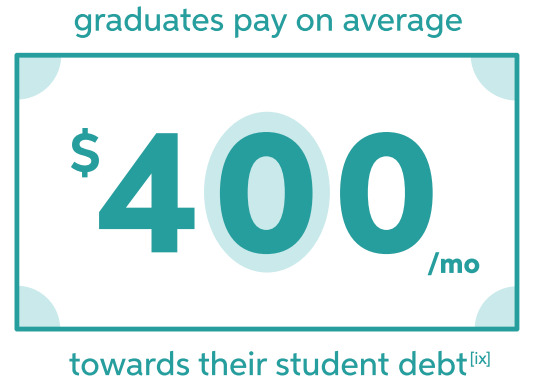 WHERE CANDIDATES STAND ON STUDENT DEBT
Pete Buttigieg, Julián Castro, Wayne Messam, Elizabeth Warren, and Andrew Yang have provided varying yet similar plans including modest amount of forgiveness for those on food stamps or providing debt relief to borrowers in exchange for national service.

Most Democratic candidates have called for either expanding or fixing the Public Service Loan Forgiveness program. Nearly all of the candidates have also called for lowering existing student-loan borrowers' monthly payments by reducing the interest rate on federal loans.

Bernie Sanders stands alone with the most sweeping proposal, calling for the elimination of all $1.6 trillion in existing student-loan debt held by either the federal government or private lenders.
HOW ARE CANDIDATES WOOING THE YOUTH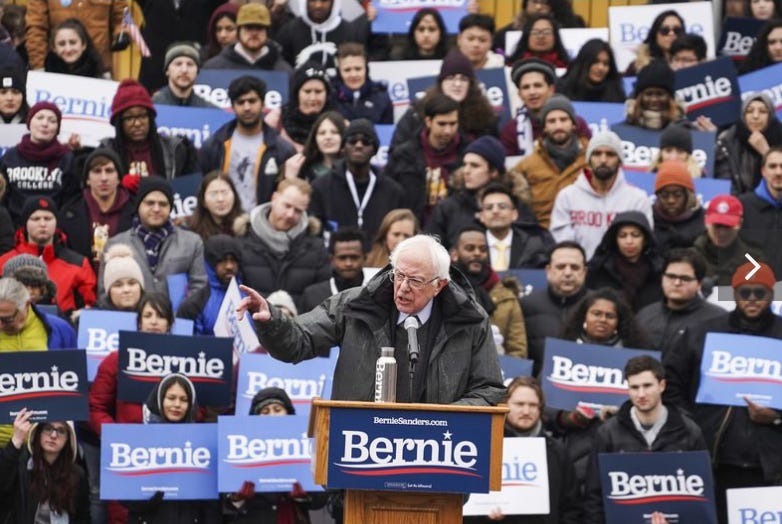 In 2020 it won't be enough for Democratic candidates to simply talk about issues important to young voters, like climate change, marijuana legalization, or student debt relief. Candidates will have to make issues central to their campaign - and also prove they understand how those issues affect young Americans.
Joe Biden has a millennial problem. The survey showed that 7 percent of young voters support him. In that same demographic, 24 percent of voters backed Sen. Bernie Sanders (I-Vt.) and 18 percent supported Sen. Elizabeth Warren (D-Mass.).
Buttigieg has made a direct appeal to millennials, including in the video announcing his 2020 campaign, where he highlighted his generation's economic struggles and military services in the wars in Iraq and Afghanistan.
The Green New Deal has emerged as a key litmus test for prospective 2020 presidential candidates. It seems that Democrats' support of the Green New Deal was a calculated response to younger voters, though younger voters are unlikely to force politicians to fully adopt their policy preferences. Ultimately, many will certainly tailor their messages or change the emphasis they give to certain issues.
The best way for the Democrats to bridge these divides is to redouble the party's focus on the issue that unites the coalition across generations: health care. In 2018, 41 percent of voters listed health care as their top issue. Three-quarters of them voted for the Democratic candidate.
MILLENNIAL & GEN Z TURNOUT IN 2018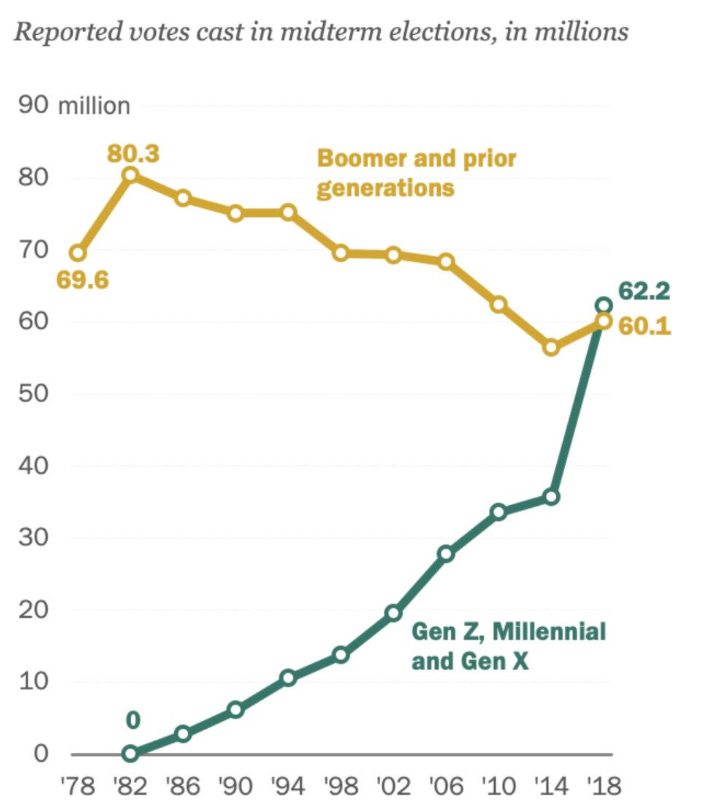 Younger generations - Gen Z, millennials, and Gen X - outvoted boomer and prior generations, 62.2 million votes to 60.1 million votes. Millennials especially saw their voter turnout rate roughly double from 22 percent in 2014 to 42 percent. 2018 also marked the first time more than half — 55 percent — of Generation X voters showed up to midterm elections.
Can the Millennials and Gen Z unify to create a formidable political bloc? If they can, they will dominate U.S. politics over the next generation - and the Democratic Party will follow them.
ARCHIVES
DAYS UNTIL 2020 PRESIDENTIAL ELECTION: 

431
REGISTER TO VOTE HERE: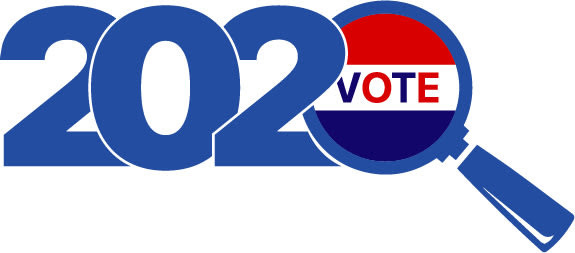 We genuinely appreciate you reading Dem Primary Tracker 2020. You can also 'like' our page on Facebook and follow us on Twitter & Instagram.