Discover more from Dem Primary Tracker 2020
The Official 2020 Democratic Primary candidate tracker.
Over 11,000 subscribers
**Debates: Night 1 Power Rankings, Night 2 Preview**
DEM DEBATE, NIGHT ONE: POWER RANKINGS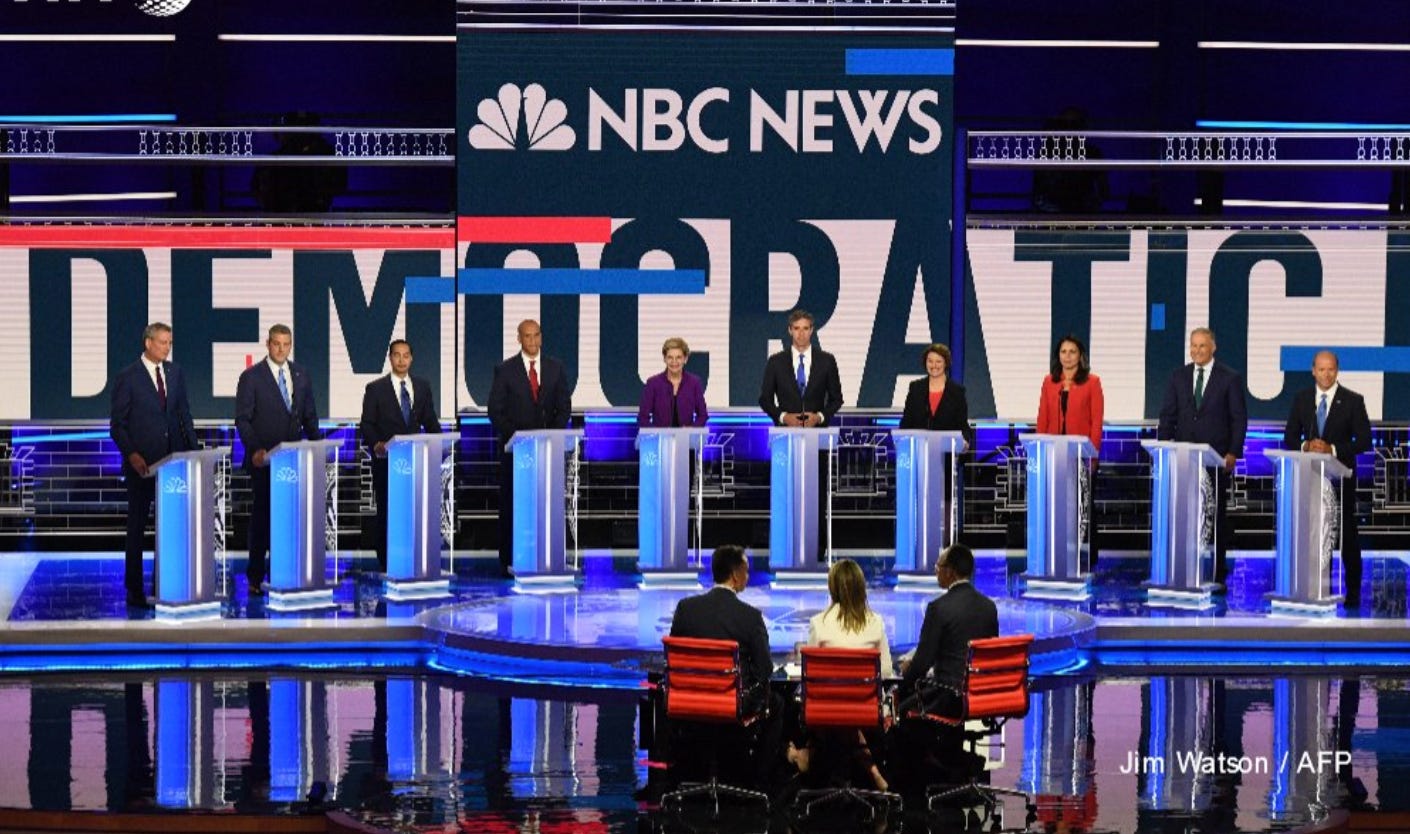 The first night of the 20-candidate, two-night Democratic Primary Debates was (mostly) civil; the pack did not savage one another too badly, nor did they fixate on President Donald Trump. Elizabeth Warren, the highest-polling candidate of the night, was stout and pragmatic, continuing to focus on policy and her forward-looking perspective. There was a heavy focus on immigration - and three candidates showed off their Spanish (Julián Castro, Beto O'Rourke, Cory Booker). The night did not feature any "gotcha" moments, nor were there any major gaffes (aside from NBC's technical difficulties). The format allowed each candidate an average of about seven minutes of total speaking time, enough for some to exceed expectations (Bill de Blasio, Castro) and others to disappoint (O' Rourke).
Here are Dem Primary Tracker 2020's POWER RANKINGS of first night of Debates:
DEBATE NIGHT TWO PREVIEW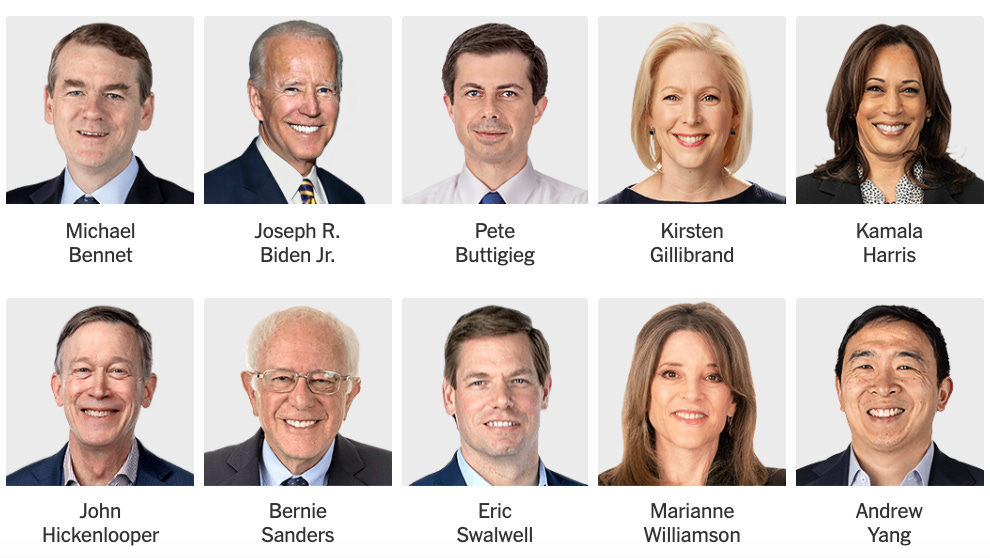 Tonight's debate features four of the five top-polling candidates.
Joe Biden, who continues to consistently lead polls and has been accused of ignoring his many Democratic rivals, will be on stage for the first time with Bernie Sanders, who had a stranglehold on second - and has a very different vision for the Democratic Party's future. Kamala Harris and Pete Buttigieg round out the top five in polling, and will bring their different viewpoints to the stage as well. Buttigieg, it is worth noting, is in the midst of a hometown crisis brought on by a police shooting in South Bend, where he is Mayor.
Kirsten Gillibrand, seen as a possible top-tier contender only six months ago, will have an opportunity to reestablish momentum, as she joins them on stage. Michael Bennet, John Hickenlooper, and Eric Swalwell will also be on the dais, attempting to differentiate themselves from the litany of candidates.
Interestingly enough, author/activist Marianne Williamson and entrepreneur Andrew Yang will both be on the debate stage tonight as well, attempting to build upon their grassroots support and unique approaches to the primary and election.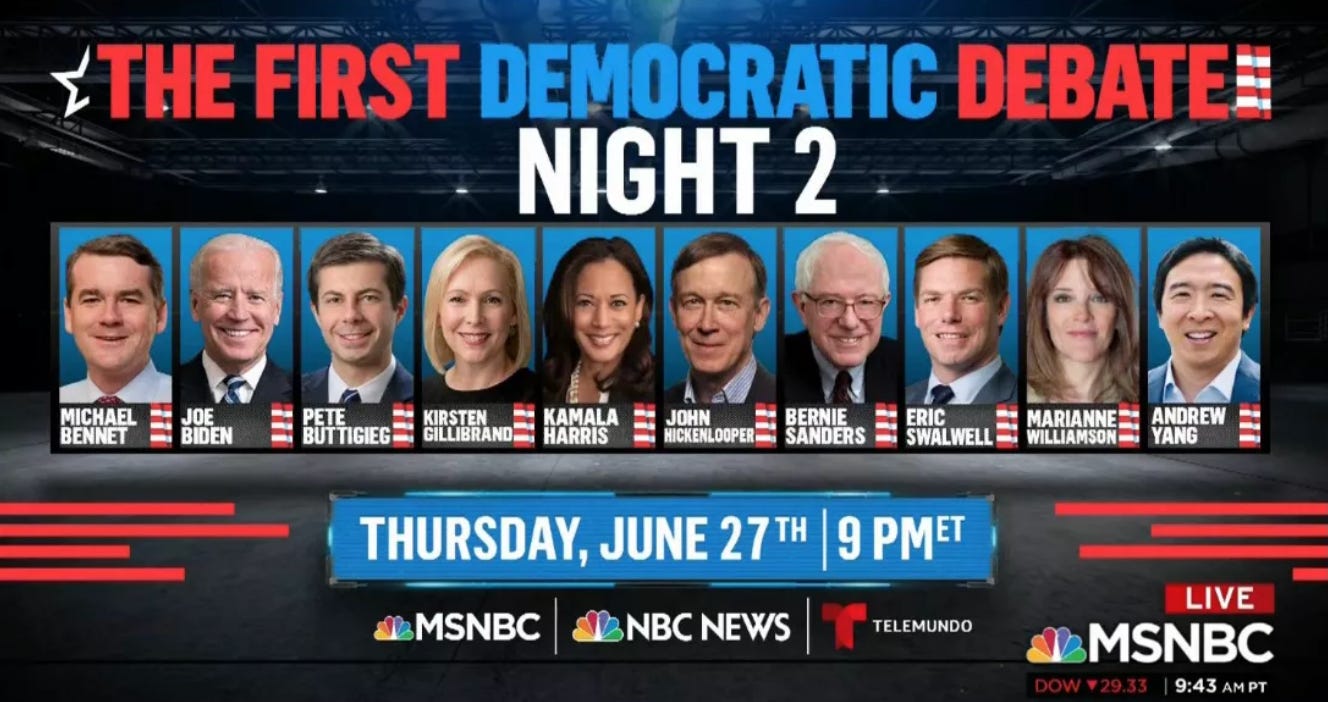 NOTE: Steve Bullock, Mike Gravel, Seth Moulton, and Wayne Messam did not meet the DNC's qualifying criteria for the debates, and Joe Sestak just declared his candidacy this week.
2020 CANDIDATES: WEEK IN REVIEW
JOE BIDEN: Biden has not changed but the politics, culture, and mood of his party have. He is a gaffe machine - his segregationists comments are just one example. Yet he still has a commanding lead in the polls, especially amongst Hispanics.
BERNIE SANDERS: Sanders and Warren came to a secret nonaggression agreement late last year - is it falling apart? Moderate Democrats are more afraid of Bernie Sanders becoming the eventual nominee. He proposed canceling entire $1.6 trillion in U.S. student loan debt.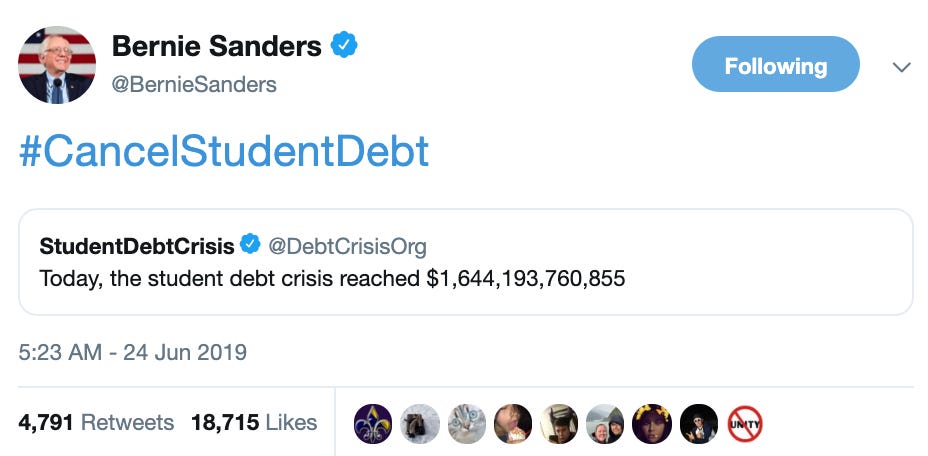 PETE BUTTIGIEG: Buttigieg is in the midst of a crisis in his hometown of South Bend, where a police shooting brought calls of distrust to the way he is handling the situation. He said President Trump has trouble making decisions and is relatively easy to manipulate. His town hall broke into near chaos as the he tried to respond to community concerns over a white police officer killing a black man in the city. He says he will send a letter to the Department of Justice Civil Rights Division saying he supports a separate investigation into the shooting
ELIZABETH WARREN: Warren calls for a ban on privately run federal prisons. A Trump pollster predicts Warren will be Dem front-runner by fall. She proposed a law to allow same-sex couples to get tax refunds. Warren wants to transform elections, implementing strict federal standards for election security, automatic voter registration and making Election Day a holiday.
KAMALA HARRIS: Harris proposed fully covering an HIV prevention drug. She says that the people need a Democratic president who knows how to rebuild the party. Harris added a fourth Congressional Black Caucus member to her list of endorsements.
AMY KLOBUCHAR: Klobuchar fundraised for Doug Jones in Alabama following Roy Moore's Senate run announcement. She called Trump a liar as a response to Trump saying he inherited the child separation tactics from President Obama.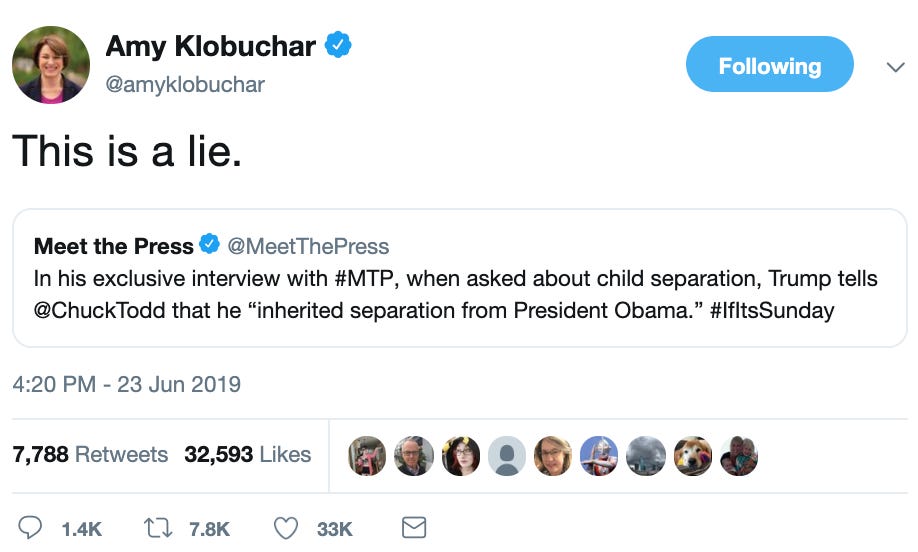 CORY BOOKER: Booker had a forceful rebuke of Joe Biden over Biden's comments about working with segregationist senators. He is still looking for his breakout moment, however, and feels that the debates may offer his best opportunity.
KIRSTEN GILLIBRAND: Gillibrand loves her whiskey - she called it her favorite comfort food. She used to support gun rights and has recently shifted, attributing the change to a 2009 visit with a grieving mother.
ANDREW YANG: Some Asian Americans are excited about Andrew Yang - but not others. Yang says he can only see two outcomes in this race - either he wins or someone else wins and takes the vast majority of his ideas into the White House.
BETO O'ROURKE: A well-regarded rising Democrat in the South Carolina state Senate endorsed O'Rourke in the primary. He unveiled an expansive program aimed at helping veterans, establishing a veterans health care trust fund that would support veteran medical care and disability compensation.
JULIÁN CASTRO: Castro says the lesson from 2009, 2010 on immigration reform is don't wait. If elected, he would first sign an executive order recommitting the U.S. to the Paris climate accord in order to again lead on environmental sustainability. Castro has put forward a plan to address affordable housing.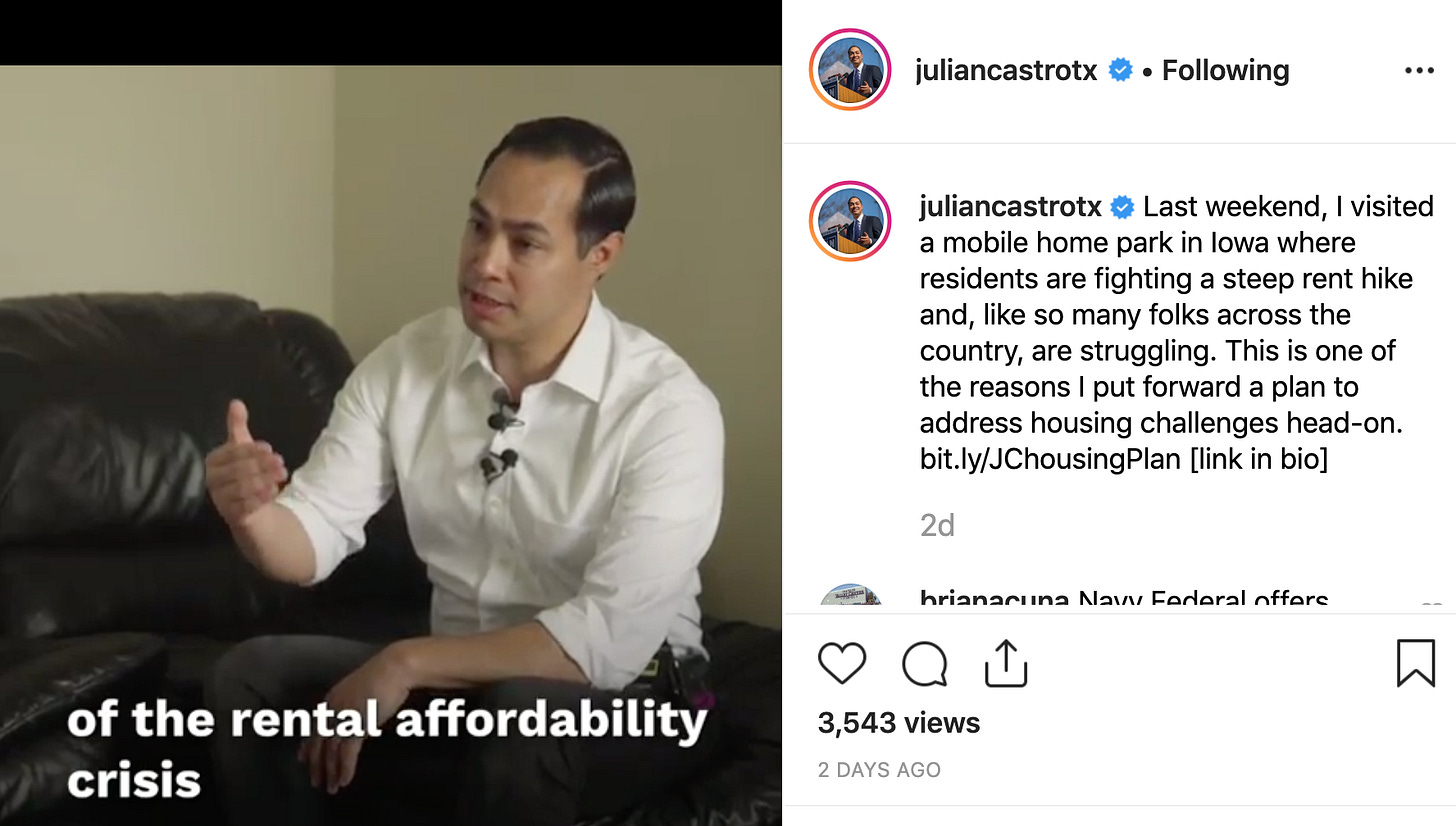 JAY INSLEE: Inslee sent a letter today that details concerns about potential changes to how the federal government measures poverty He also says he will make Donald Trump a blip in history.
MARIANNE WILLIAMSON: Williamson called vaccines draconian, but claims she misspoke. She said that the planned mass deportations by ICE are no different than when Jews faced deportation in 1930s Nazi Germany.
ERIC SWALWELL: Swalwell accused Trump of seeking to erase the Hispanic population's existence by way of a basic census citizenship question.
TIM RYAN: Ryan was asked about his heroes recently and the first name out of his mouth was Baker Mayfield. He has a wellness plan to help heal vets and and reduce the veteran suicide rate.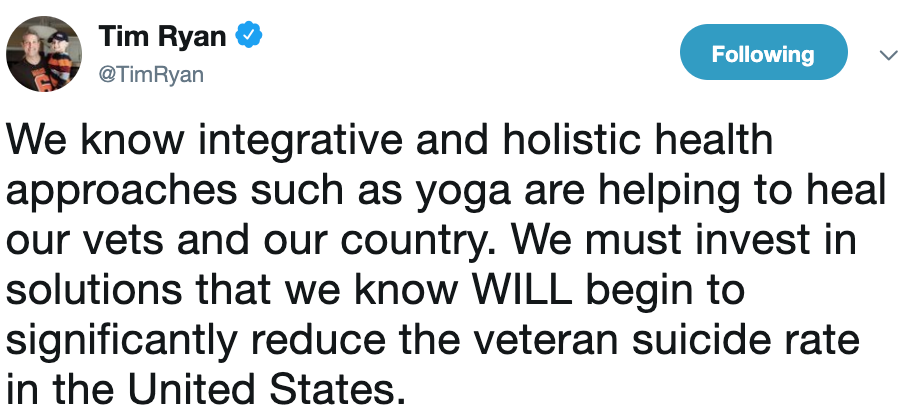 TULSI GABBARD: Gabbard ripped Kamala Harris and Elizabeth Warren for trashing Joe Biden's segregationist talk. She told Trump return to Iran nuclear deal, before it's too late.
JOHN HICKENLOOPER: Hickenlooper considers himself an extreme moderate. He discussed health care for undocumented immigrants.
SETH MOULTON: Moulton is calling for a cyber wall. He called for new generation of leadership in ads ahead of debates.
STEVE BULLOCK: Bullock, who didn't make cut for next week's debates, decries DNC's 'problematic' criteria. He continues to speak out against the caged children.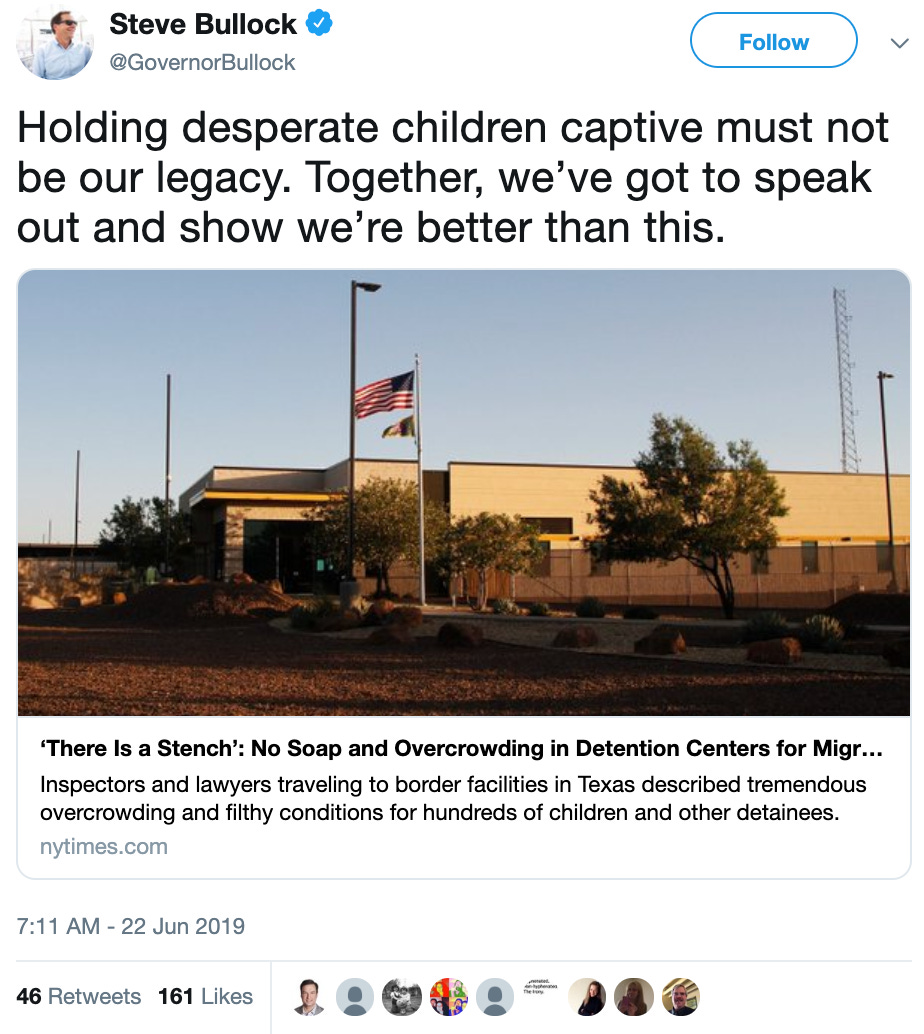 MICHAEL BENNET: Bennet aims to ban lawmakers from lobbying. He added a trio of top national consultants to his campaign.
JOHN DELANEY: Delaney has a serious foreign policy plan. He has the right climate plan for America.
MIKE GRAVEL:  Gravel says Buttigieg gets a pass with the media because he's an articulate white kid with all the right credentials. He spearheaded an effort to legalize cannabis nationally 
WAYNE MESSAM: Messam is amongst those welcoming a renewed focus on race, despite stumbles. He claims that money kept him out of the first debates.
BILL DE BLASIO: The 40,000-member New York Hotel and Motel Trades Council recently endorsed the mayor.
JOE SESTAK: Sestak made an unexpected leap Sunday into the crowded field of candidates and declared his candidacy.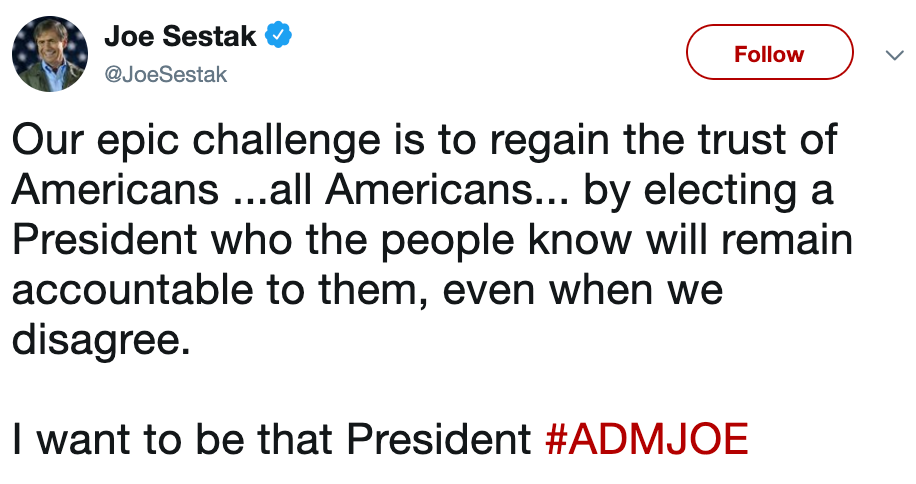 WHO IS GETTING NEWS COVERAGE
Which candidates have been mentioned those most on the three major cable news networks? This chart features the Total Mentions in 2019. Mentions are the number of 15-second clips in which a candidate's full name is mentioned on any of the three cable news networks. A more detailed methodology can be found here.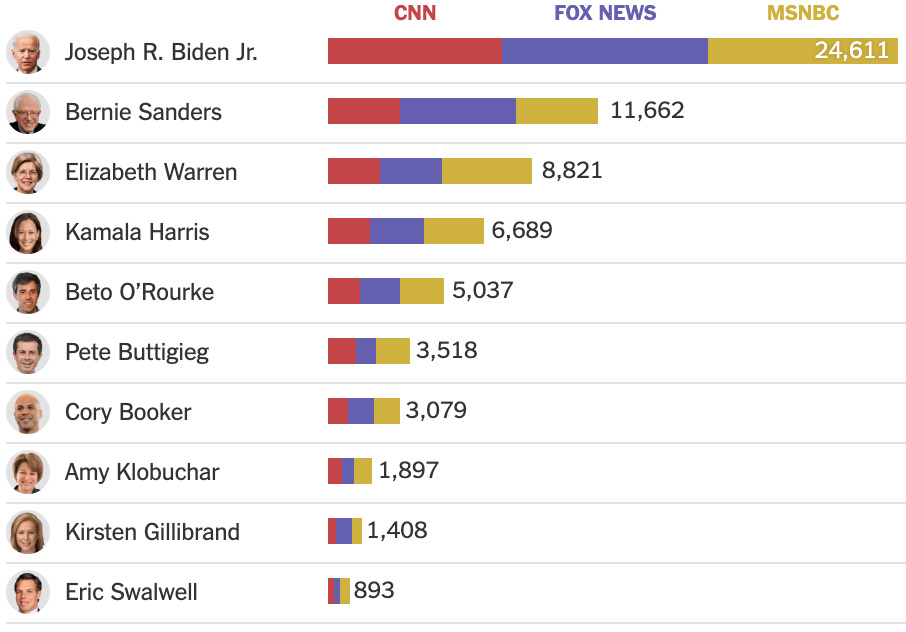 ARCHIVES
June 20 June 13 June 6 May 30 May 23 May 16 May 9 May 2 April 25 April 18 April 11 April 7 March 31 March 24 March 17 March 10
DAYS UNTIL 2020 PRESIDENTIAL ELECTION: 

495
REGISTER TO VOTE HERE: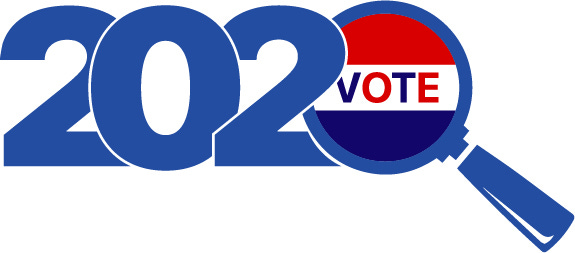 We genuinely appreciate you reading Dem Primary Tracker 2020. You can also 'like' our page on Facebook and follow us on Twitter & Instagram.