Discover more from Dem Primary Tracker 2020
The Official 2020 Democratic Primary candidate tracker.
Over 11,000 subscribers
A Clearer Picture: Bernie, Joe (and Tulsi!)
The Delegate Count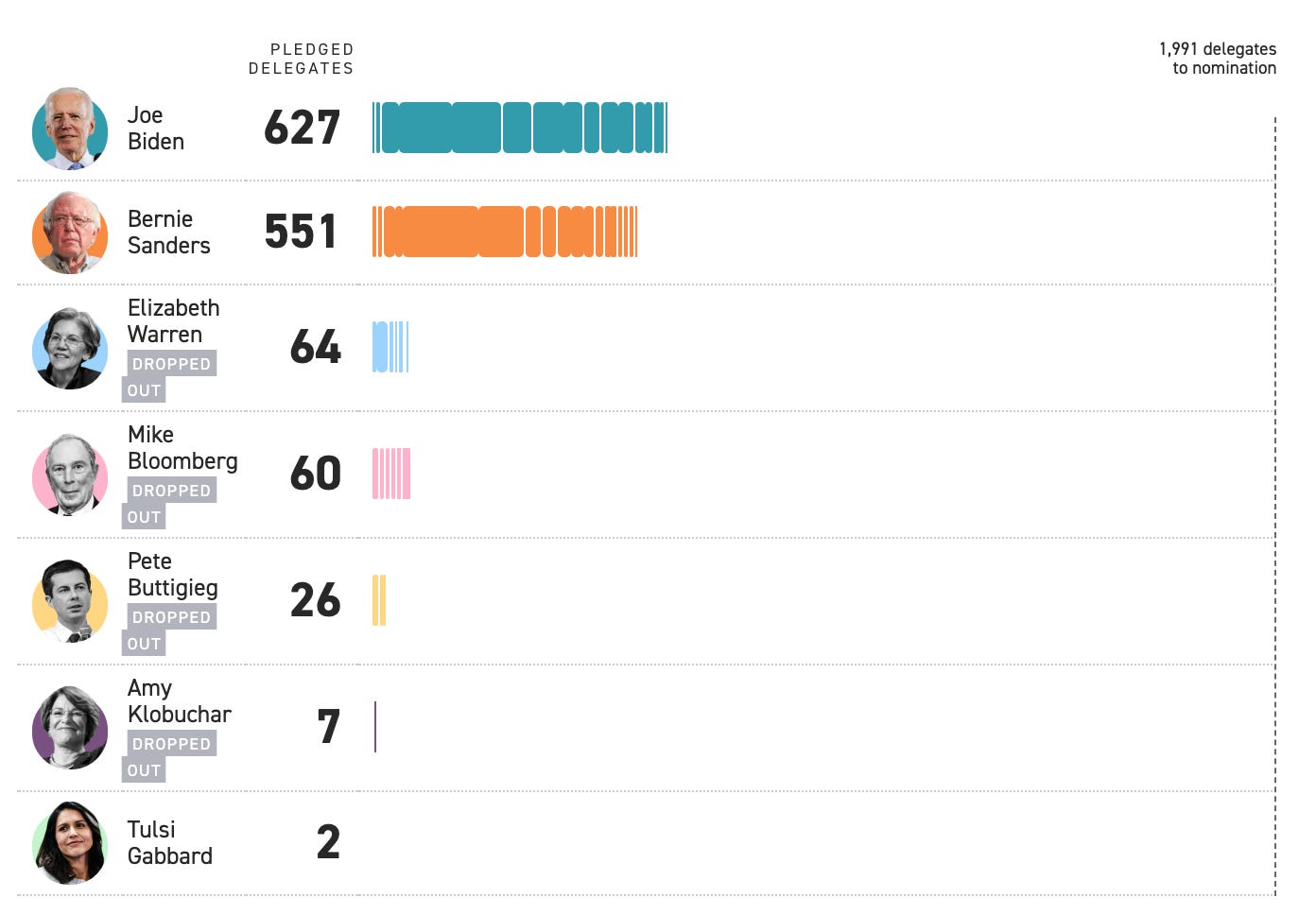 After Super Tuesday, Joe Biden's candidacy is officially resuscitated.
After a landslide victory in South Carolina on Saturday, he collected a litany of important endorsements. Then, on Super Tuesday, when 14 states voted, he did exponentially better than almost anyone predicted; he won ten states, including Texas. Bernie Sanders won the big prize in California and is still neck-and-neck with Biden in the delegate count. Remember, delegate counts usually track closely with the popular vote, but they don't precisely match - delegates are awarded proportionately to candidates that cross the 15% threshold.
Here is the popular vote count per RealClearPolitics, which will continue to update: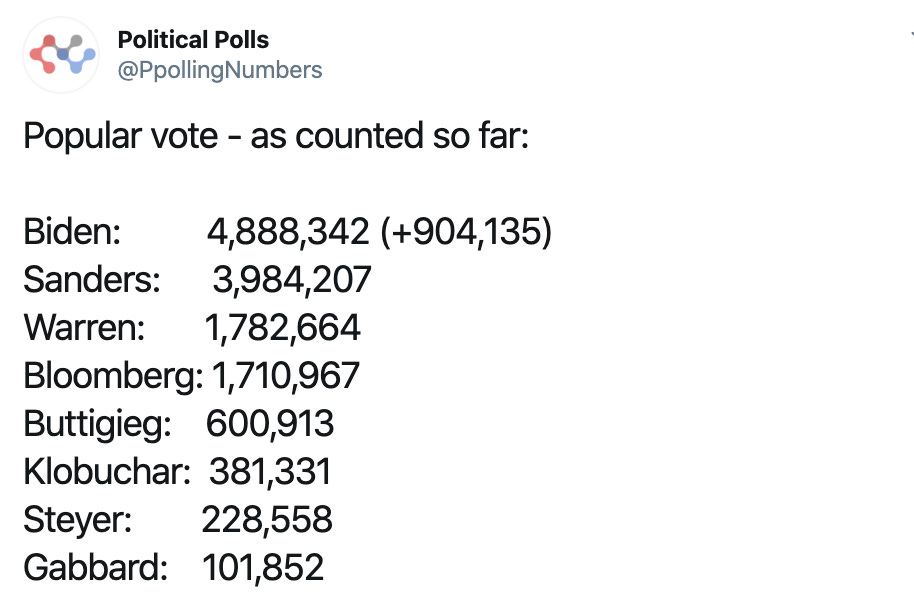 Bernie vs. Joe (and Tulsi!)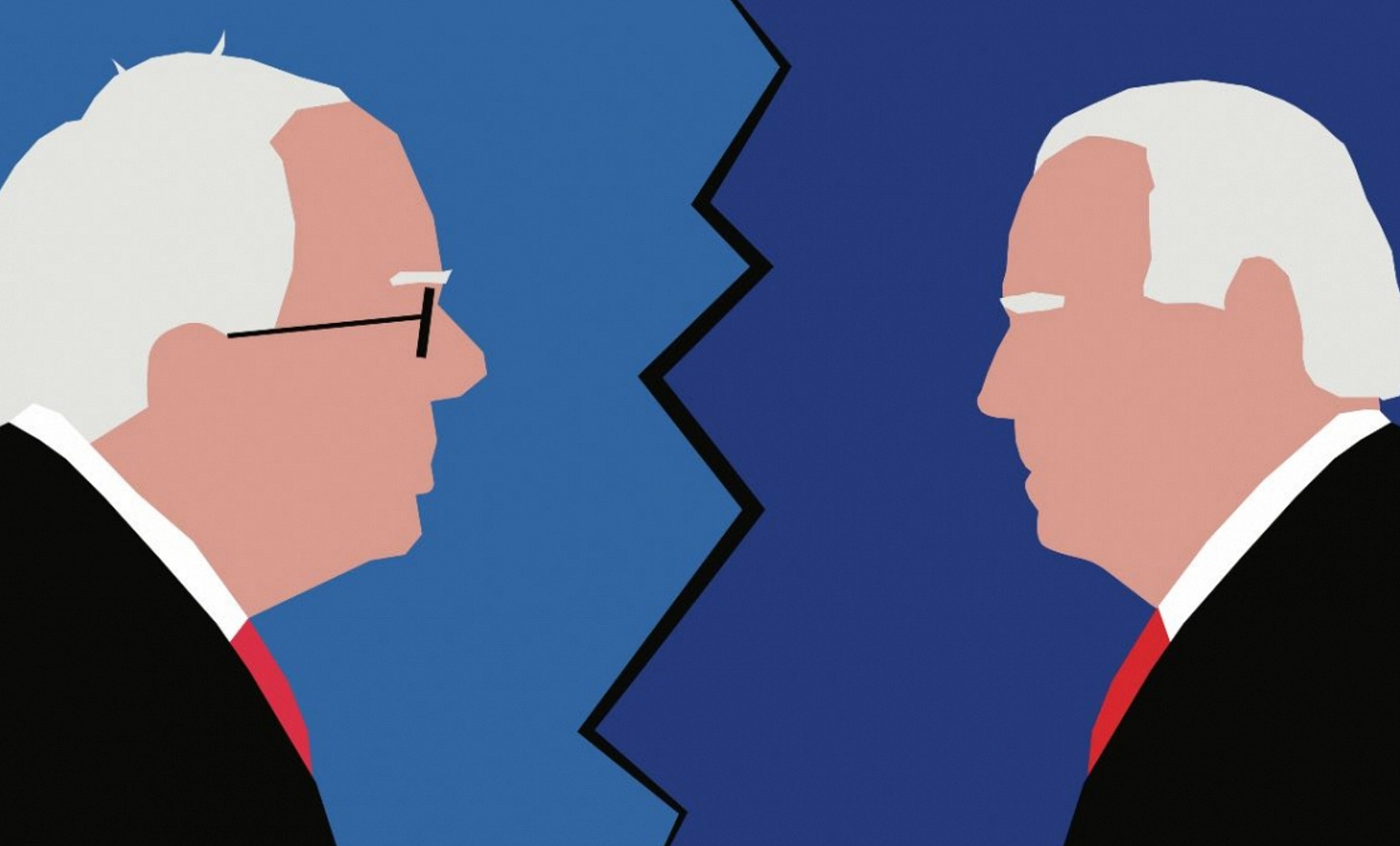 The Democratic Primary has come down to a binary choice:
Bernie Sanders is an ideological purist, who is deeply committed to a set of ideals: healthcare, education, and financial stability as necessary human rights for every member of society, ensured by a government safety net that redistributes wealth from the top. Sanders represents a Democratic party that would reorient the party around a clear, progressive ideology that gives voters the option of voting for a world they want to live in, as opposed to trying to sneak a little bit of progress out of a big compromise with the other side of the aisle. 
Joe Biden promises to appeal to the Democratic base and middle-of-the-road voters and use the momentum from the high primary voter turnout to carry the purple states in 2020. Biden represents the Democratic party as it has been for the better part of two decades: generally socially liberal, and willing to mildly temper big business' interests in order to posture as more amenable to the working classes. Biden's Democratic party views them as general starting points for negotiations with the other side in order to incrementally move the country slightly closer to generally liberal social democracy. 
Tulsi Gabbard is also still in the race and has procured two delegates thus far, both from American Samoa. Gabbard's campaign continues even as several of her rivals have ended their own presidential bids in recent days. It appears that she has qualified for the next debate, and has vowed to stay in the contest until the Democratic Convention in July.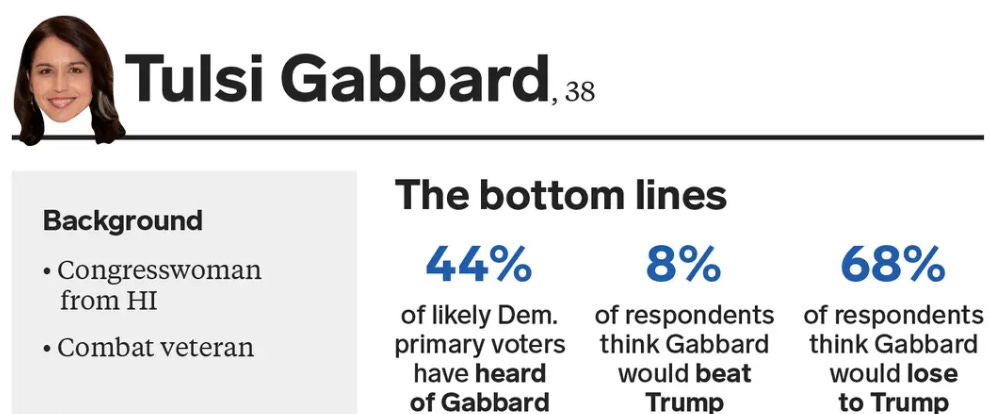 Warren, Bloomberg OUT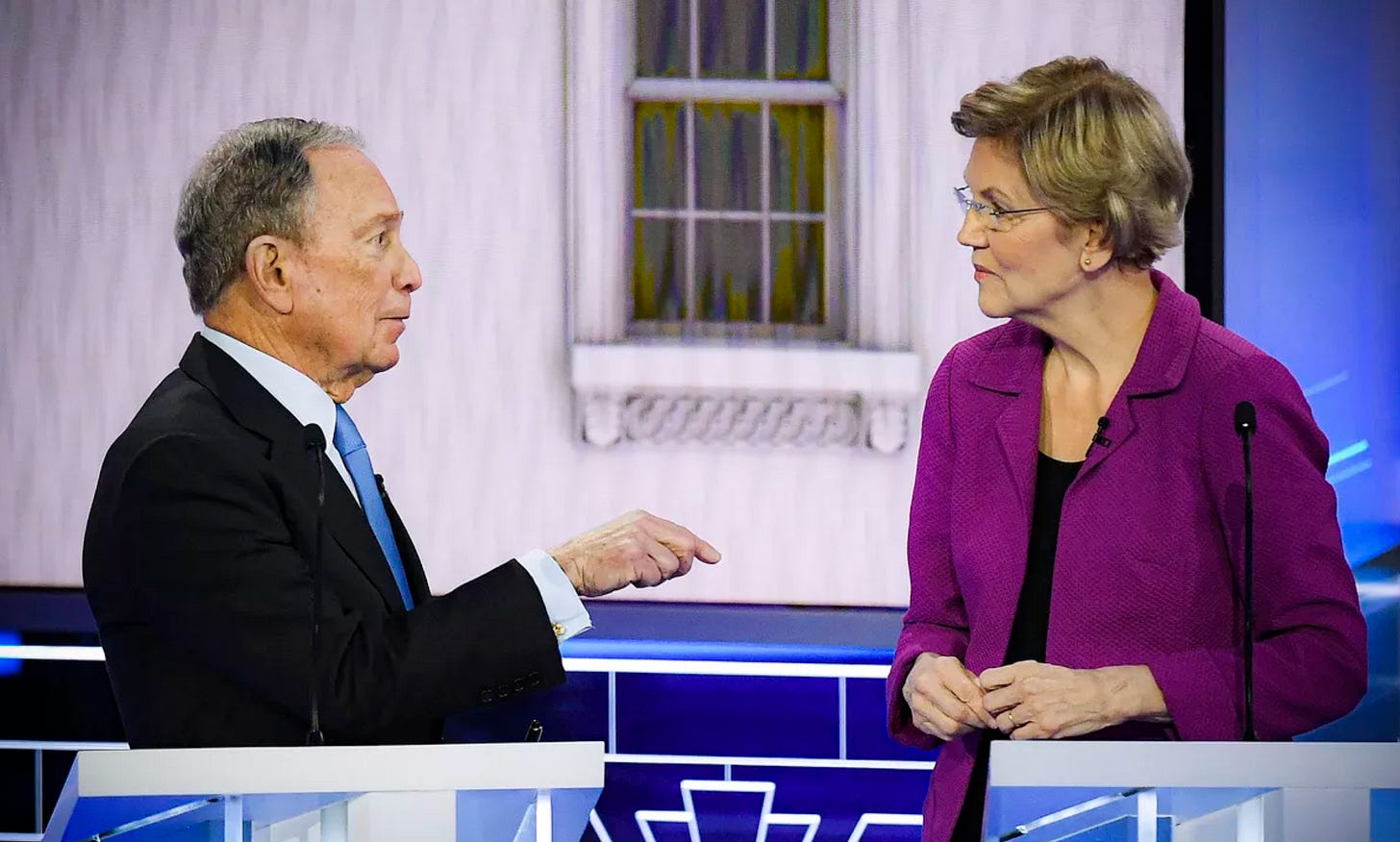 In an inspired campaign that elicited high-profile endorsements and significant campaign donations that didn't translate to votes, Elizabeth Warren dropped out of the race the same week as her ersatz rival, Michael Bloomberg. Warren said Thursday she was trying to end Bloomberg's campaign at the Democratic presidential debate last month when she eviscerated the former New York City mayor over allegations of sexist and misogynistic behavior. She succeeded, in what was perhaps a pyrrhic victory, as her campaign ended less than 36 hours later.
Bloomberg, who spent more than $500 million in just 100 days on his own campaign, received very little support in the electorate, crossing the delegate threshold of 15% in only four states. He has said that he will throw his financial might behind Biden, helping state parties and supporting efforts to identify and turn out voters in November. Bloomberg's campaign has more than 2,000 people on staff who could transition to help the nominee.
Primary Calendar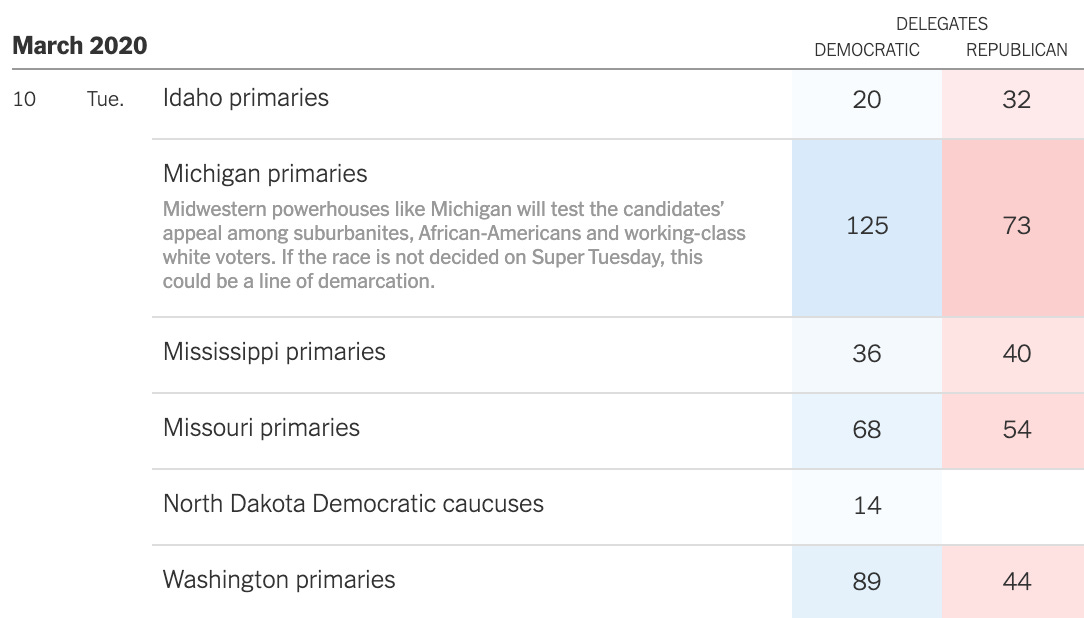 Next Tuesday (March 10th) will see six states go to the polls, with Michigan as the biggest prize. Sanders has already canceled a rally in Mississippi to focus on Michigan, underlying the fact that his team sees the South as a point of weakness for the candidacy. Biden swept the Southern states on Super Tuesday.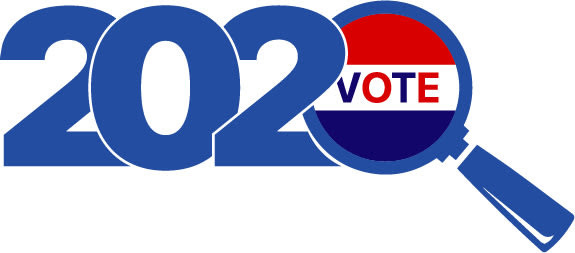 DAYS UNTIL 2020 PRESIDENTIAL ELECTION: 

241
DPT 2020 RECENT ARCHIVES