Discover more from Dem Primary Tracker 2020
The Official 2020 Democratic Primary candidate tracker.
Over 11,000 subscribers
Booker Drops Out; Chappelle Backs Yang
Booker Latest to Exit Race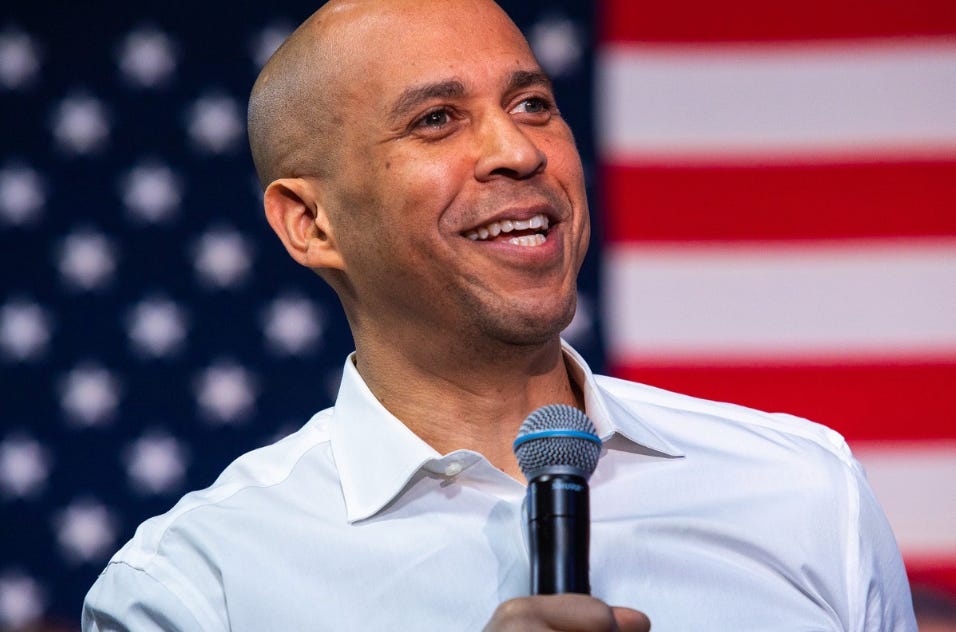 New Jersey Senator Cory Booker announced Monday he is dropping out of the race for the 2020 Democratic presidential nomination.
Booker was viewed as a powerful communicator on the campaign trail, yet his candidacy never really caught fire with Democratic voters, as they seek a candidate best positioned to take on President Trump. Booker intends to run for reelection to the Senate. He was one of three African Americans to seek the Democratic nomination; another, Senator Kamala Harris of California, withdrew from the race last month.
Bloomberg Bets a Billion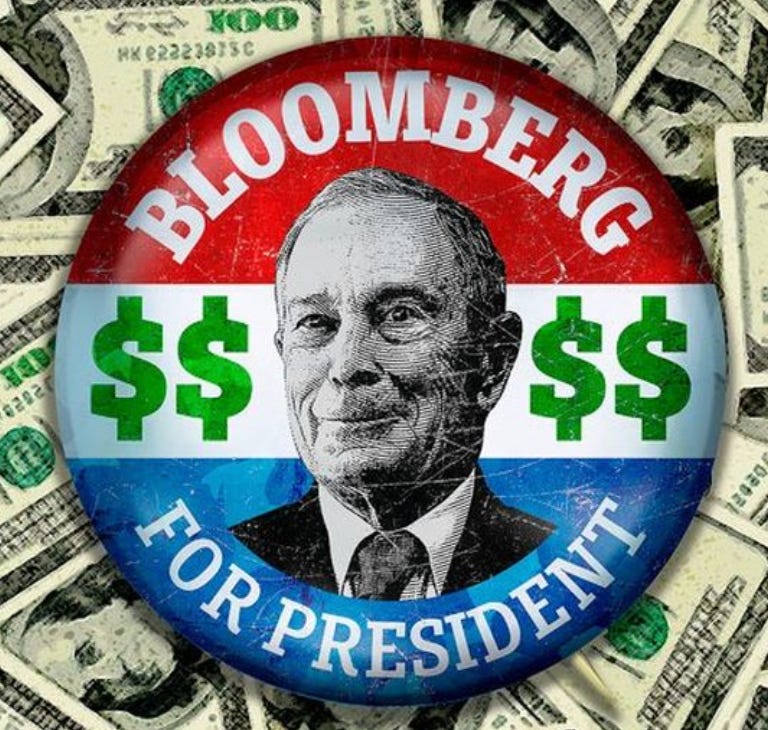 Michael Bloomberg, who has spent more than $200 million in less than two months as a formal candidate, did not rule out spending a billion dollars of his own money on the 2020 presidential race, even if he does not win the Democratic nomination, and said he would mobilize his well-financed political operation to help Bernie Sanders or Elizabeth Warren win in November if either is the party nominee, despite their sharp policy differences.
This is welcome news regardless of who wins the Democratic Primary, provided Bloomberg keeps his word. Up against the Trump money machine, any Democratic candidate will need abundant funding and a strong ground game to keep pace with the incumbent.
Primary Polling, Easy as 1, 2, Steyer?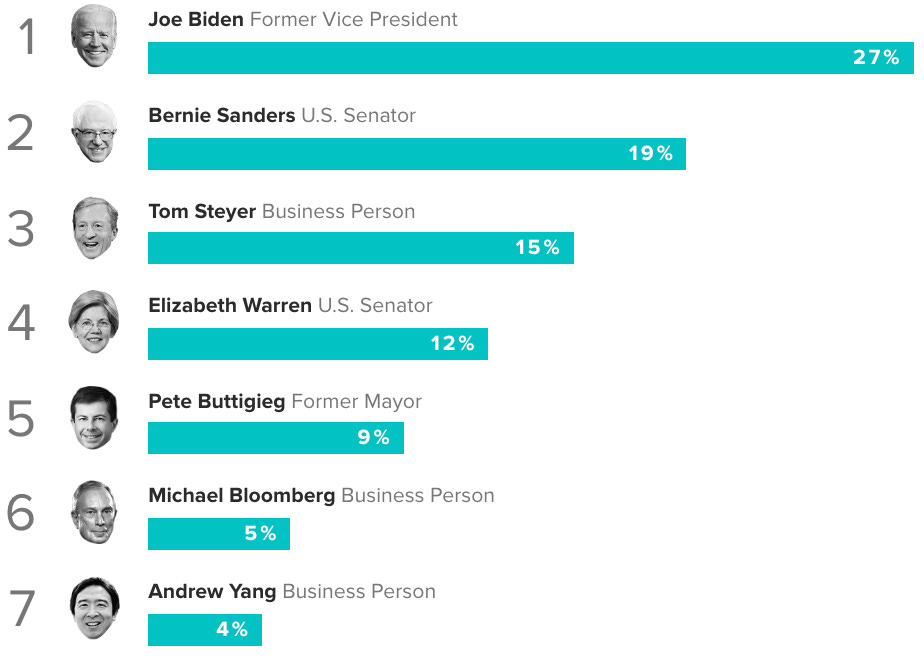 Joe Biden, Bernie Sanders, and. . .Tom Steyer? Those are the top three in early primary state polling according to Morning Consult.
The three early primary states of Iowa, New Hampshire, Nevada, and South Carolina are considered key to momentum heading into Super Tuesday. It is interesting that Steyer & Bloomberg are taking the exact opposite approaches regarding states - Bloomberg is completely skipping the three early states and focusing squarely on Super Tuesday (Alabama, Arkansas, California, Colorado, Democrats Abroad, Maine, Massachusetts, Minnesota, North Carolina, Oklahoma, Tennessee, Texas, Utah, Vermont, and Virginia). Steyer, on the other hand, has built substantial ground operations in the early states, reflected in the polling.
Dave Chappelle Joins the #YangGang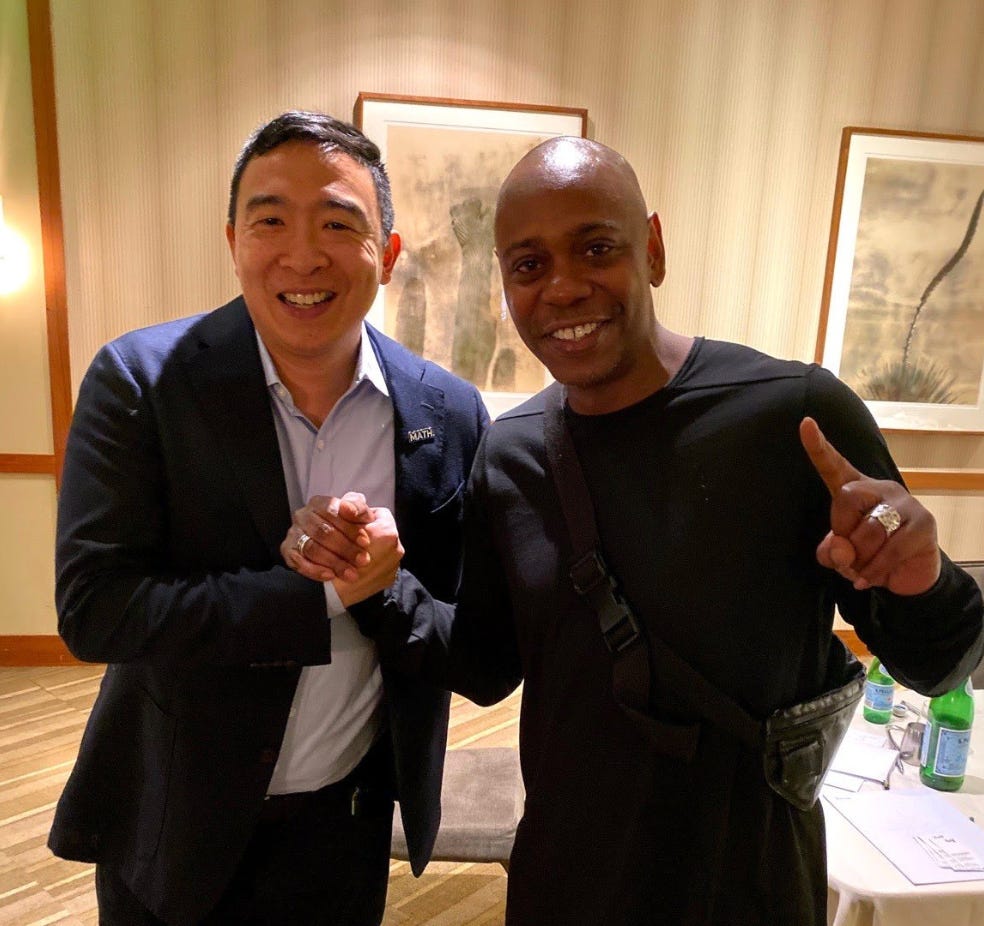 Comedian Dave Chappelle on endorsed Andrew Yang for the Democratic presidential nomination, becoming the latest celebrity to back the former tech executive in the 2020 primary. In a statement released by the campaign, Chappelle declared that he was part of the "Yang Gang." He's set to perform two shows in South Carolina on Yang's behalf later this month. "Dave's team reached out to our team, and they were thrilled to put the two of us together," Yang said. "We sat down and talked about his concerns for the country and what we need to do to for the next generation. Dave's a dad like I am. And then after we met, he said, 'Look, I want to help, and what can I do to help?'"
Legend Backs Warren; Rips Sanders Supporters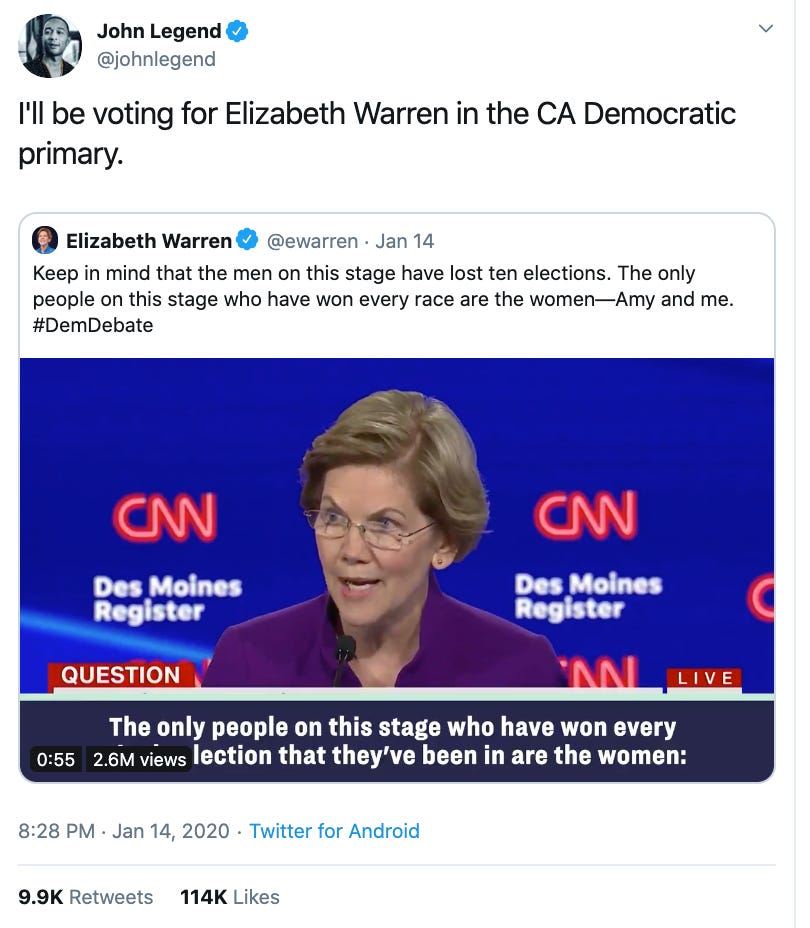 Singer and activist John Legend has confirmed his endorsement of 2020 Democratic presidential candidate Elizabeth Warren. After singing Warren's praises, Legend then set his sights on a sect of Sanders devotees who many believe have taken things too far.
"Some of you Bernie supporters do quite the disservice to your candidate, who seems to be a great human being," he scolded. "Try not to drive people away with your nastiness. I will happily vote for him if he wins the primary. Chill." Legend also clarified that he would be, "happy to pay more taxes if Warren or Sanders or anyone else wins the Dem primary."
Amy Klobuchar, Debate Winner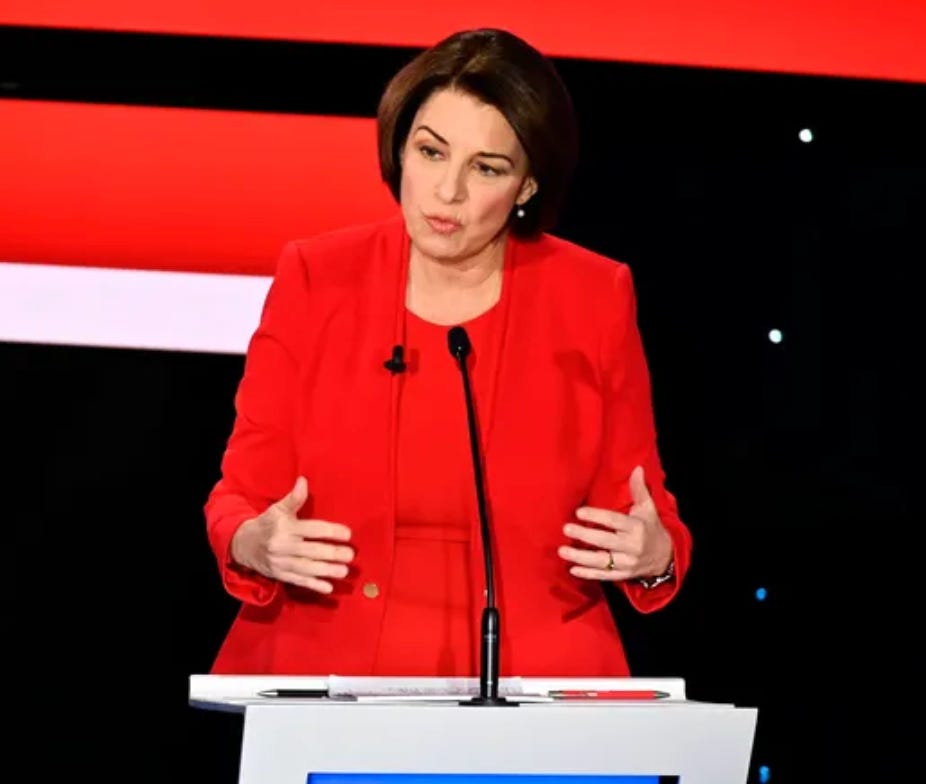 A surprise winner at last night's debate may well have been Amy Klobuchar. Klobuchar lurks in the second-tier of candidates but has held firm at 4% in the overall polling. "She (Klobuchar) cleaned the progressives' clocks on Medicare-for-all, making clear that it was a "pipe dream" and setting forth bipartisan bills to lower drug costs. In talking about the costs of child care and college, she cut through the noise of free plans and spoke about connecting education to the job market. She gave a strong answer as well on how to compare her family's humble beginnings with Trump's sense of entitlement.
Klobuchar similarly told Warren and Sanders their plans were fantasy and spoke up for pragmatic progressivism. She effectively scolded Sanders for not paying for his pie-in-the-sky idea and Warren for insisting on Medicare-for-all before she backed off it, wise-cracking, "The Affordable Care Act right now is 10 points more popular than the president of the United States."
Only six candidates qualified debate: Joe Biden, Pete Buttigieg, Amy Klobuchar, Bernie Sanders, Tom Steyer, and Elizabeth Warren.
The Gang is Fierce; Yang Wins in Absentia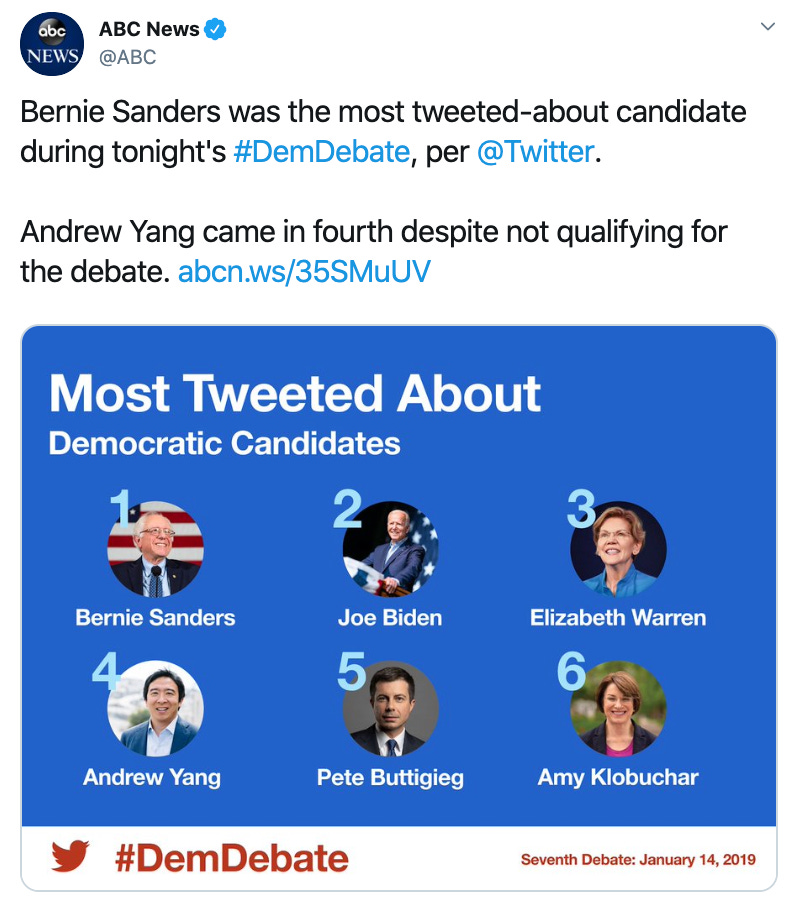 The top four winners of last night's debate, according to Google searches and the number of tweets about each candidate, were Bernie Sanders, followed by Joe Biden, Elizabeth Warren, and then Andrew Yang. Ironically, Yang wasn't even on the debate stage. Yang, meeting the threshold in just two of the four required polls as of Friday night, did not qualify prior to when the qualification window closed. Yang's avid online fanbase — made his absence from the stage known online. For much of the debate, the hashtag #AmericaNeedsYang trended at second in the United States, boosted by Yang himself.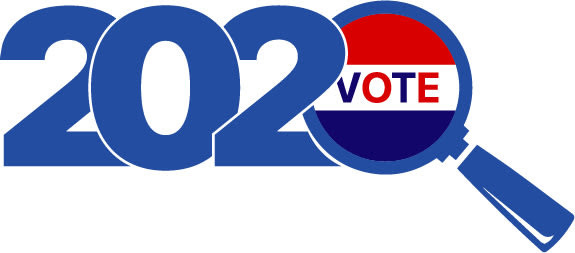 DAYS UNTIL 2020 PRESIDENTIAL ELECTION: 

290
DPT 2020 ARCHIVES