Discover more from Dem Primary Tracker 2020
The Official 2020 Democratic Primary candidate tracker.
Over 11,000 subscribers
July 11, 2019: Steyer In, Swalwell Out
WELCOME TO THE PRIMARY, TOM STEYER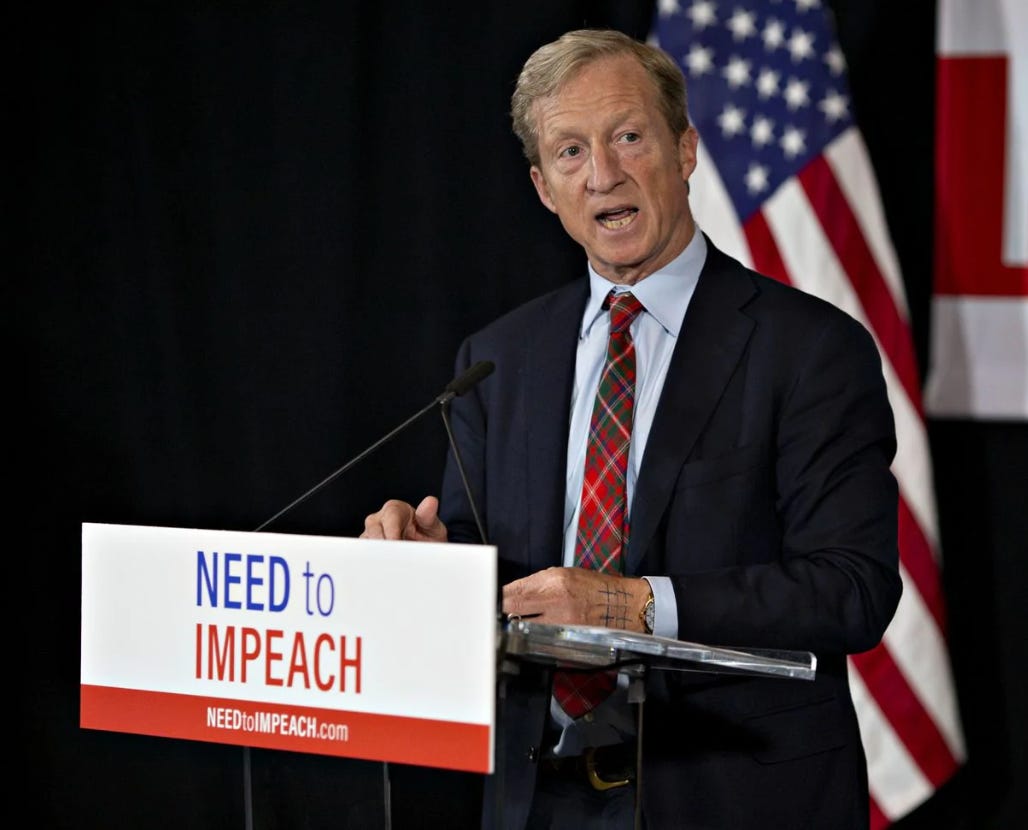 Billionaire activist Tom Steyer said that he will run for president in 2020. He enters the crowded Democratic field with a pledge to focus on climate change and reforming the political system. He also committed to spending $100 million to defeat Trump.
Steyer is the founder of NextGen America, which has a stated mission of mobilizing young voters and supporting candidates who advocate for climate action. He previously founded Farallon Capital, an investment firm with more than $20 billion under its management. In 2010 he vowed to donate "the bulk of (his) assets to philanthropic activities carried out over the course of our lifetimes."
Recently, Steyer has become known for his efforts to pressure lawmakers on Capitol Hill to impeach Trump, launching an initiative in 2017 dubbed Need to Impeach. Through that group, Steyer has amassed more than 8.2 million signatures on a petition supporting those proceedings - a substantial headstart heading to the campaign.
His late entry could pose trouble for a potential appearance in the next round of debates, as he will have to receive donations from at least 65,000 unique donors and poll at 1% or higher in three qualifying polls in the next week - a virtual impossibility.
DOES STEYER STAND A CHANCE?
It is worth noting where Bill Clinton stood in the polls in the summer of 1991, the summer prior to his election: Clinton was a virtual unheard-of, polling at just over 1%. There are seven months until the first primaries. Tom Steyer - or any of the candidates polling at or near 1% - may stand a chance. Here is the Polling Average of the 1992 Democratic Primary Field, Jan - June 1991.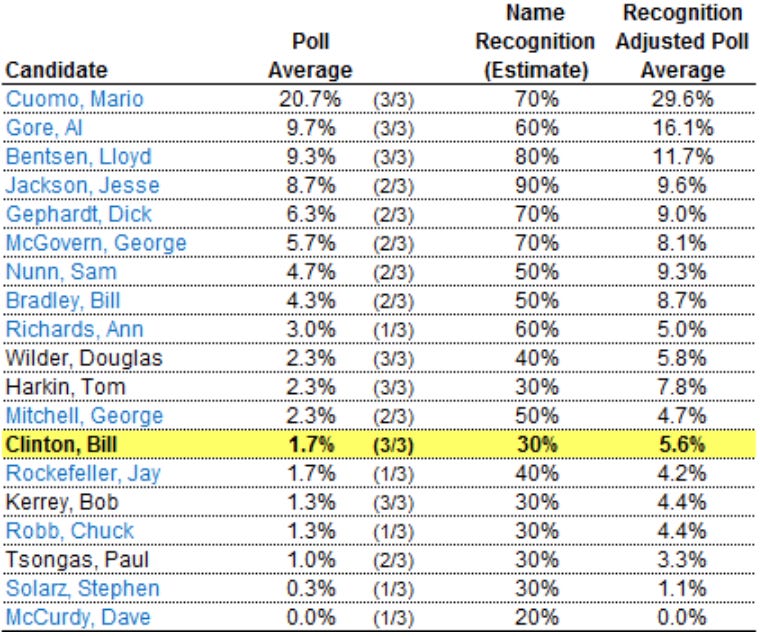 SWALWELL, WE HARDLY KNEW YA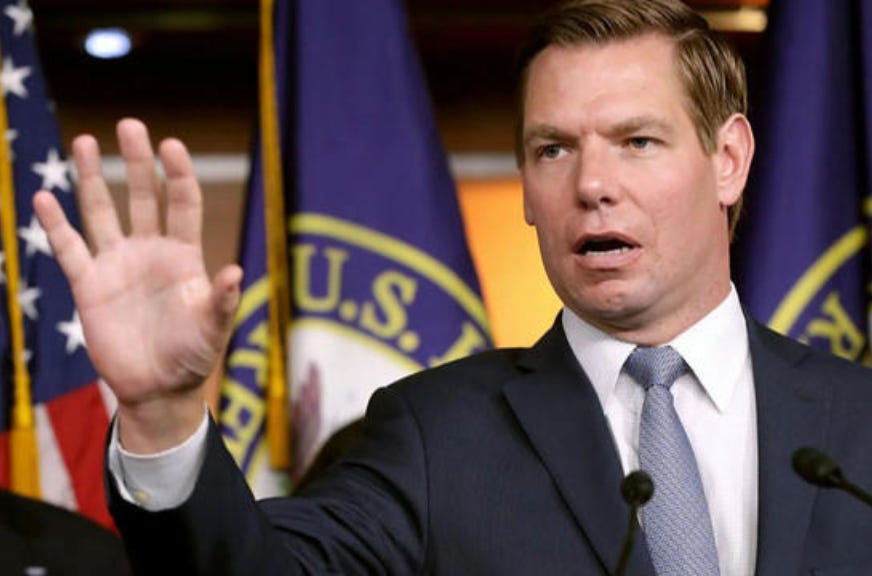 Eric Swalwell, who appeared at the first Democratic debate, said he will instead run for reelection to the House of Representatives, in part because of low polling and fundraising numbers.
He announced his long shot presidential bid in April, pledging to mount a campaign that focused on the need for generational change in the Democratic Party and his commitment to confronting gun violence in the United States.
The high point of his campaign was his June debate face-off with Joe Biden, when Swalwell noted that he was six years old when "a presidential candidate came to the California Democratic convention and said it's time to pass the torch to a new generation of Americans."
"That candidate was then-Sen. Joe Biden," Swalwell added as the crowd gasped. "He was right when he said that 32 years ago. He is still right today."
Swalwell's time to grab the torch may indeed come, but that time will not be in 2020.
HEAD-TO-HEAD WITH TRUMP
Important insight from the latest ABC News/Washington Post poll: Amongst REGISTERED VOTERS, if the election were being held today and the candidates were Donald Trump and *Dem Primary candidate,* who would you support? Methodology here.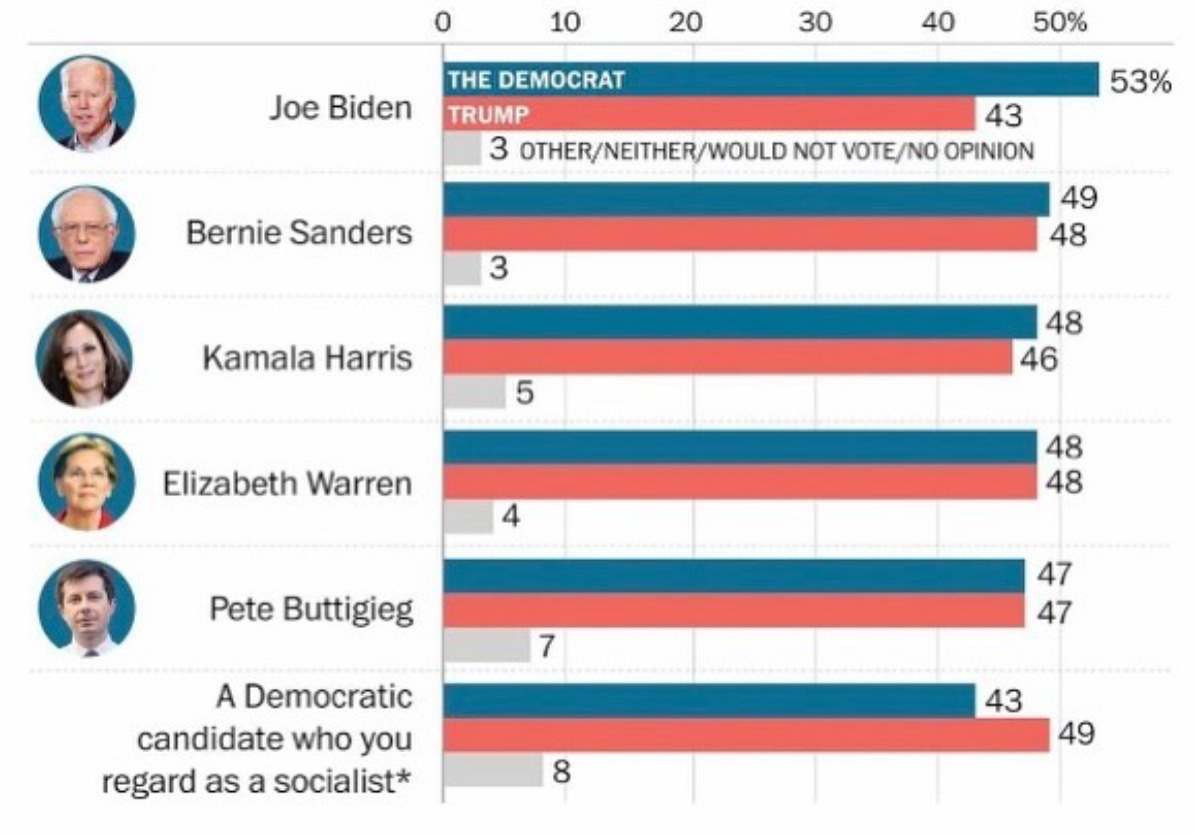 MEDICARE FOR ALL
There was a literal show of hands at the Democratic Debates regarding Universal healthcare, but where does Axios say the candidates stand on Medicare for All?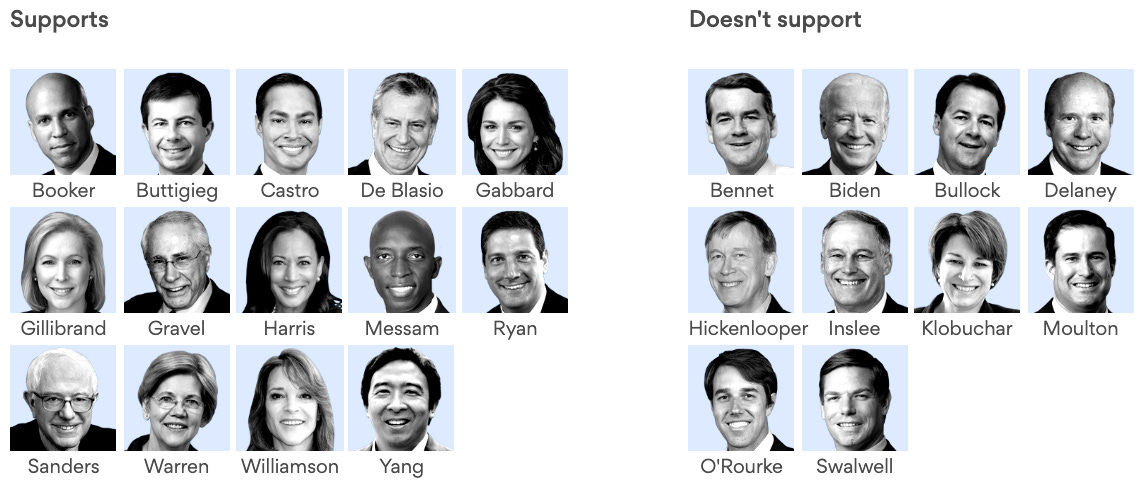 DEMS DIGITAL SPEND IN Q2 STILL LAGS
ACRONYM has developed an interactive dashboard to see how and where each 2020 presidential candidate is spending their money online. The totals for Q2 show that none of the Dem candidates are approaching Trump's spend on either Google or Facebook.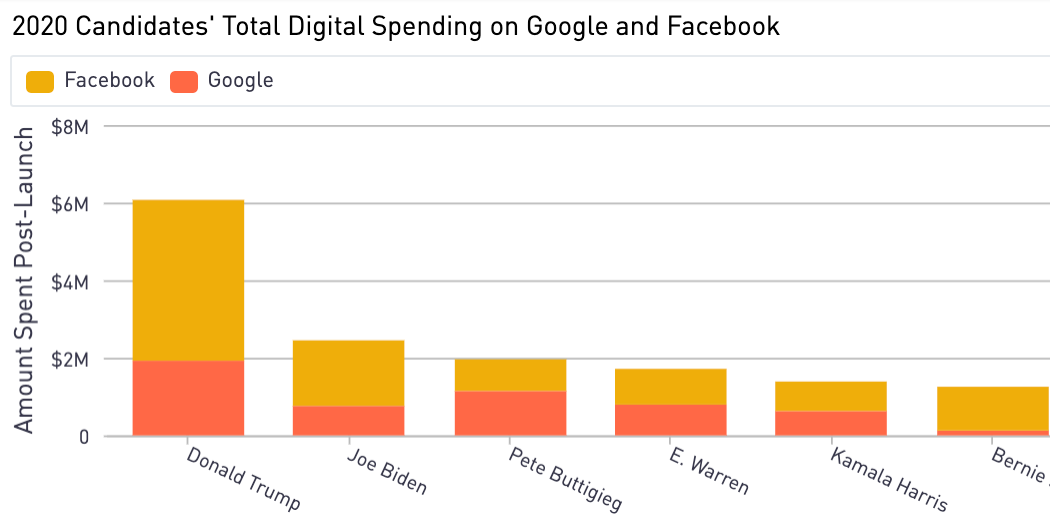 For a comparison of only Democrats, Bully Pulpit Interactive has a 2020 Campaign Tracker tool, that charts the spend for the top ten Dem Primary spenders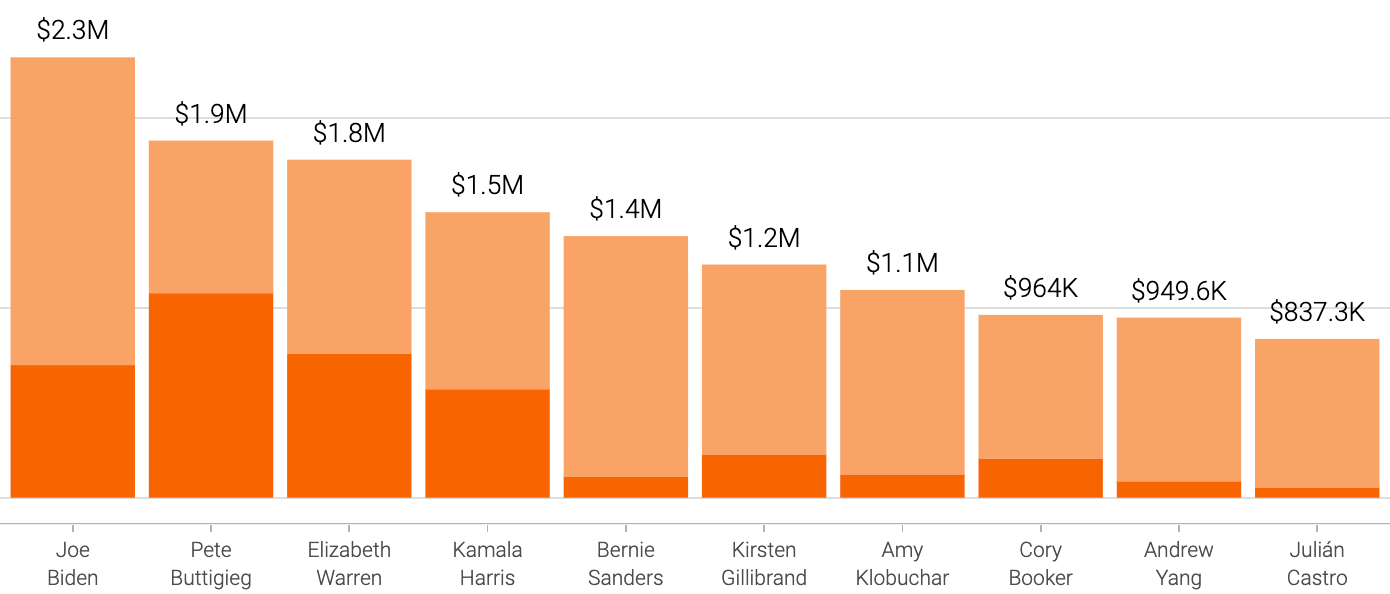 ATTENTION TRACKER
Joe Biden is dominating the 2020 Democratic field in online attention, showing the extent to which the race is being molded by the current frontrunner while other candidates are defining themselves in relation to him.
Per Newswhip, articles about Biden are generating far more social media interactions (43.5 million) than any other 2020 Democrat over the last 10 weeks. This tracker looks at all the attention 2020 Democrats are generating from stories on social media, but many of the most viral pieces are actually being published by conservative media.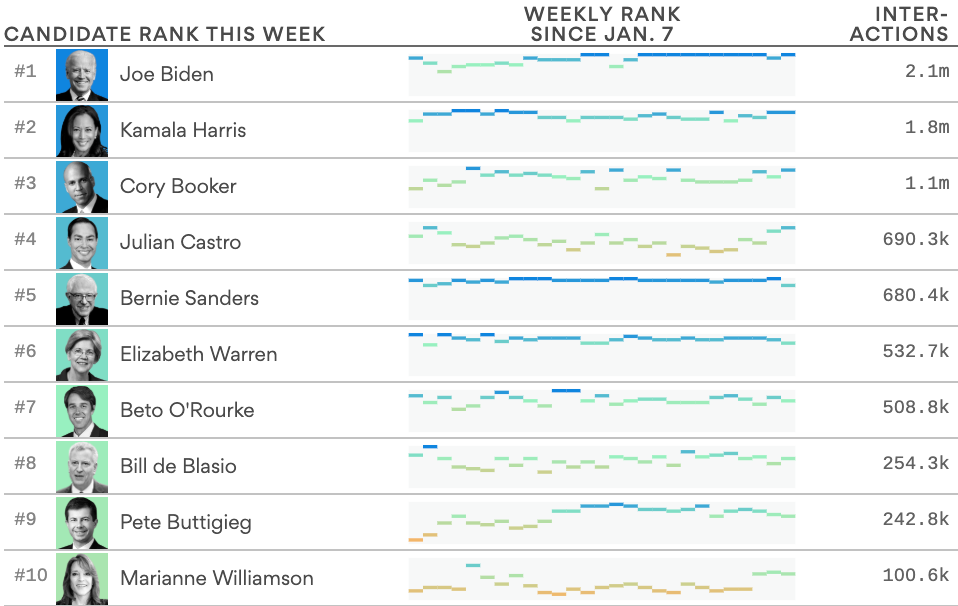 ARCHIVES
July 4 (The Ancestry Issue) June 27 June 20 (The Debate Issue) June 13 June 6 May 30 May 23 May 16 May 9 May 2 April 25 April 18 April 11 April 7 March 31 March 24 March 17 March 10
DAYS UNTIL 2020 PRESIDENTIAL ELECTION: 

480
REGISTER TO VOTE HERE: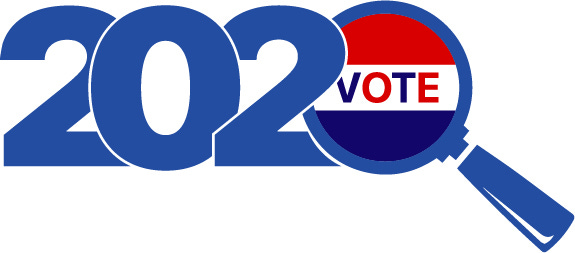 We genuinely appreciate you reading Dem Primary Tracker 2020. You can also 'like' our page on Facebook and follow us on Twitter & Instagram.