Discover more from Dem Primary Tracker 2020
The Official 2020 Democratic Primary candidate tracker.
Over 11,000 subscribers
All About the Benjamins. And Bernies. And Joes. And Kamalas.
Q2 FUNDRAISING TOTALS, TAKEAWAYS
The top five Democratic candidates raised $96 million in the second quarter of 2019. There is a noticeable line of donor demarcation after that point, as the field is clearly evolving into a hierarchy. Barring significant shifts in momentum, the financial pressure could result in a narrowing down of Democratic candidates in the next few months. As the candidates address the high costs of staffing national campaigns and building donor lists big enough to qualify for future debates, the difference between the contenders and pretenders will become more obvious. Here are a few of the key takeaways from the candidates' July 15 filings with the FEC.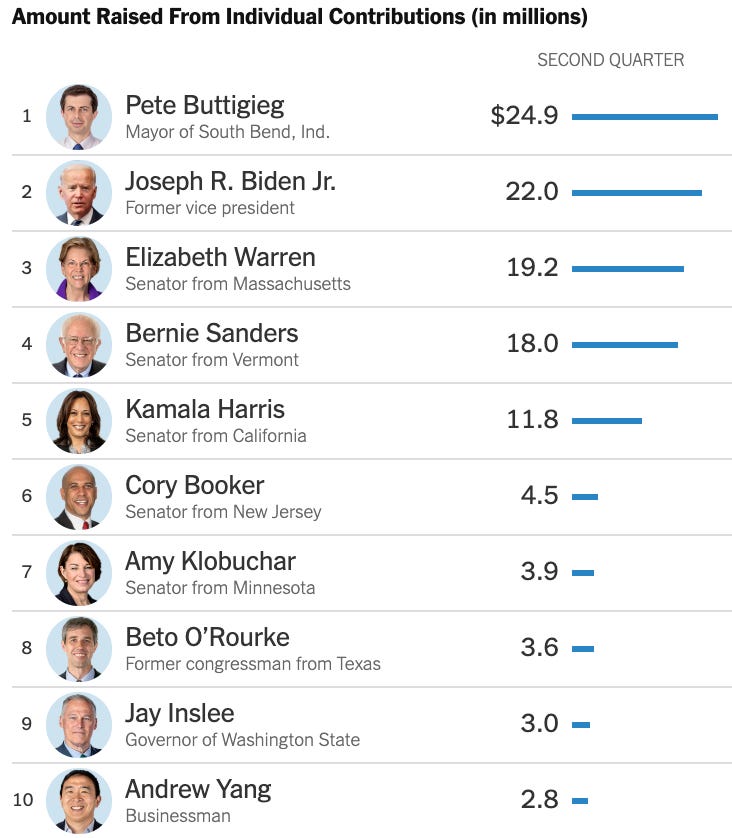 To view the rest of the field, click here.
CASH ON HAND
Candidates with little cash are highly limited in their ability to build up a large campaign operation and deploy staff in early-voting states. Eleven Democratic presidential candidates spent more campaign cash than they raised in the second quarter of the year. Eight contenders are limping forward with less than $1 million in cash on hand, and several top-tier contenders are already spending multiples of what their lower-profile competitors raised. Here are the top ten with money in the bank, with a comparison to President Trump.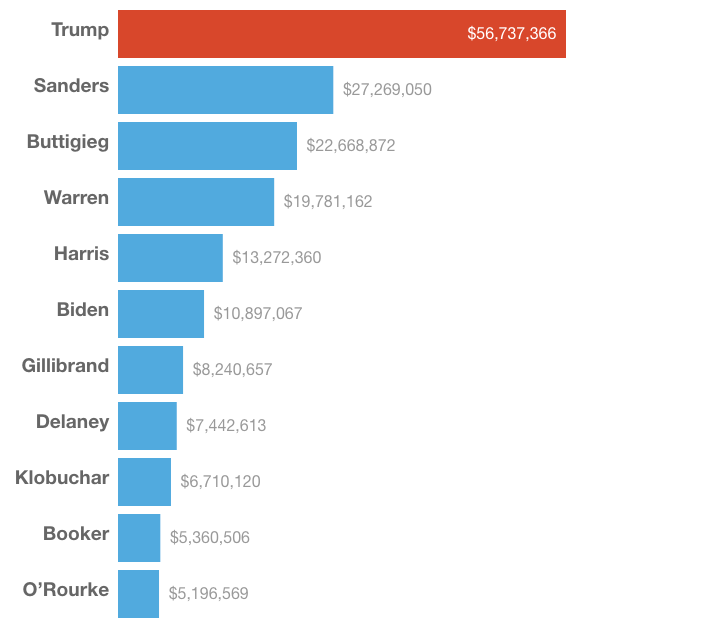 DONOR DOLLARS DETERMINE DEBATE
The DNC has decided that to secure a spot on stage at the July 30-31 debates in Detroit, candidates must poll at either 1% or higher in a minimum of three approved polls or receive at least 65,000 unique donations to their campaigns and a minimum of 200 unique donors, per state, in at least 20 states. But there's no dollar amount on those donations, so a candidate could still qualify without raising much money.
PERCENTAGE OF MONEY FROM SMALL DONORS
Bernie Sanders and Elizabeth Warren have made it a hallmark of their respective campaigns to focus on individual donations, eschewing high-dollar fundraisers and soirées with larger donors. Julián Castro, Marianne Williamson, & Andrew Yang have been able to leverage small donors to fund their recent pushes. Kamala Harris has a strong base of online donors, but she has also raised significant sums from traditional donors. Candidates such as Kirsten Gillibrand, Biden, and Cory Booker relied heavily on larger donations from more traditional sources.
This chart shows the TOTAL dollars from donors giving $200 or less (YTD).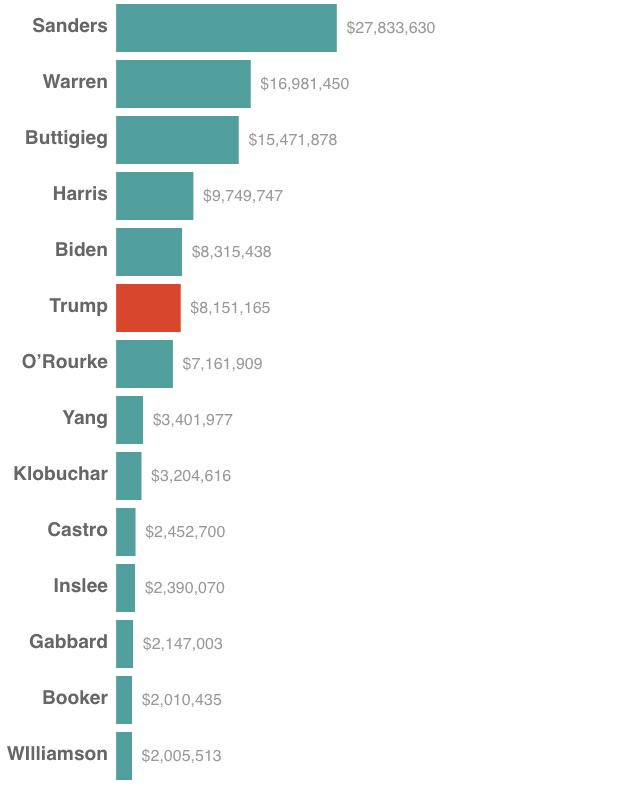 This chart shows the PERCENTAGE of money from donors giving $200 or less.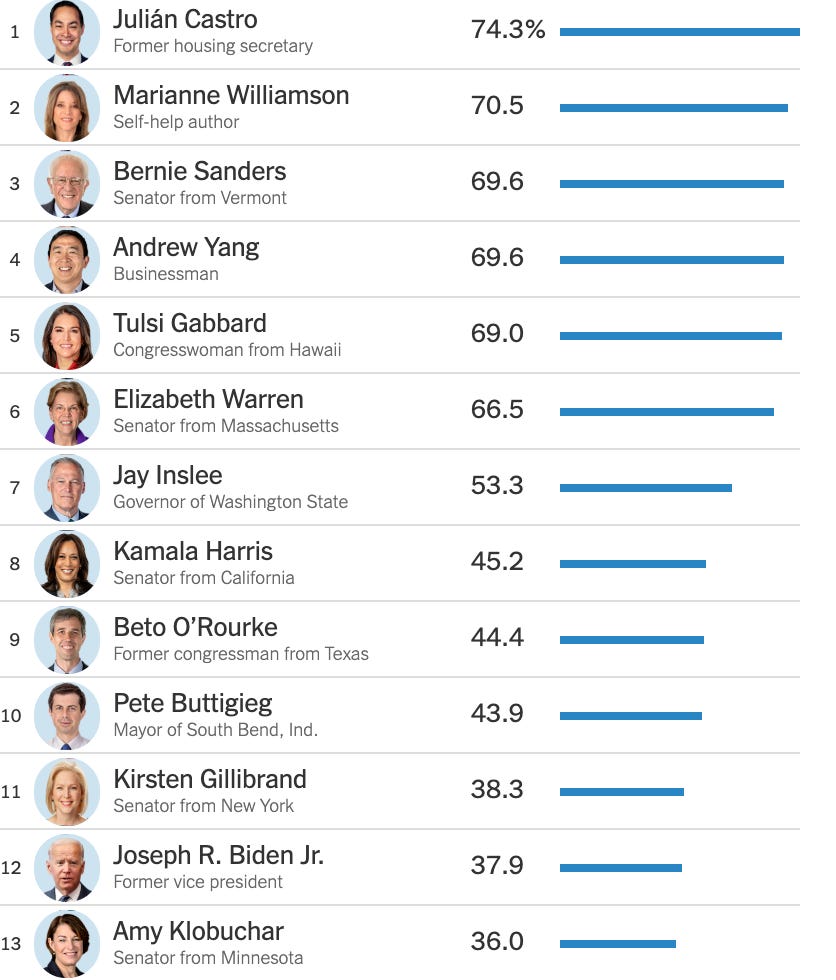 CELEBRITY DOLLARS
FEC disclosures were filed today and Scarlett Johansson donated the individual maximum $2,800 to Elizabeth Warren's campaign. So did Amy Schumer, Shonda Rhimes, Rob Reiner, & Ryan Reynolds. Though the celebrity donations come with cachet, the totals make up a small sum of the main candidates' quarterly war chest. For instance, donors who gave the maximum contribution account for only 2 percent of the $19.8 million Warren raised in Q2.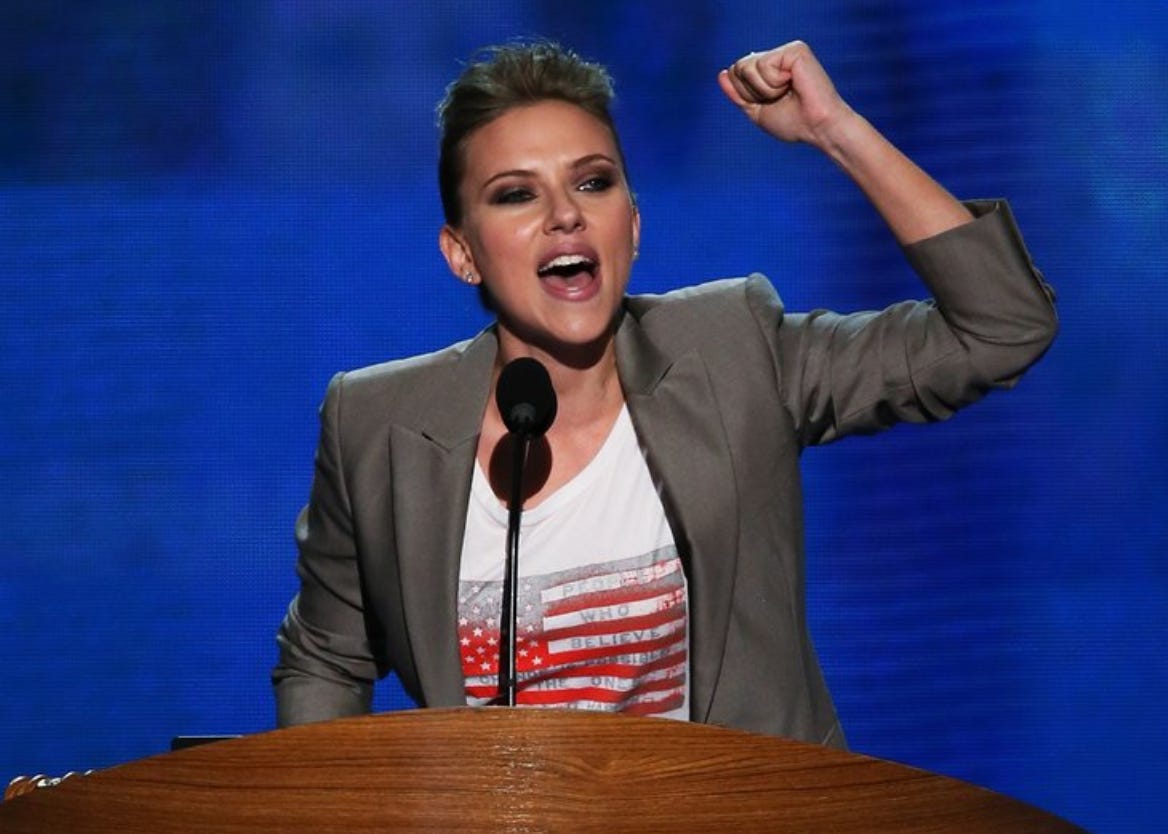 TRUMP DOLLARS
President Donald Trump reported raising $105 million in the second quarter, with $54 million going to his campaign and $51 million headed to the Republican National Committee.  Trump campaign officials said they received 725,000 individual donations online, with supporters giving an average of $48. It was the first time the RNC attracted a larger share of donations under $200 than the DNC.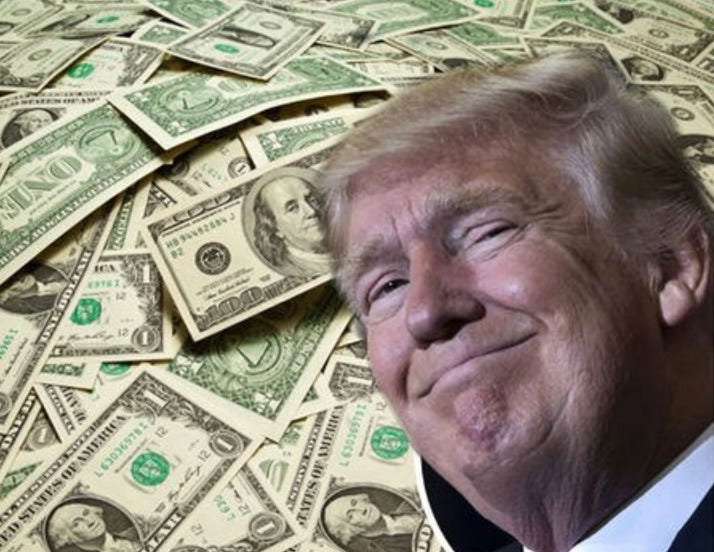 WEEKLY DIGITAL AD SPEND FOR TRUMP
Trump's re-election machines are revving up their digital ad spend in Q2. The two committees, specifically Donald J. Trump for President, Inc, have doubled their weekly spend over the last two months.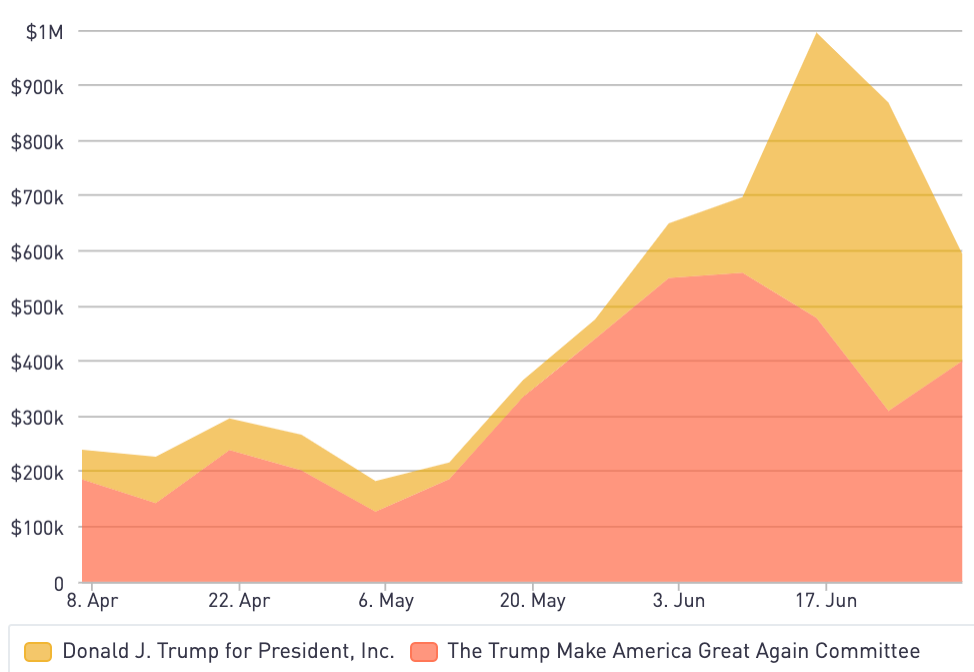 By comparison, Trump is digitally outspending his top six Democratic rivals combined.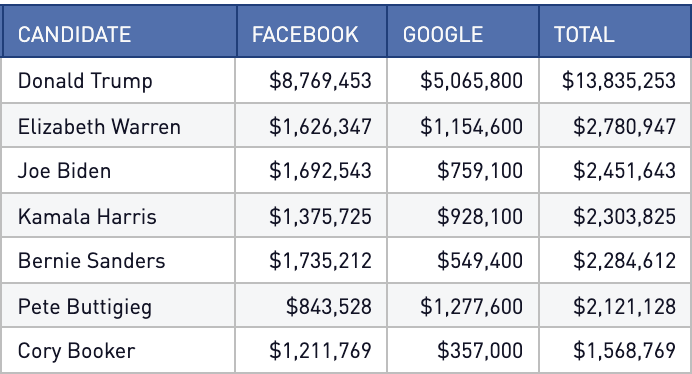 ARCHIVES
July 11 July 4 (The Ancestry Issue) June 27 June 20 (The Debate Issue) June 13 June 6 May 30 May 23 May 16 May 9 May 2 April 25 April 18 April 11 April 7 March 31 March 24 March 17 March 10
DAYS UNTIL 2020 PRESIDENTIAL ELECTION: 

473
REGISTER TO VOTE HERE: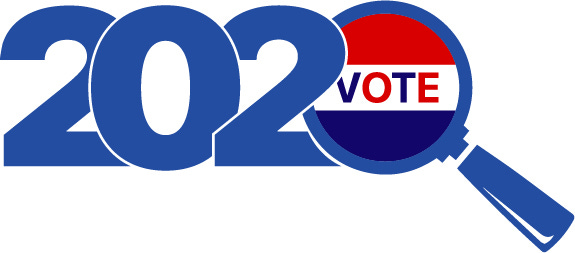 We genuinely appreciate you reading Dem Primary Tracker 2020. You can also 'like' our page on Facebook and follow us on Twitter & Instagram.