Discover more from Dem Primary Tracker 2020
The Official 2020 Democratic Primary candidate tracker.
Over 11,000 subscribers
Polls, Polls, Polls: Joe Still Rules.
Joe Biden continues to lead in the polls, without much slippage over the last 60 days. According to polls this week from Morning Consult/Politico, Reuters/IPSOS, NBC News/Wall St. Journal, as well as Fox News, Biden is holding steady.
Some interesting observations:
Average of Polls

Economist/YouGov 'Average of polls' methodology here.
The People Behind The Numbers
We plan to give a nod to the people and companies that are doing the hard work behind a lot of the groundbreaking statistics, the eye-grabbing graphs, and thought-provoking insights. 
Bully Pulpit Interactive
Bully Pulpit Interactive is one of the most talented media and communications agencies working in politics today.  They are veterans of the Obama campaign, the Bill & Melinda Gates Foundation, and Everytown for Gun Safety.  You've regularly seen their work referenced here, and they are regular contributors to Axios and NYT with commentary and data visualization on digital media spend across the 2020 Presidential campaign.
In Bully Pulpit's own words, they build "believers" for brands, causes, and candidates.  "In politics, there is only winning.  No second place trophies. No do-overs. You win, or you go home. And winning is all about believers."
We encourage all our readers to check out their work when you have a moment.
Iowa as a Bellwether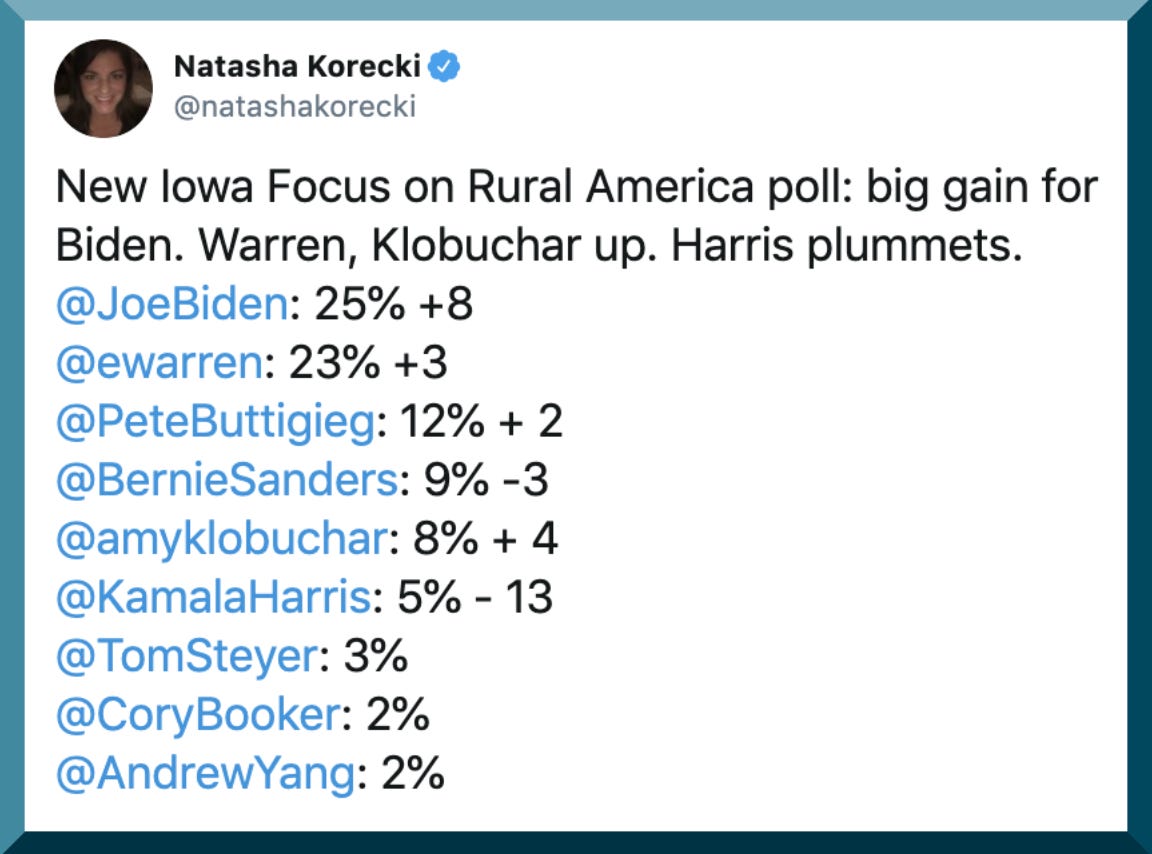 Iowa is a bellwether for the Democratic Primary as it holds caucuses on February 3, 2020. The Focus on Rural America poll shows Warren closing the gap, and Pete Buttigieg placing in third, ahead of Bernie Sanders, as well as a standout result for Klobuchar. As a result, Sanders has implemented some campaign shake-ups meant to resurrect his support. Methodology here.
Head-to-Head with Trump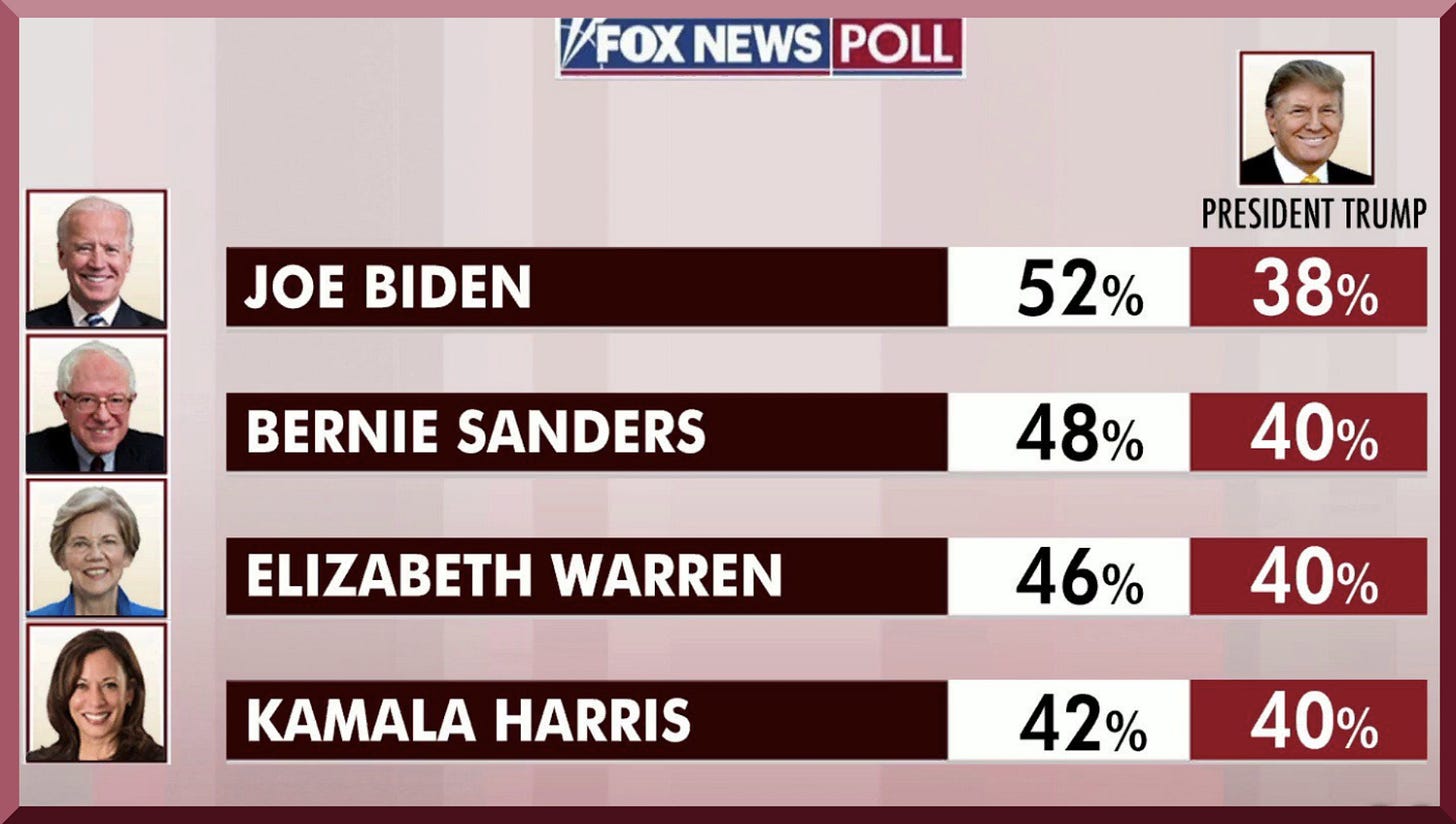 Joe Biden continues to perform best of the Democratic candidates tested, according to a new Fox News Poll. He has the biggest lead over Trump (+14 points), is the only one to receive 50 percent support, and the only one to keep Trump under 40 percent (52-38 percent).  Last month, it was Biden over Trump by 50-38 percent. Methodology here.
ADDITIONAL POLLS
Politico/Morning Consult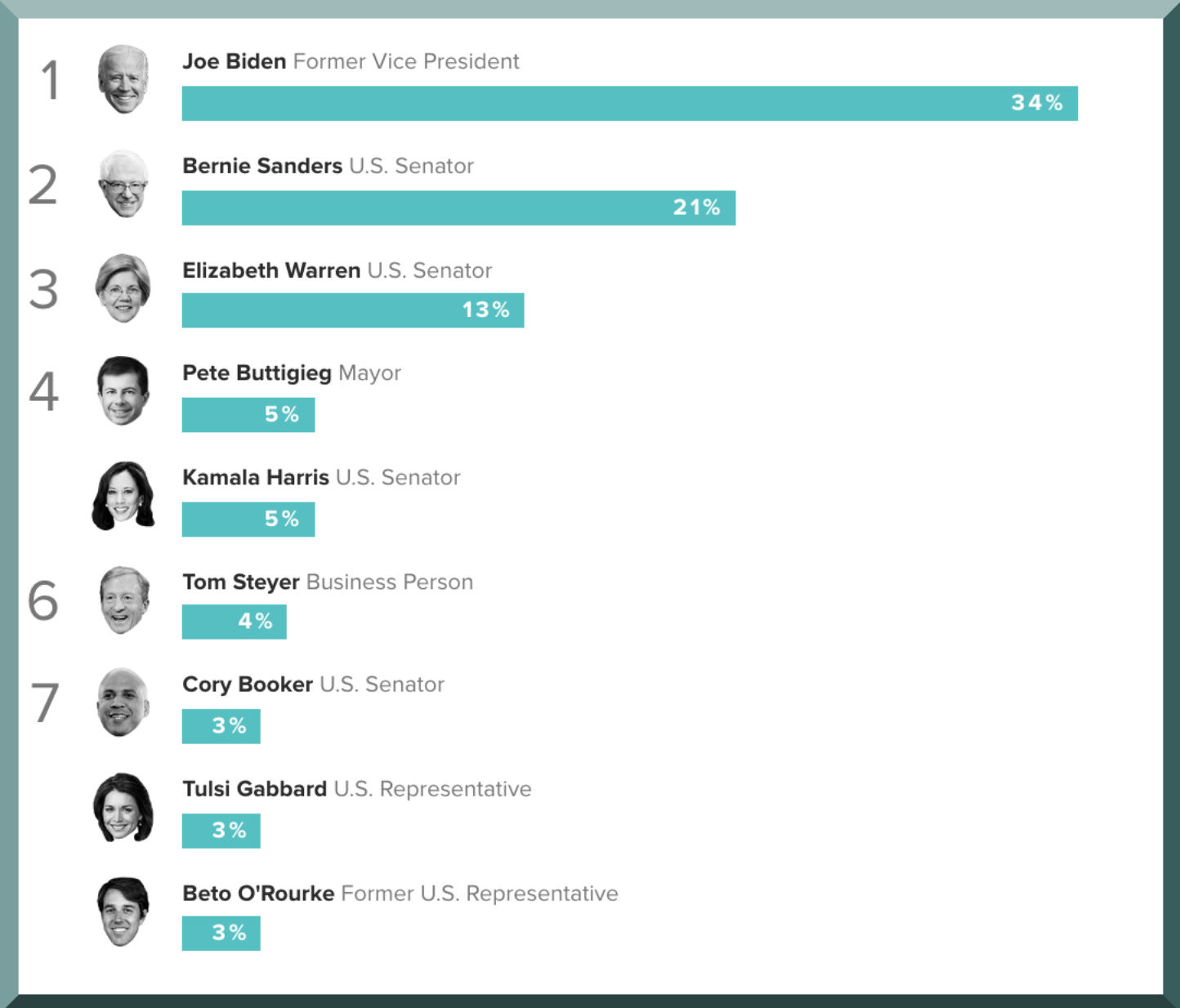 Politico/Morning Consult Methodology here.
NBC News/Wall St. Journal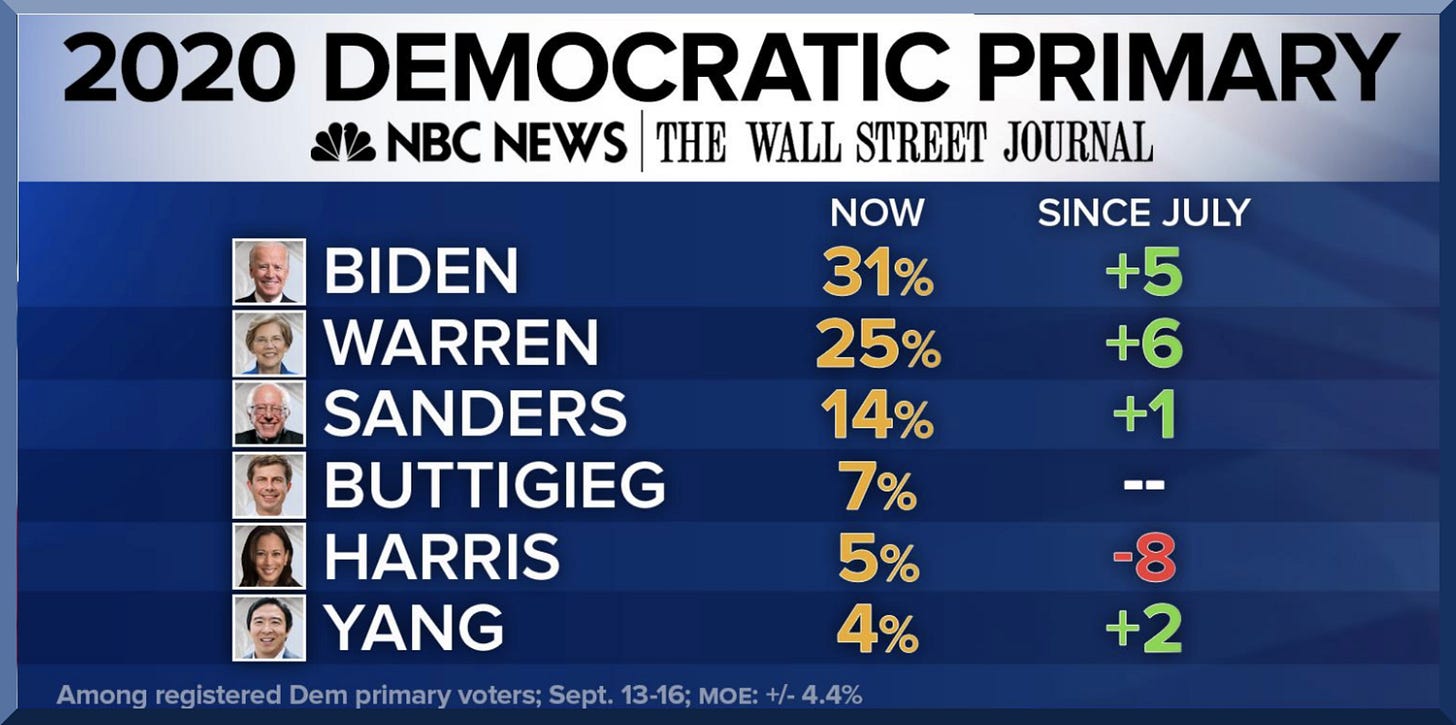 NBC News/WSJ methodology here.
Reuters/IPSOS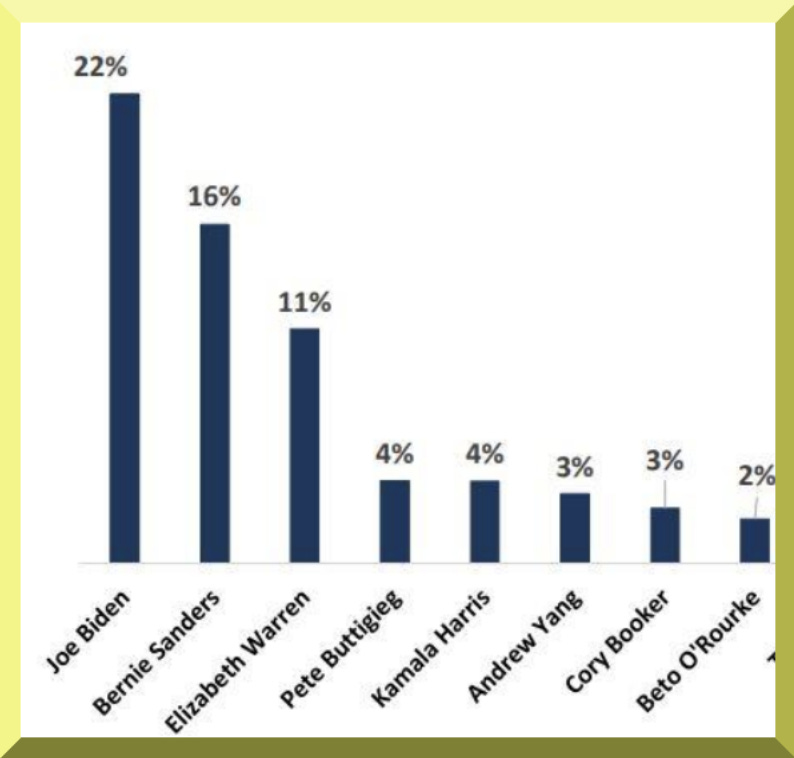 Reuters/IPSOS methodology here.
Fox News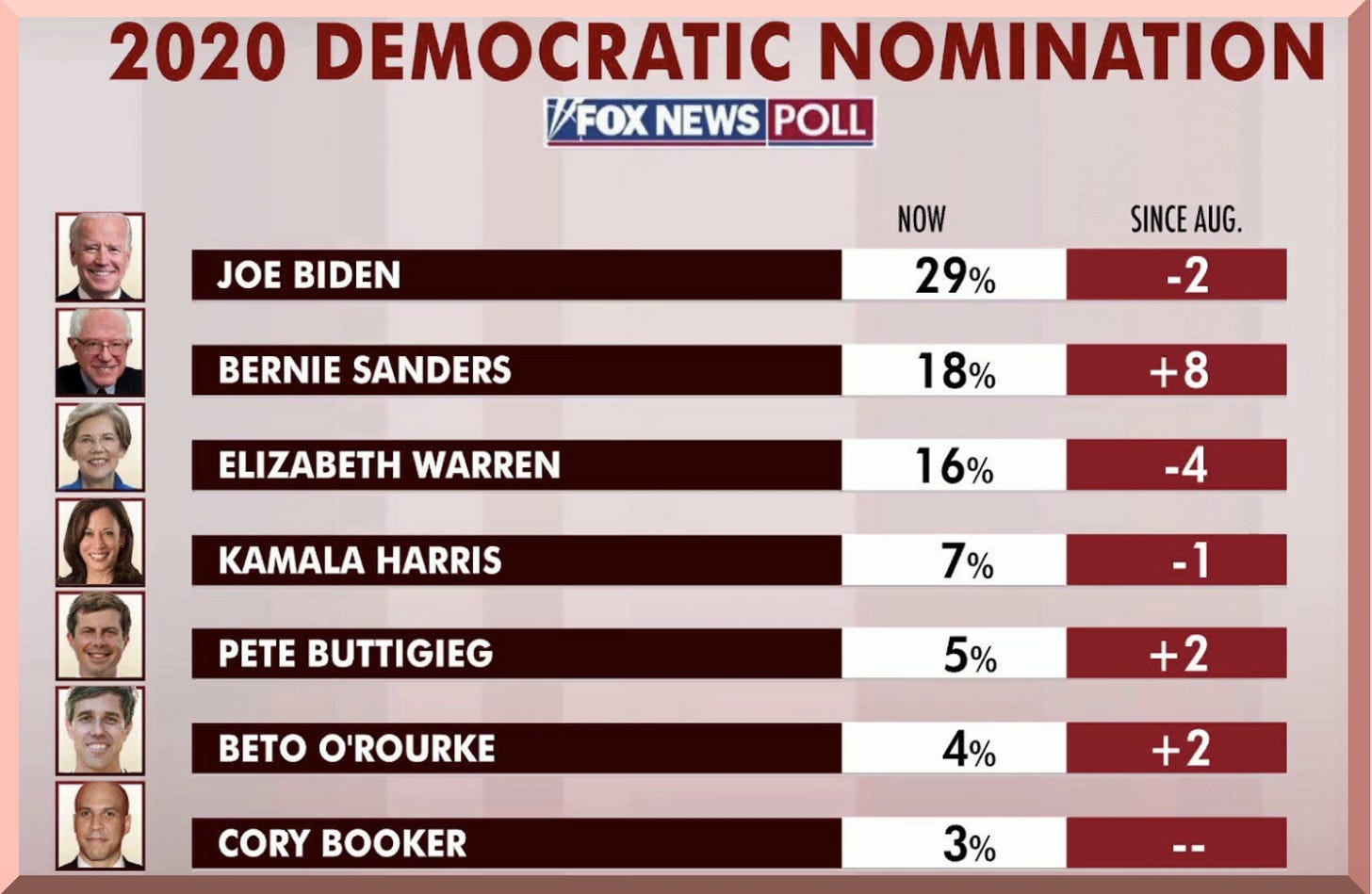 Fox News methodology here.
DAYS UNTIL 2020 PRESIDENTIAL ELECTION: 

410
REGISTER TO VOTE HERE: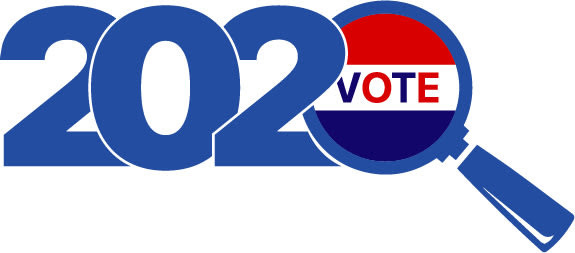 ARCHIVES