Discover more from Dem Primary Tracker 2020
The Official 2020 Democratic Primary candidate tracker.
Over 11,000 subscribers
Will Bernie's Heart Keep Him Out of the Race?
BERNIE'S ALL HEART, AND HIS HAD A SCARE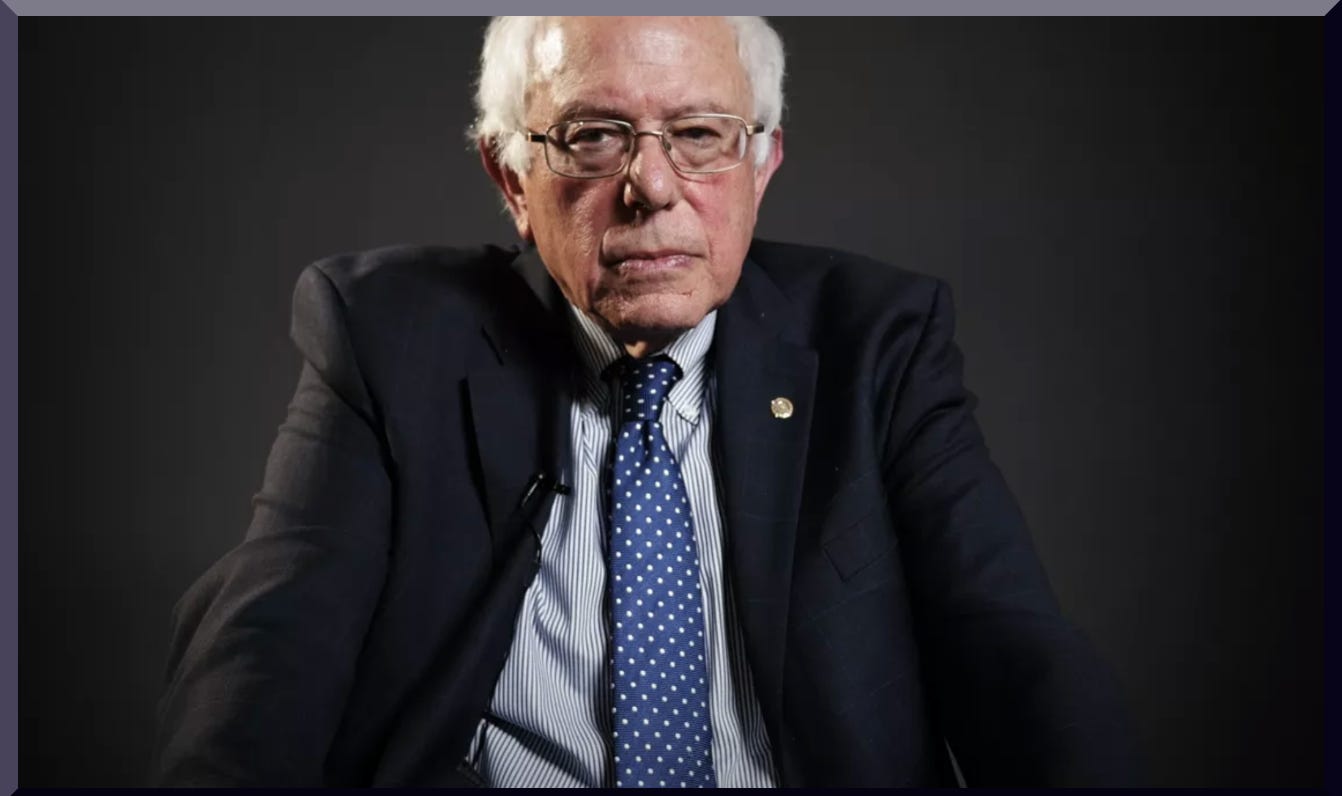 Bernie Sanders' campaign said that the candidate had a heart procedure for a blocked artery and was canceling events and appearances while the Vermont Senator recovers. The 78-year-old experienced chest discomfort during a campaign event this past week and sought medical evaluation. Two stents were successfully inserted, and Sanders "is conversing and in good spirits," according to the campaign. He's recovering at a Las Vegas hospital. The campaign says he will participate in the October 15th debate.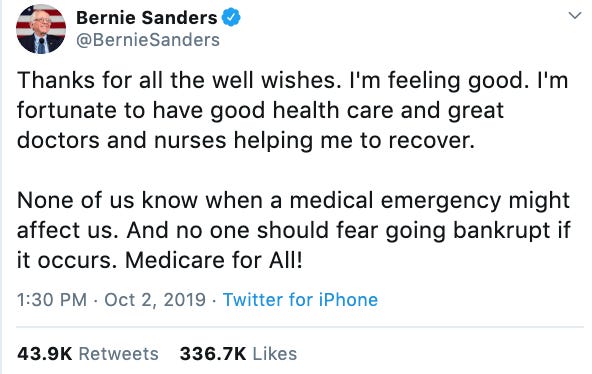 BIDEN: TRUMP'S IMPEACHMENT FOIL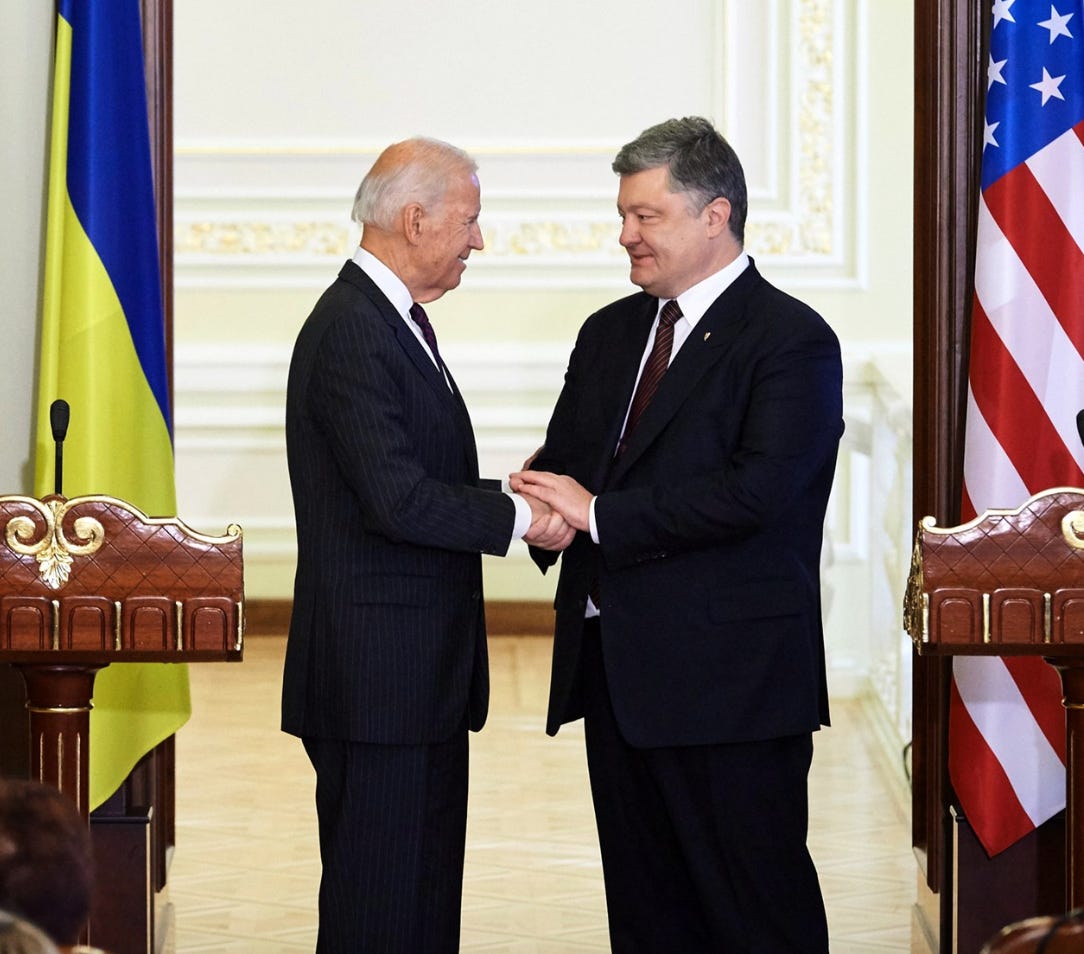 Despite an impeachment inquiry, President Trump doubled down on his call for Ukraine to launch a probe into Joe Biden and his son. Now, Trump says China should look into former Vice President Joe Biden and his son. "China should start an investigation into the Bidens, because what happened in China is just about as bad as what happened with Ukraine," Trump said.
A whistleblower complaint centering on Trump's phone call with the Ukrainian president has spurred a number of allegations and counterallegations as Republicans and Democrats jockey for position amid an impeachment inquiry.
At the heart of Congress' probe into the president's actions is a claim that Biden strong-armed the Ukrainian government to fire its top prosecutor in order to thwart an investigation into a company tied to his son, Hunter Biden. But sources ranging from former Obama administration officials to an anti-corruption advocate in Ukraine say the official, Viktor Shokin, was ousted because did not do enough to root out corruption.
Q3 FUNDRAISING
Though October 15th is the formal FEC filing deadline for the Democratic Primary candidates, some campaigns opted to announce their hauls earlier.

Bernie Sanders has produced the biggest fund-raising quarter of the Democratic primary, as his campaign announced on Tuesday that he had taken in $25.3 million over the last three months. His third-quarter dollar total exceeds the $18 million he raised in the second quarter. Sanders received 1.4 million donations in the third quarter, his campaign said.
Pete Buttigieg, who was the top fundraiser in the Democratic presidential primary from April through June, brought in another $19.1 million in the past three months. Buttigieg's haul is expected to be among the highest Democratic totals this quarter, though the campaign did not hit the high mark he set in the second quarter of the year, when he led the field with $24.8 million raised. During the third quarter, the Buttigieg campaign said it has 580,000 total contributors, a jump of about 182,000 new contributors over the previous quarter.
Kamala Harris' campaign took in $11.6 million in the third quarter, her campaign said Tuesday, putting her well behind some of her top rivals for the Democratic presidential nomination in the money race. Her fundraising operation has tailed off slightly as the year has gone by: She raised $12 million in the first quarter, then followed it with $11.8 million in the second quarter.
Andrew Yang announced Wednesday that his presidential campaign had raised $10 million in the third quarter of 2019, a significant sum for the political outsider who was almost entirely unknown when he began his long-shot bid for the Democratic nomination 20 months ago. Yang had received about 300,000 contributions from unique donors over the course of his campaign with an average donation of around $30. The campaign said 99 percent of the donations were $200 or less.
Cory Booker raised more than $6 million in the third quarter, his presidential campaign said Tuesday, buoyed by a surge of more than 46,000 donations totaling $2.1 million in the final 10 days of September. It's Booker's best quarterly fundraising total to date, and he raised more money in September than any other month this year
Another long shot candidate, Michael Bennet, reported raising $2.1 million in the third quarter, with $1.8 million cash on hand. Bennet has not qualified for the party's latest debate this month. The number is a dip for Bennet from the second quarter, when he raised about $2.8 million.
HOW MUCH $$$ HAS TRUMP RAISED?
President Donald Trump and the Republican National Committee (RNC) raised $125 million in the third quarter, a record-breaking fundraising sum. According to Trump's campaign manager Brad Parscale, the president now has $156 million in cash on hand with nearly $310 million raised so far this year.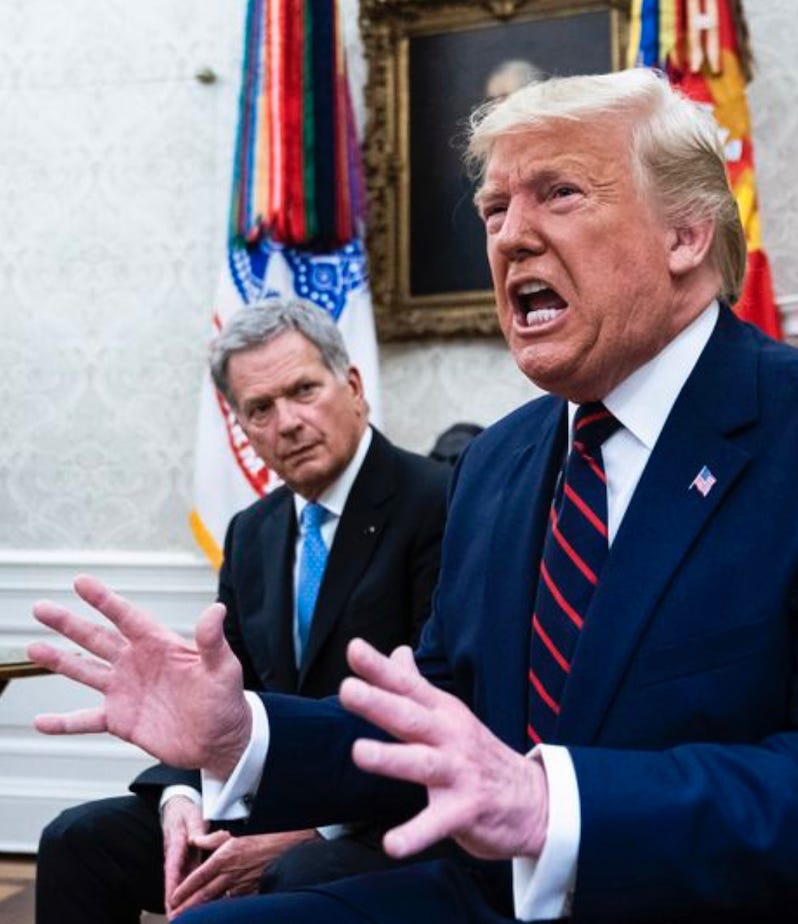 A man that is about to crack. . .
READY FOR DEM DEBATE 4?
Twelve candidates will take the stage on October 15 for the fourth Democratic presidential debate, and the first to have more than 10 candidates on stage at one time. The Democratic National Committee announced that a dozen presidential hopefuls had met the required polling and donor thresholds to make the cut.

The DNC raised the bar for debate qualification for the third and fourth debates in an attempt to narrow the field. But because they had more time to get donors and qualifying polls, more candidates are in the October debate than September's. According to the DNC's rules, candidates had to register at least 2 percent in four DNC-approved polls and earn donations from at least 130,000 individuals by Oct. 1 to qualify for the fourth debate.
Tulsi Gabbard and billionaire activist Tom Steyer qualified after falling short of the polls needed for the September debate. Steyer, who announced his candidacy in July, will debate for the first time.
The qualifying candidates include: Joe Biden, Cory Booker, Pete Buttigieg, Julián Castro, Gabbard, Kamala Harris, Amy Klobuchar, Beto O'Rourke, Bernie Sanders, Steyer, Elizabeth Warren, Andrew Yang.
DAYS UNTIL 2020 PRESIDENTIAL ELECTION: 

396
REGISTER TO VOTE HERE: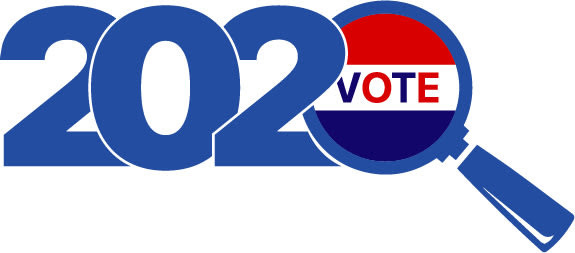 ARCHIVES