Discover more from Dem Primary Tracker 2020
The Official 2020 Democratic Primary candidate tracker.
Over 11,000 subscribers
Warren *almost* catches Biden; Hillary seeking Rematch?
THE POLL OF POLLS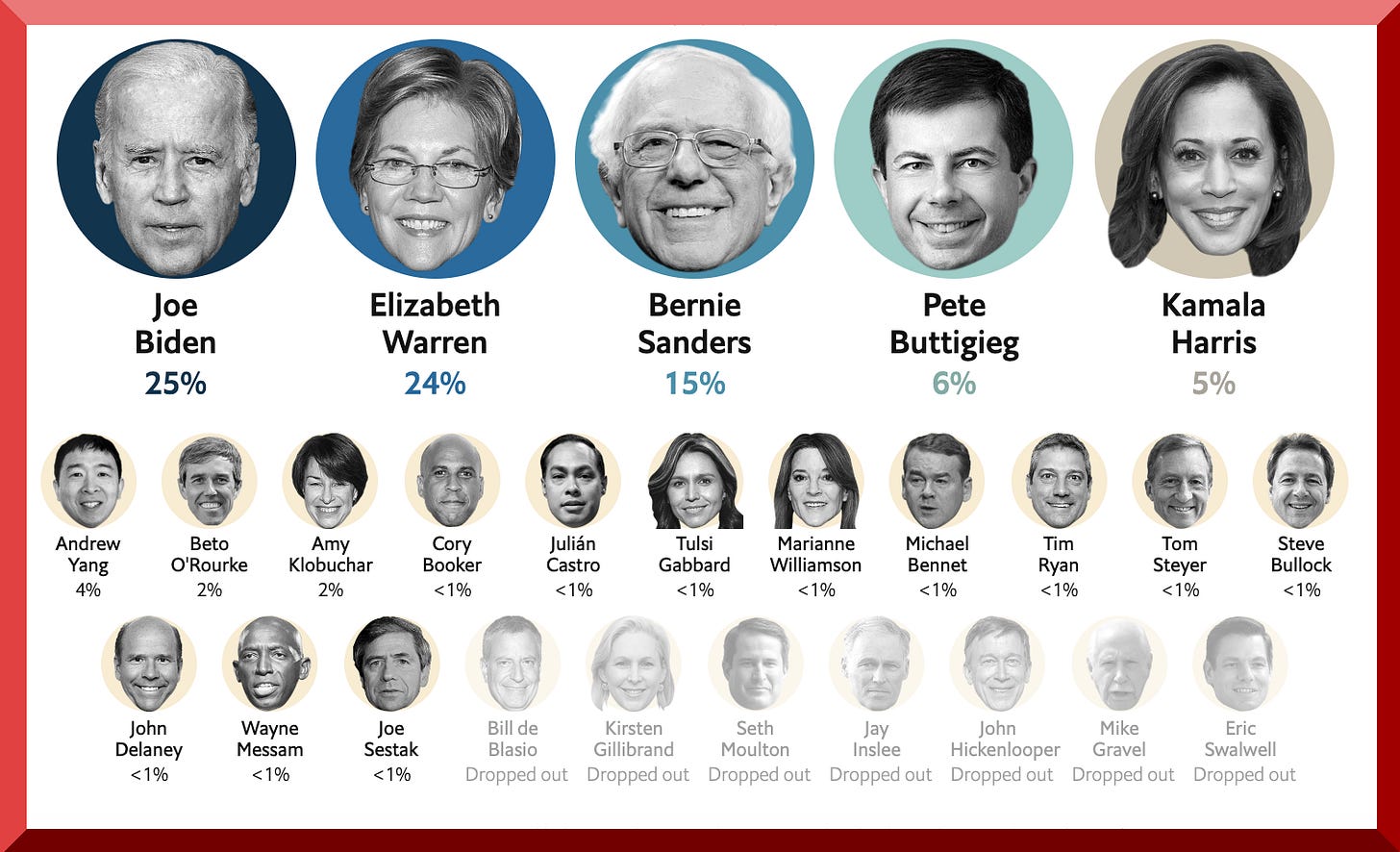 Here is a current snapshot of the aggregate of ALL polls featuring all 19 candidates. This includes all high-quality, national public opinion polls conducted so far including Quinnipiac, Fox News, YouGov, ABC News, etc. Elizabeth Warren is now within one point of Joe Biden, as Bernie Sanders is holding on in third place - and the only other candidate over 10% in the polling.
POLLING: TREND SINCE APRIL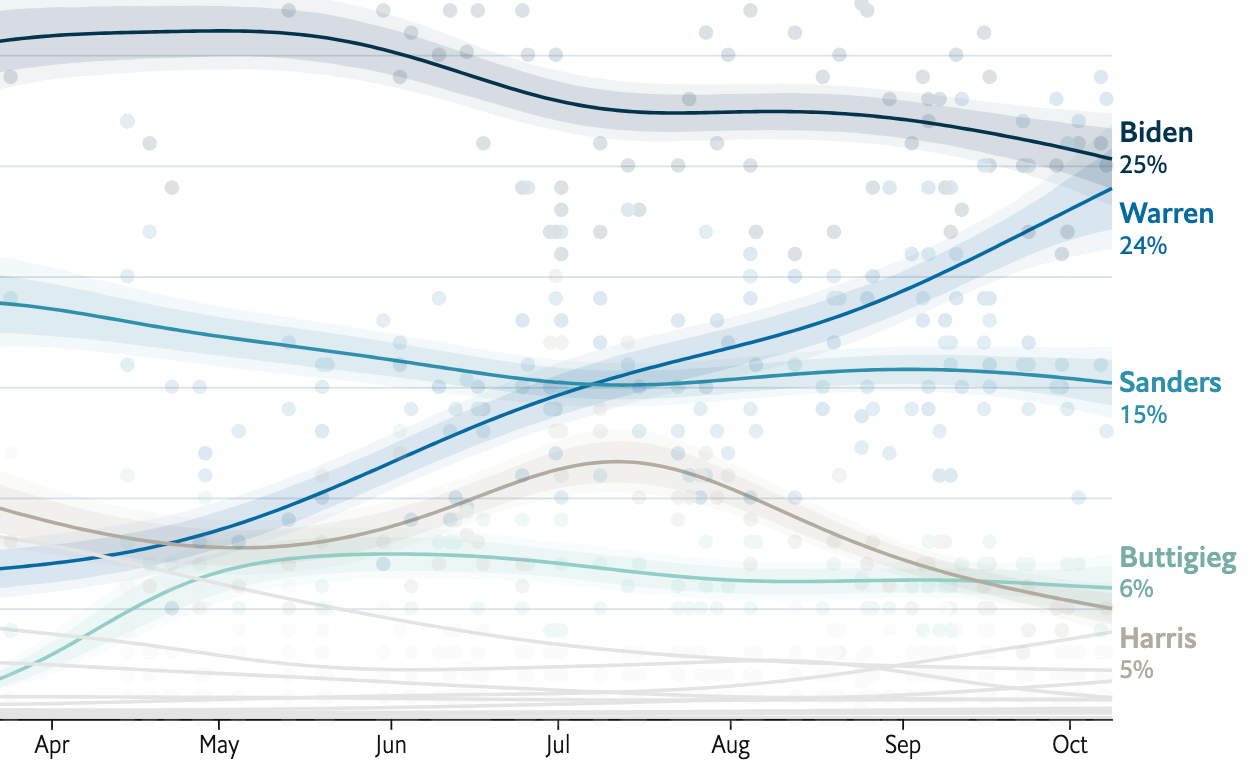 This graphic from The Economist shows the trendline of each candidate's performance in all high-quality, national public opinion polls conducted since April. Biden and Sanders have seen a slow bleeding of support since their April apex, whereas Warren's rise is meteoric over the last six months. Otherwise, there is no real notable movement amongst the other candidates.
PREDICTION MARKETS BET ON LIZ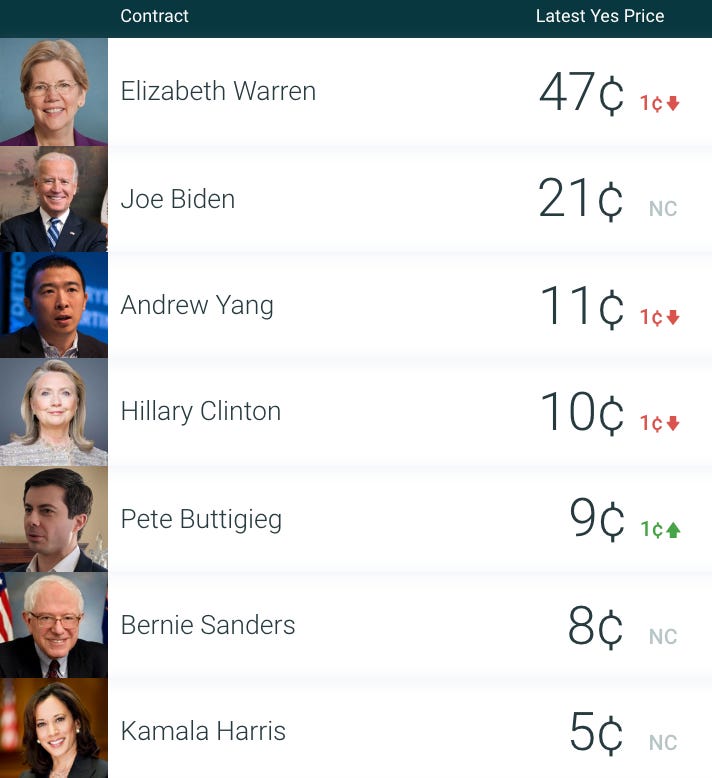 Per PredictIt, here are the betting market odds on Who Will Win the 2020 Democratic Nomination. And notice who is is in fourth - yep, Hillary. Here we go again? It's not a particularly explainable situation, considering she is not currently running for president. That said, prediction markets are concerned with what will happen in the future, and there are bettors (and pundits) that think she has some shot at running.
WARREN VETTING VP ANDREW GILLUM?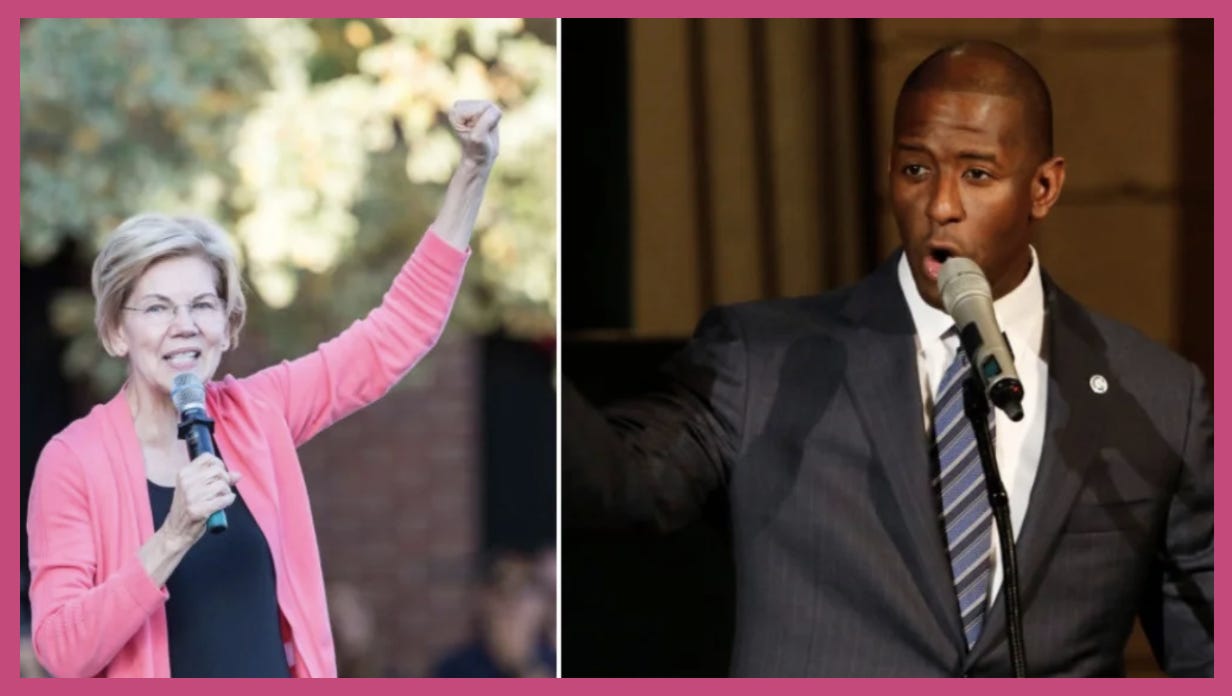 A source close to democratic primary candidate Andrew Gillum's political team noted that Gillum is in communication with many of the candidates given Florida's status as a crucial swing state in 2020. The Daily Beast reported that Elizabeth Warren's team specifically was enamored with Gillum. Gillum, who narrowly lost his run for governor of Florida in November, reportedly left a strong impression on Warren's team.
LGBTQ TOWN HALL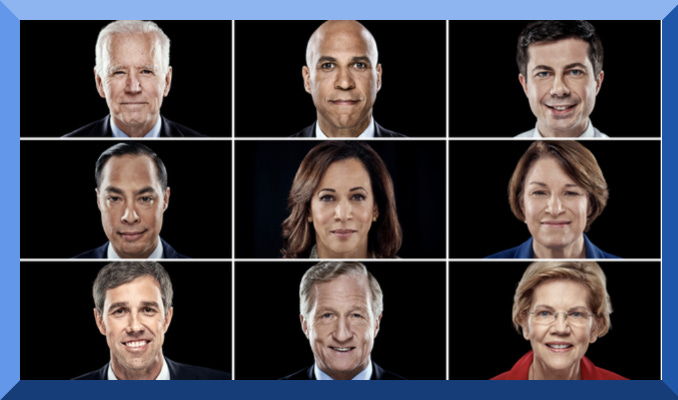 Nine Democratic candidates participated in Thursday night's LGBTQ town hall, hosted by the Human Rights Campaign and CNN in Los Angeles.
Some notable moments included Cory Booker calling violence against the LGBTQ community a national emergency; Joe Biden spoke out about the need to root out discrimination, homophobia and the impact that a country's approach to gay people should have on American foreign policy. Pete Buttigieg said he would direct the FDA to revise the rules based on evidence, based on individual risk factors, and without regard to the prejudice that has driven the current policy. Warren had the most talked about moment of the night. Kamala Harris said that she would make ending HIV/AIDS within a generation a priority Beto O'Rourke said conversion therapy should be illegal. Amy Klobuchar would recognize a third gender marker option on a federal level. Julián Castro would make foreign aid contingent on how the rights that other nations afford to the LGBTQ community. Tom Steyer said he would put measures in place to increase oversight over health care access to LGBTQ asylum seekers if elected president.
DEBATE IV: PODIUM ORDER

This is the podium order for the fourth Democratic debate will be October 15 at 8pm EST. This will take place in Westerville, Ohio, on October 15 and hosted by CNN and the New York Times and be held at Otterbein University, outside of Columbus, Ohio. CNN reported the Democratic National Committee decided to hold the debate on one night, with all 12 qualifying candidates — two more than the September debate, despite having capped the number of candidates onstage together at 10 for past debates.
TULSI DEBATE BOYCOTT?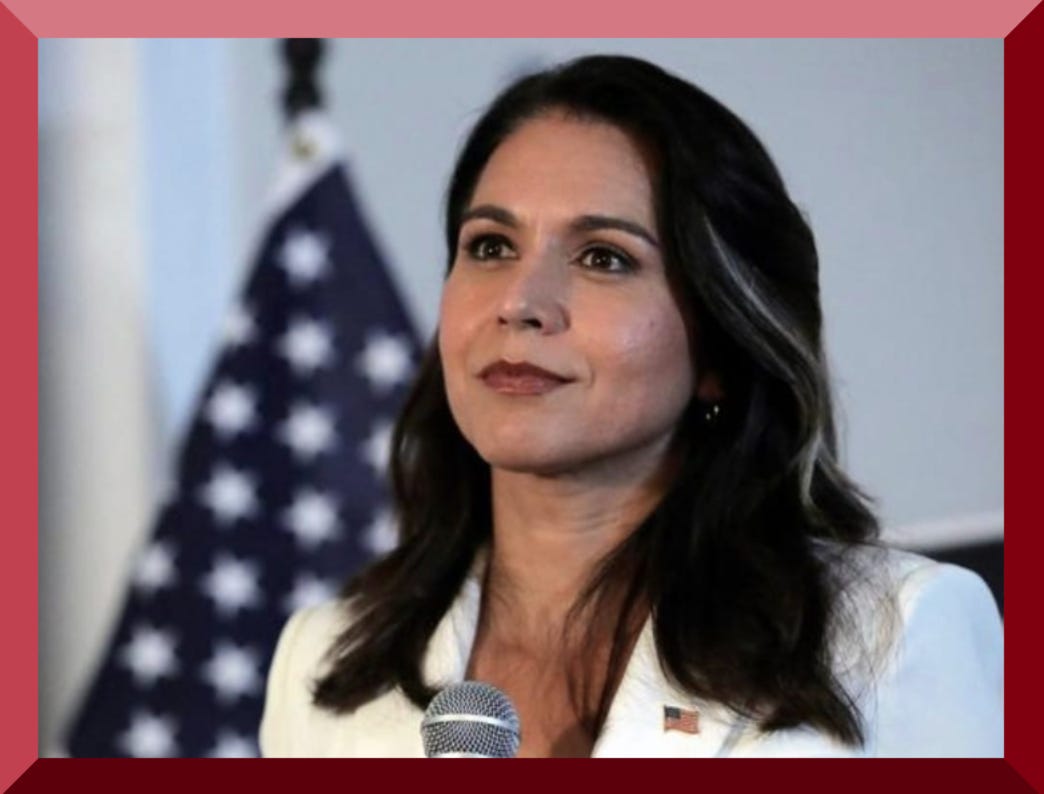 Tulsi Gabbard is threatening to boycott the debate, criticizing the Democratic National Committee and corporate media for "rigging" the 2020 election against "the American people" in early voting states.
"OBVIOUSLY, I CAN BEAT HIM AGAIN."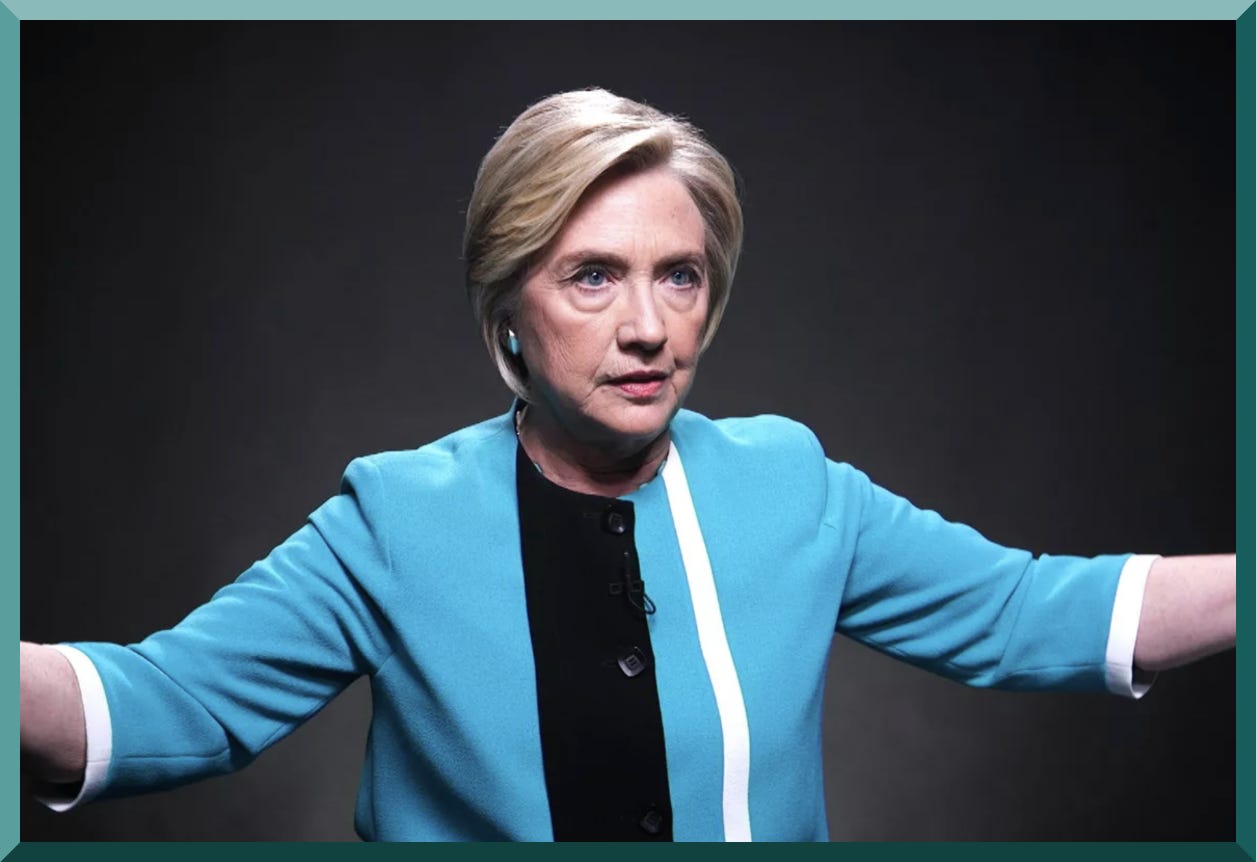 As an impeachment inquiry into President Trump's actions on Ukraine begins, Hillary Clinton says that it appears that there is evidence of abuse of power and obstruction of justice and contempt of Congress. 
"You know, it truly is remarkable how obsessed he remains with me. But this latest tweet is so typical of him. Nothing has been more examined and looked at than my e-mails. We all know that. So he's either lying or delusional, or both. There was no subpoena, as he says in a tweet this morning.So maybe there does need to be a rematch. Obviously, I can beat him again."
Looks like the prediction markets agree, even though Clinton hasn't officially re-entered the race.
DAYS UNTIL 2020 PRESIDENTIAL ELECTION: 

388
REGISTER TO VOTE HERE: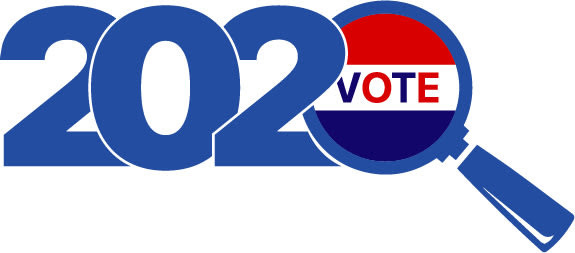 RECENT ARCHIVES