Discover more from Dem Primary Tracker 2020
The Official 2020 Democratic Primary candidate tracker.
Over 11,000 subscribers
Here's Why Pelosi's Gambit might be Genius
Thank you for your support over these last nine months. As we head into Election Year, DPT2020 now has nearly 20,000 subscribers. We really appreciate everybody that has contributed thoughts, 'likes,' comments, & even criticism - as long as people care, we are happy. Happy Holidays and a Happy New Year to all. . .and remember, November 3, 2020 is ELECTION DAY. Keep the spirit and Vote Blue.
Pelosi to Trump: Remember Merrick Garland?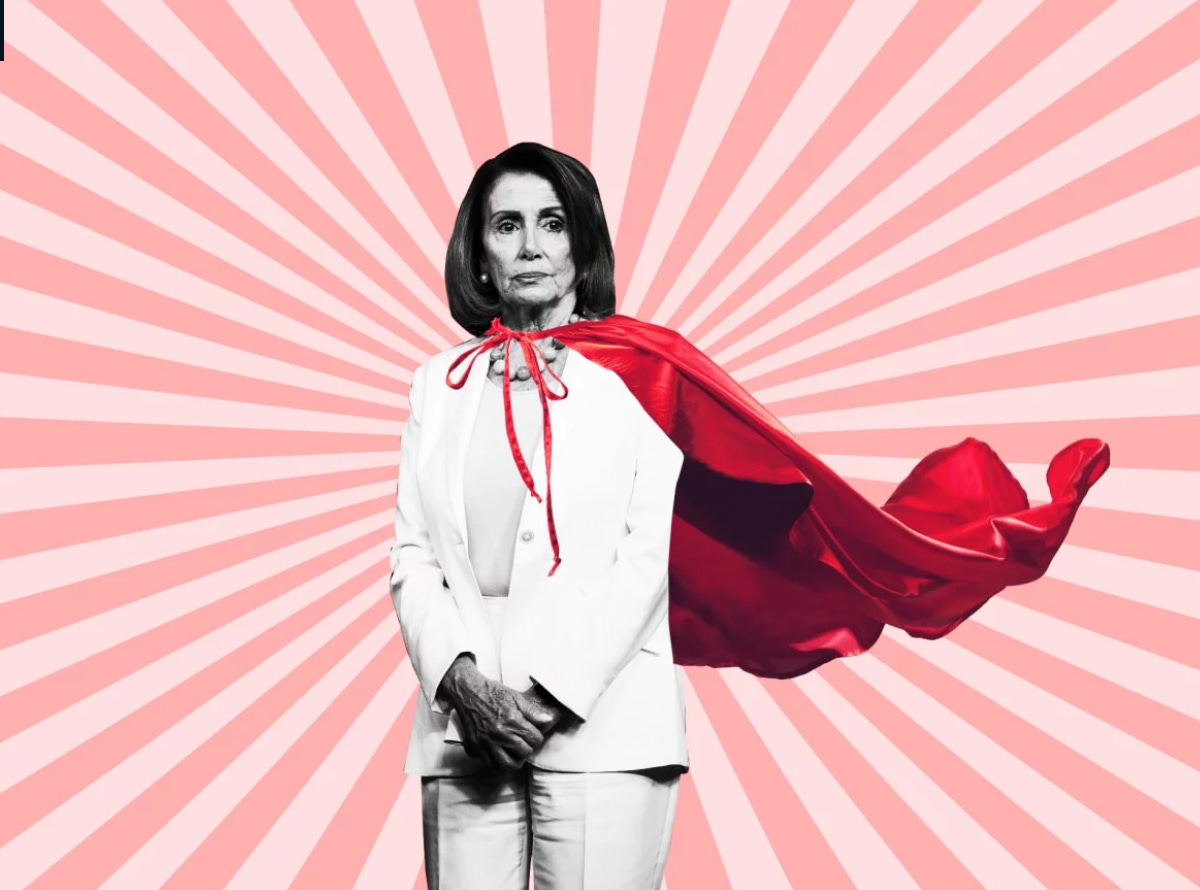 After yesterday's party-line vote in the House to Impeach President Donald Trump, most people were left wondering, "what next?" If the House sends the articles to the Senate, Majority Leader Mitch McConnell has already said he would take cues from Trump's attorneys, which doesn't exactly sound like a fair trial. Accordingly, the Republican-led Senate would surely acquit the president, handing him a victory out of what should be a very large and destructive stain on his presidency.
Enter Nancy Pelosi and the gambit. After the vote, Pelosi told reporters that she would hold the articles back until it was clearer that the upper chamber would give the case a fair hearing. The strategy suggested she was keeping the charges as leverage in a coming negotiation over the terms of a Senate trial. What does that mean? That means that Pelosi can, in theory, leave Trump to wallow as an IMPEACHED president for the remainder of history, and with no chance for self-vindication.
The move was first touted by Harvard law professor Laurence Tribe, and it appears that many Democrats, including Pelosi, are rallying around the strategy.
If this sounds unfair, just remember what happened to Merrick Garland. Garland was nominated to fill the 2016 vacancy on the Supreme Court created by the death that February of Justice Antonin Scalia. President Barack Obama quickly named Merrick Garland, then 63, to fill the seat. Before Obama had named Garland, McConnell declared any appointment by the sitting president to be null and void. He said the next Supreme Court justice should be chosen by the next president — to be elected later that year.
So if this is familiar, turnabout is fair play. Your move, Mitch.
Sixth Debate TONIGHT: L.A.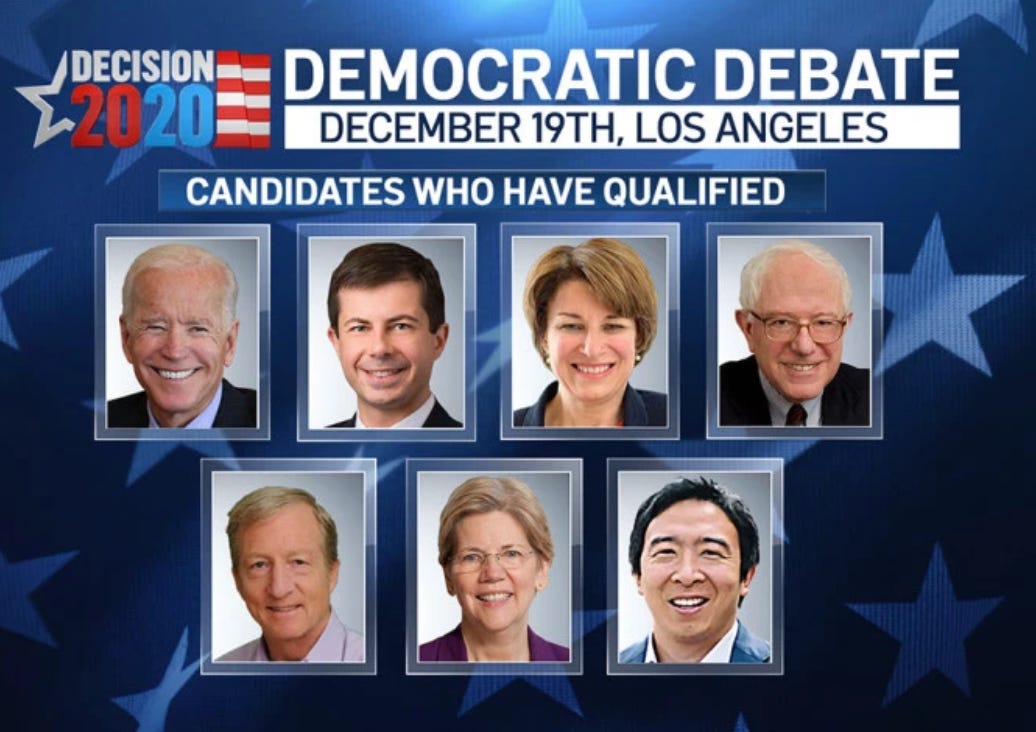 The sixth Democratic primary debate will be held tonight at 8 p.m. ET at Loyola Marymount University in Los Angeles, California, and will be hosted by PBS NewsHour and Politico. It was initially set to be held at the University of California, Los Angeles. However, the DNC announced on November 6 that UCLA was no longer hosting the debate due to a labor dispute.  Three candidates (Joe Sestak, Steve Bullock and Kamala Harris) have suspended their campaigns between the fifth and sixth Democratic debates; Harris would have qualified for the sixth debate had her campaign continued.
Tulsi Gabbard, a few days before failing to qualify for the debate, announced on December 9 that she would not participate regardless of whether she qualifies.
The debate will air on Politico.com, PBS, and CNN.
Average of Polls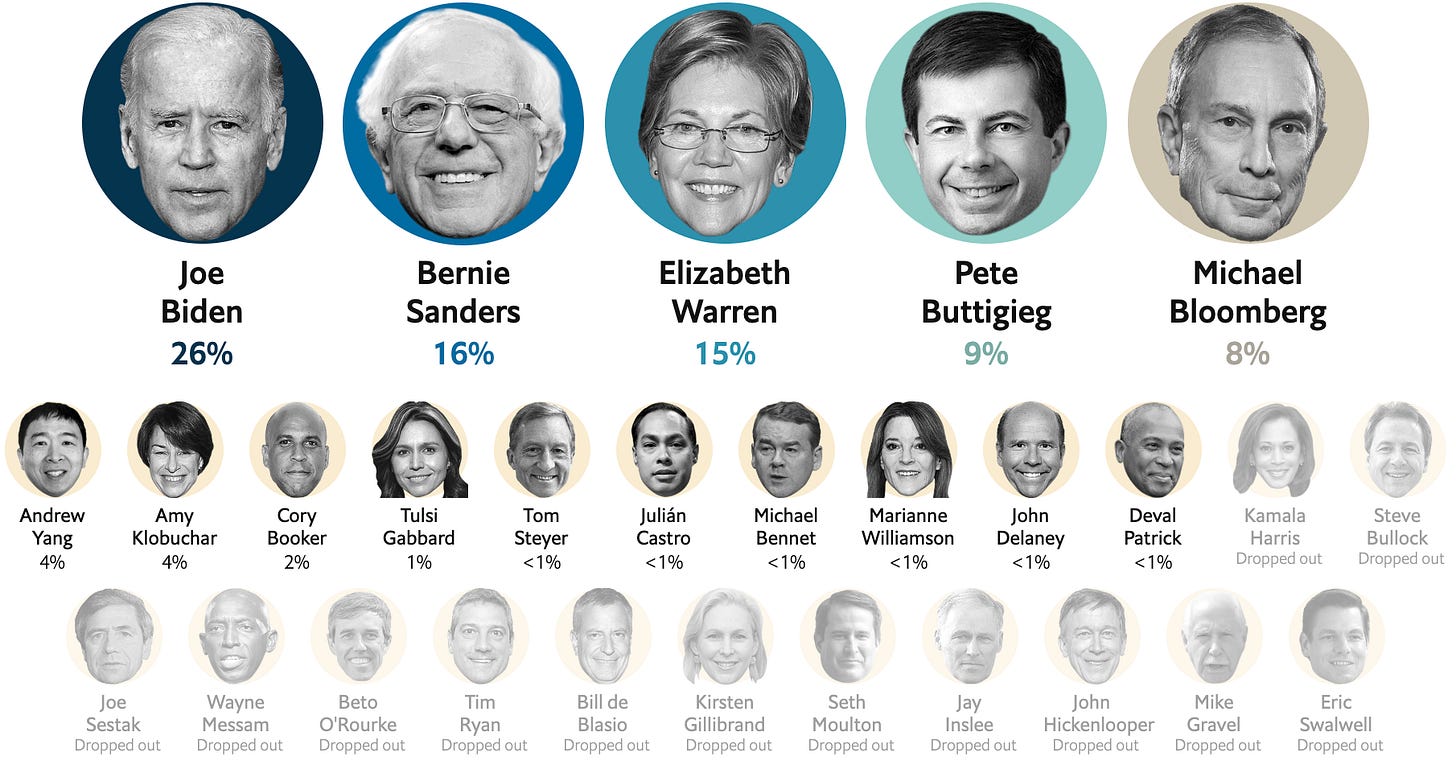 Here you will find the average of each candidate's performance in all high-quality, national public opinion polls conducted so far as well as the probability of victory inferred from political betting via The Economist. The top tier includes a new face - Michael Bloomberg, riding the strength of his oversized digital and television ad blitz, as Andrew Yang rejoins the second tier.
DPT2020 Site Launch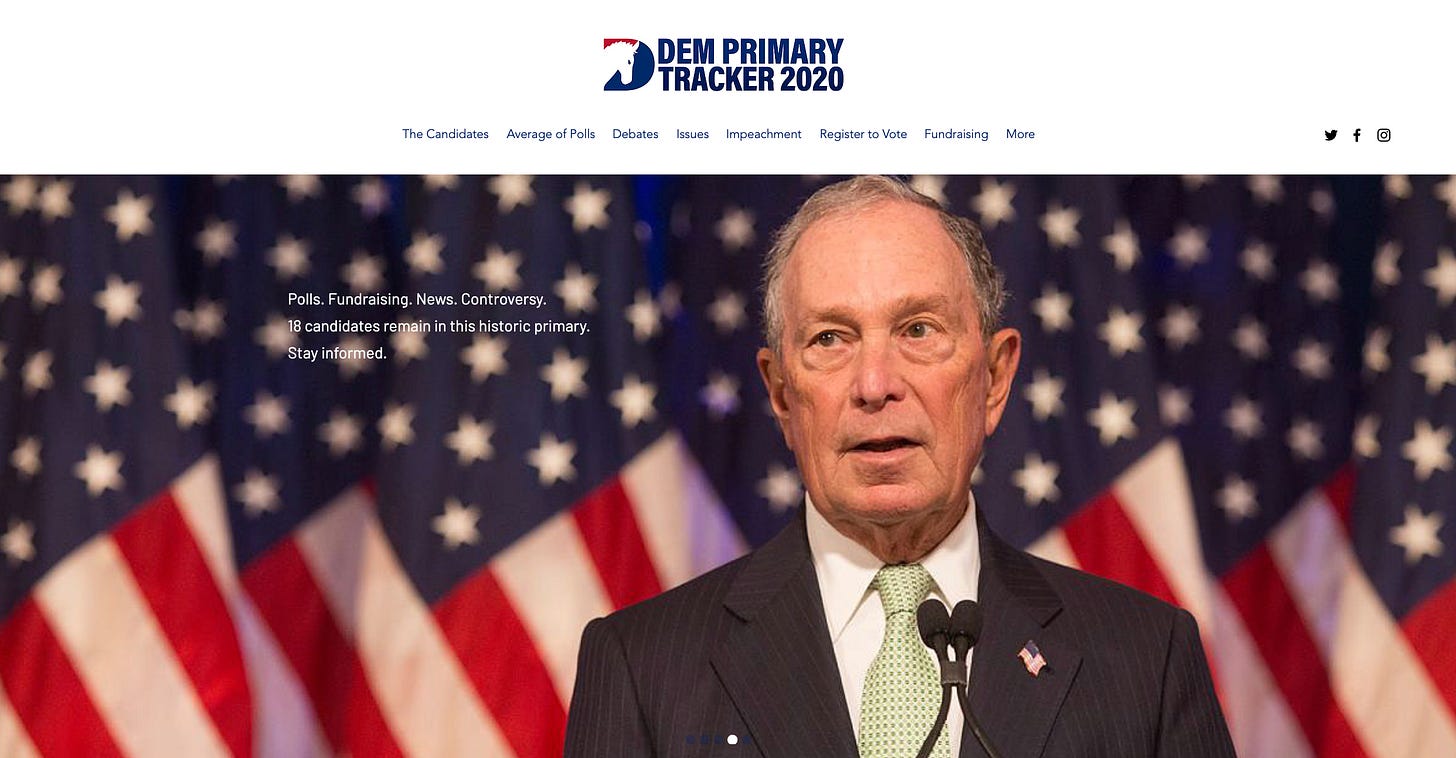 We have officially launched our new website. All Archives and previous issues of Dem Primary Tracker 2020 are now available for web viewing at www.dpt2020.com.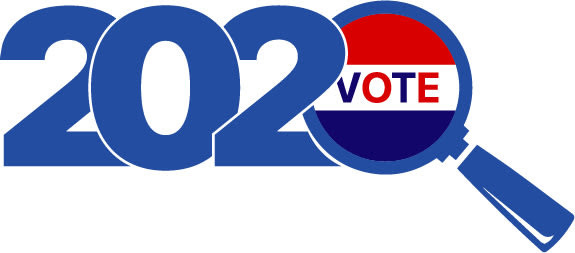 DAYS UNTIL 2020 PRESIDENTIAL ELECTION: 

319
DPT 2020 ARCHIVES